Special operations airmen train with airlifters over mountains of New Zealand
By
Stars and Stripes
June 8, 2022
---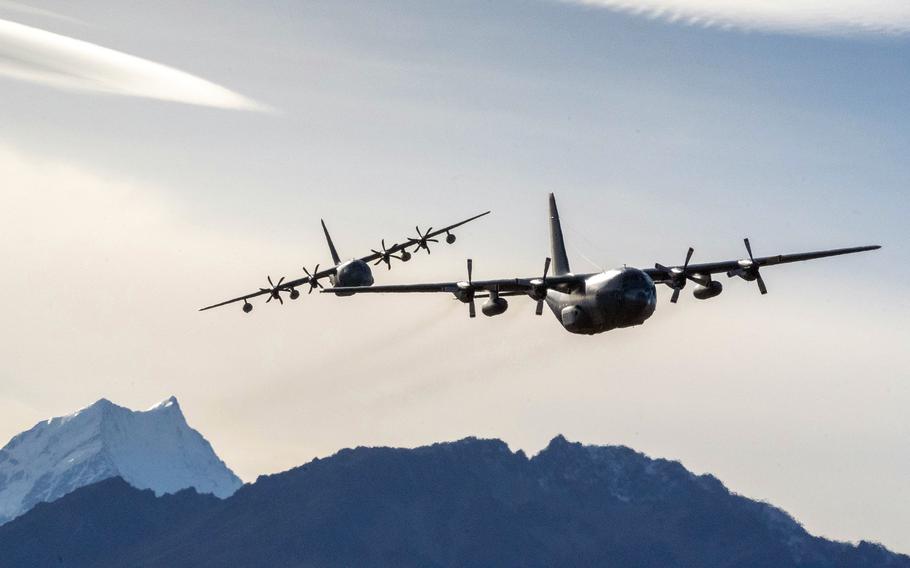 Fifty U.S. Air Force special operations airmen based in Japan spent last month in New Zealand brushing up on mountain flying and working with their counterparts' airlifters and Special Air Service commandos.
Airmen from the 353rd Special Operations Wing out of Kadena Air Base, Okinawa, were Down Under from April 29 to May 29, flying three MC-130J Super Hercules aircraft alongside older C-130H Hercules from the Royal New Zealand Air Force's No. 40 Squadron.
The planes flew from RNZAF bases Auckland and Woodbourne, undertaking low-level flying by day and night, night-vision training, formation flying, military freefall jumps and air drops of equipment, according to Maj. Hayley Ageton, the U.S. mission commander.
"The elevation changes in the (New Zealand) mountain ranges are much more dramatic than they are in Japan," she said by phone Wednesday after returning to Okinawa.
"The exercise focused on the combined tactical airlift abilities of the U.S. and the New Zealand airframes and aircrews — military freefall, air drops, low-level formation flights both during the day and at night, and the mission planning for those operations," squadron spokesman Capt. Josh Thompson said in a June 2 email.
The exercise included air crew from the 1st Special Operations Squadron and maintainers from the 353rd Special Operations Aircraft Maintenance Squadron working with their New Zealand counterparts, he said.
The training is supposed to be held annually but has been on hold since 2019, when the coronavirus appeared and New Zealand subsequently shut its doors to most international visitors, Ageton said.
In between training, the airmen tasted wine from the Marlborough region and checked out locations where the "Lord of the Rings" films were shot, she said.
The country has gradually relaxed pandemic restrictions and will reopen to all tourists and visa holders starting July 31, the New Zealand government announced last month.
The pandemic didn't stop a November port call in New Zealand's capital city by the USS Howard, a guided-missile destroyer homeported at Yokosuka Naval Base, Japan. The U.S. and New Zealand militaries also cooperated on humanitarian efforts following a volcanic eruption in Tonga in January.
"Those events were brought up a lot during the day-to-day training (involving the Special Operations airmen)," Thompson said.
---
---
---
---