RIMPAC returning to full steam with navies from 26 nations set to join massive drills
By
Stars and Stripes
June 7, 2022
---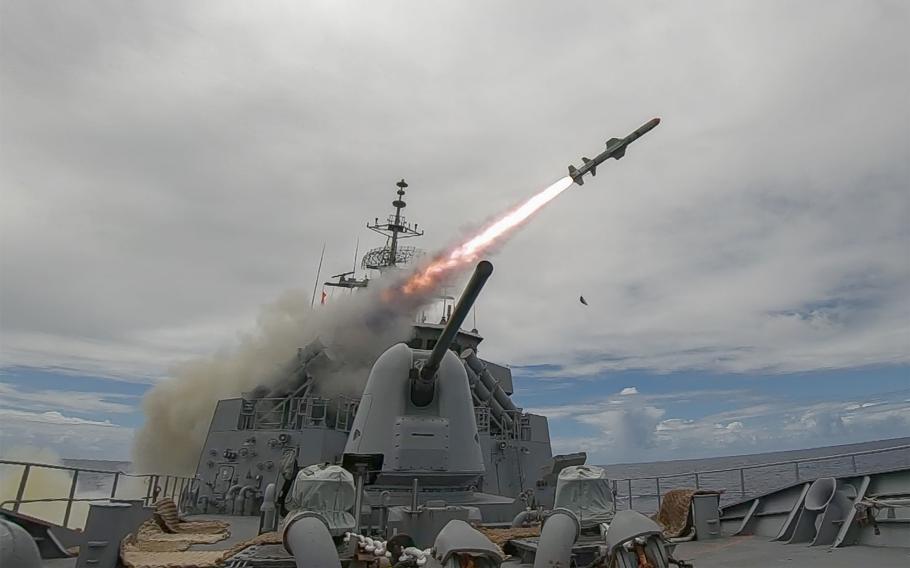 FORT SHAFTER, Hawaii — Navies from 26 nations will participate in the massive Rim of the Pacific maritime exercise that kicks off later this month in Hawaii, the Navy said.
The more than two dozen nations, 38 surface ships and four submarines mark a return in full to the biyearly drills that were significantly downsized in 2020 due to the coronavirus pandemic.
The exercise, held primarily on and around the Hawaiian Islands with a few events off Southern California, begins June 29 and runs to Aug. 4, the Navy said in a May 31 news release.
Slated to participate are forces from Australia, Brunei, Canada, Chile, Colombia, Denmark, Ecuador, France, Germany, India, Indonesia, Israel, Japan, Malaysia, Mexico, Netherlands, New Zealand, Peru, South Korea, the Philippines, Singapore, Sri Lanka, Thailand, Tonga, the United Kingdom and the United States.
In addition to the watercraft, participants will also send about 170 aircraft, the Navy said. The roughly 25,000 personnel involved will also include members of land forces from nine nations.
Drills this year will involve everything from disaster relief to warfighting, the Navy said.
"The relevant, realistic training program includes amphibious operations, gunnery, missile, anti-submarine and air defense exercises, as well as counter-piracy operations, mine clearance operations, explosive ordnance disposal, and diving and salvage operations," the Navy said.
Most of the participating nations were at RIMPAC in 2018, with the exception of Denmark and Ecuador.
Vietnam joined in 2018 for the first time but has not returned since.
In 2020, only Australia, Brunei, Canada, France, Japan, South Korea, New Zealand, the Philippines, Singapore and the U.S. participated in the drills, which lasted only two weeks. All events were held at sea, eschewing the shore-based activities that have always been a routine part of RIMPAC.
China participated for the first time in 2014, just as Beijing had commenced building artificial islands in the South China Sea by dredging sand onto small coral atolls, which it then set about militarizing with aircraft hangars and runways.
China's inclusion in RIMPAC was aimed at bringing the nation into the so-called rules-based international order that has dominated the Pacific since World War II.
China, however, continued its island-building efforts, and was disinvited from RIMPAC in 2018.
The National Defense Authorization Act for fiscal year 2022, which President Joe Biden signed in December, approved of and encouraged the invitation of Taiwan to RIMPAC. The Navy does not disclose its invitation list, but Taiwan's navy is not among those announced as joining the drills.
Taiwan's participation in the exercise would undoubtedly be greeted with alarm by Beijing, which considers the island just off its southeast coast to be a renegade province that must be unified with the mainland at some point, by force if necessary.
---
---
---
---