US carrier strike groups practice multiservice response to Pacific trouble spots
By
Stars and Stripes
June 8, 2022
---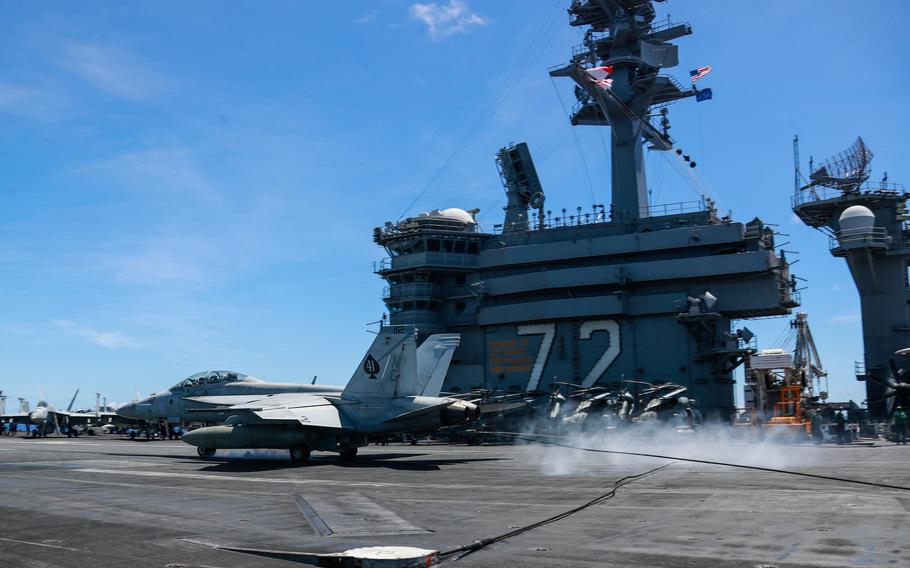 A pair of aircraft carriers off Guam are taking part in one of U.S. Indo-Pacific Command's largest military exercises, Valiant Shield, which began Monday.
The latest in a series of biennial drills that started in 2006, this year's drills aim to build troops' skills in "detecting, locating, tracking, and engaging units at sea, in the air, on land, and in cyberspace," INDOPACOM said in a news release announcing the start of the drills.
Valiant Shield, which runs through June 17, involves the Navy, Marine Corps, Army, Air Force, Space Force and special operations training to quickly respond to a crisis, according to the release.
Okinawa-based soldiers from 1st Battalion, 1st Air Defense Artillery Battalion are expected to shoot down a drone using a Patriot missile system on Palau on June 15, Capt. Nicholas Chopp, a spokesman for the 94th Air and Missile Defense Command at Joint Base Pearl Harbor-Hickam, Hawaii, told Stars and Stripes by phone Wednesday.
The missile defense unit is participating in Valiant Shield along with the USS Ronald Reagan and USS Abraham Lincoln carrier strike groups, the USS Tripoli amphibious assault ship, I and III Marine Expeditionary Force, the 36th Wing, 15 surface ships, more than 200 aircraft and an estimated 13,000 personnel, according to INDOPACOM's statement.
Valiant Shield prepares troops to respond to trouble spots ranging from North Korea to the East China Sea, the South China Sea, Taiwan and beyond, Ian Chong, an associate professor of political science at the National University of Singapore said in an email Monday.
New Zealand-based U.S. security expert Paul Buchanan, in an email the same day, noted President Joe Biden's pledge to defend Taiwan militarily during a visit to Japan last month.
Some analysts suggested Biden's remarks reframed America's policy of strategic ambiguity toward Taiwan's relationship with China. Others said his remarks constituted only a repeat a pledge made earlier.
"The exercise demonstrates to [China] the potential costs of engaging in a Russian-style invasion of a neighboring State," Buchanan said.
The question is whether China will attempt to seize Taiwan in the face of repeated demonstrative warnings by the U.S., he said. The U.S. foreign policy message on Taiwan at the highest government level is not clear on what the security agreement with Taiwan really means, Buchanan said.
Valiant Shield involves only U.S. forces, but on Friday commanders from each branch of the Japan Self-Defense Force visited the Tripoli to discuss F-35B Lightning II operations, the U.S. 7th Fleet said in a statement Sunday.
The group included Vice Adm. Hideki Yuasa, commander in chief, Self-Defense Fleet, Lt. Gen. Kizuki Ushijima, chief of staff, Ground Component Command, and Lt. Gen. Takehiro Morita, vice commander of Air Defense Command, according to the statement.
The Tripoli's commander, Capt. Joel Lang, briefed the Japanese officers on his ship's capabilities, including its operations involving the stealth jets and serving as the flagship for an amphibious ready group, the statement said.
---
---
---
---