Air Force recognizes aeromedical techs for emergency response aboard flight in Japan
by
Matthew M. Burke 
Stars and Stripes
October 26, 2021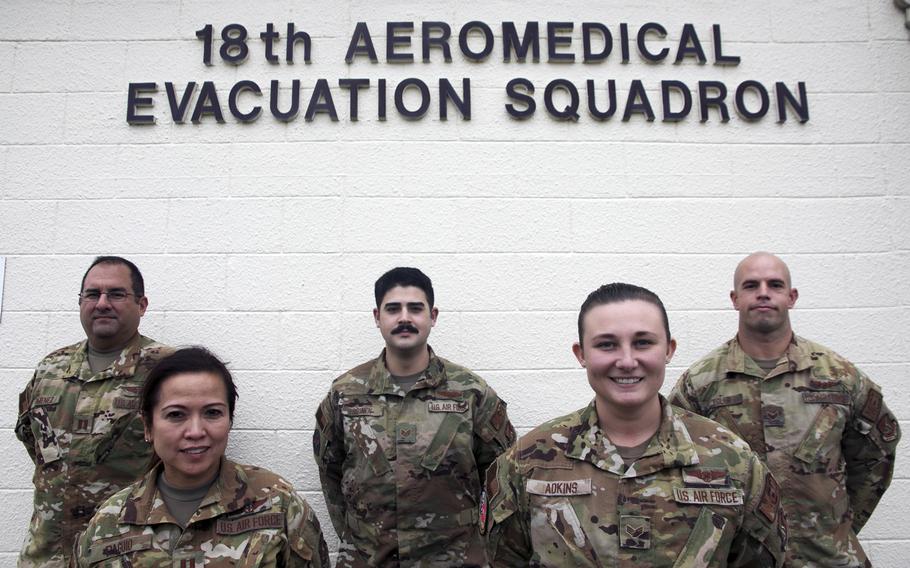 A team of aeromedical professionals was recognized recently by the 18th Wing at Kadena Air Base on Okinawa for providing emergency care to a passenger suffering from decompression sickness on a flight in Japan.
Five members the 18th Aeromedical Evacuation Squadron were 45 minutes into their Japan Jetstar flight from Okinawa to Tokyo on Sept. 10 when a cabin attendant called over the public address system for help with a medical emergency.
Senior Airman Joshua Egler, 29, of Oklahoma City, had his earphones on but had noticed an unusual amount of activity in the aisle.
"I started noticing the flight attendants walking up and down," Egler, an aeromedical technician, said during a group interview Friday with Stars and Stripes, "and for some reason I looked back and one of the flight attendants was holding an oxygen bottle."
Egler, Senior Airman Deanna Adkins, Capt. Andrew Jimenez, Capt. Geryn Paguio and Staff Sgt. Elliott Sotnek were en route to temporary duty stateside. Jimenez, a 42-year-old flight nurse from Oceanside, Calif., was first to answer the attendant's call.
At the back of the plane, a man in his early 20s was lying on the floor, an oxygen mask over his face and a pulse oximeter on his finger, Jimenez said. The man's oxygen saturation was much lower than it should have been and his heart rate much faster.
"You could tell he was breathing very rapidly," he said. "You want to calm him and pace his breathing so it's not so fast."
The rest of the team followed Jimenez to the area that flight attendants had cleared by moving passengers to the front.
"All of us just reacted," said Adkins, a 26-year-old technician from Bentonville, Ark. "It's what we're trained to do."
The team slid into their military roles, Jimenez said. Paguio, 48, of Monroe Township, N.J., took control of the scene while Jimenez talked to the man and began a primary assessment. He tasked Sotnek, 25, of Georgetown, Mass., with documenting everything for medical providers on the ground. A flight attendant brought a medical kit and Egler began taking the man's blood pressure. Adkins helped with the assessment and with crowd control.
The sick man knew his name, where he was and what day it was, which was a good sign, although he complained of numbness and tingling in his extremities, Jimenez said. He asked the passenger what he had been doing prior to the flight.
"That's when he said he'd been scuba diving," Jimenez recalled. "Pretty much as soon as he said that all of us had that 'aha' moment."
It looked like decompression sickness, Jimenez said.
Decompression sickness, or "the bends," occurs when divers ascend too quickly and nitrogen bubbles in their body tissue enter their bloodstream. The bubbles can block circulation and cause extreme joint pain. They can also cause tissue and nerve damage, a stroke, paralysis or death.
Divers are cautioned to allow sufficient time between their last dive and air travel to permit trapped nitrogen in their bodies to be released, because ascending to higher altitude in an airplane can also cause decompression sickness.
Jimenez said he stabilized the patient's heart rate and breathing. Paguio relayed the seriousness of the emergency to the flight crew, who diverted the plane to Kansai International Airport in Osaka.
"Time is of the essence when treating this kind of emergency occurrence in the air," Paguio said.
The team stayed with the man until he was passed off to emergency services, they said. The man made it to a local hospital alive, a Jetstar Japan spokesman told Stars and Stripes on Tuesday.
"As Jetstar Japan, we would like to express our sincere gratitude to those who responded to this medical emergency," the spokesman said.
The 18th Wing publicized the incident, and in an email to Stars and Stripes on Friday said it's considering awards for Jimenez, Paguio, Sotnek, Egler and Adkins.
Stars and Stripes reporter Mari Higa contributed to this report.