Marine couple honored for rescuing hikers stranded after flash flood on Okinawa
by
Jonathan Snyder
Stars and Stripes
June 18, 2021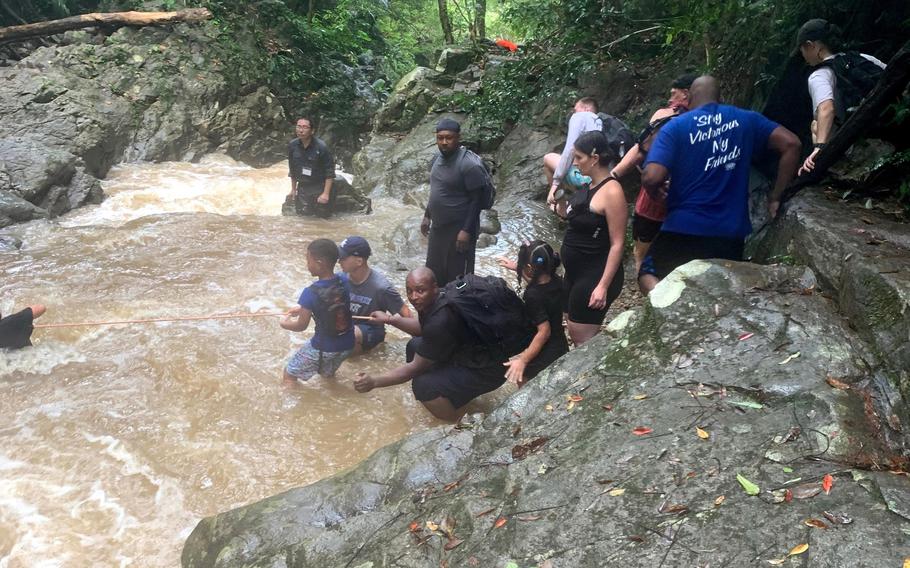 The Marine Corps has honored a dual military couple who helped rescue more than a dozen people stranded when a flash flood struck a riverside hiking trail to a scenic waterfall on Okinawa last year.
Master Gunnery Sgt. Ronald Thomas, 42, and Master Sgt. Sara Thomas, 44, were awarded the Navy and Marine Corps Commendation Medal on Tuesday at Camp Courtney. Both are assigned to the III Marine Expeditionary Force on Okinawa.
"The whole mentality for me was never leave anyone behind," Ronald Thomas told Stars and Stripes during a phone interview Friday.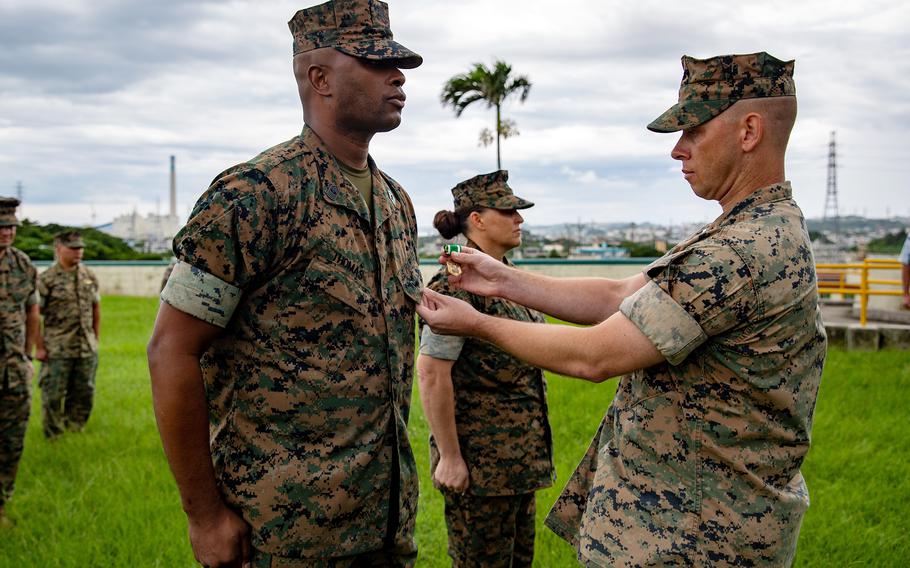 On Sept. 13, 2020, the couple and their son were trekking with friends toward Ta-Taki Falls on a 1 ½-mile out-and-back trail in Kunigami, according to a Marine Corps statement. The trail runs alongside the Henan River and includes rope climbs and paths that wind in and around the water.
"It was raining off and on the previous day, but it was sunny when we initially went out," Thomas said in the interview.
Once they reached the waterfall, he noticed the weather starting to change and suggested they head back.
"As we were getting the kids out of the water the rain picked up right away and the waterfall picked up immediately, making it tough for us to advance back," he said.
Minutes later, the fast-rising river along the trail turned muddy and began rushing with a dangerous force, the Marine statement said.
"I'm about 6-foot-4 and the water was up to my shoulders," Thomas told Stars and Stripes.
The group made a path through the riverbank's steep hillside, according to the Marine statement. After getting to a safe spot, they helped more than a dozen people, including Japanese residents and fellow service members, trapped on the other side by using a rope found on a fence to guide everyone across the rushing water.
"We found a small section where the current was still really bad but not impossible," Cpl. Celest Stanwood of the 1st Marine Aircraft Wing, who was among those stranded, said in the statement.
"So we crossed with the rope," she said. "Once across, other adults staggered themselves around the rope to make it easier for people to cross. We continued this method a few times down the path and picked up people stranded on the river banks as we went."
There was no trail to go down because the current was so quick, Sara Thomas told Stars and Stripes.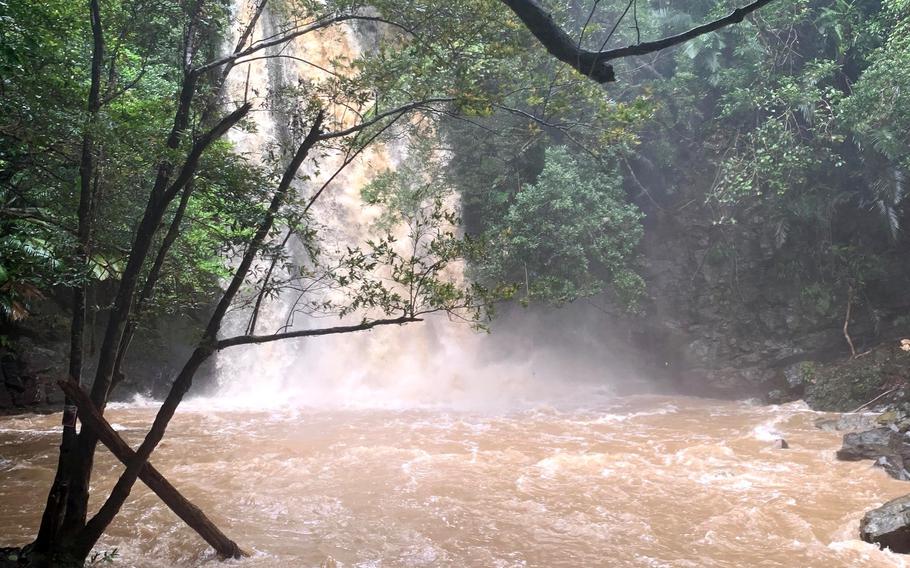 "We were making our own path on the side of the mountain," she said. "At any moment, any one of us could have fell. It was muddy, the rocks were slippery and the rope was no thicker than a pinky."
The group finally made it to safety after hours of trekking and helping one another through the raging waters, according to the Marine statement.
"When faced with this challenge we didn't know the other service members on the hike, but by the end we had a better understanding of each other," Sara Thomas said. "The camaraderie of our service played a larger role in our success that day."
Twitter: @Jon_E_Snyder