Marine honored on Okinawa for helping to save Japanese restaurant worker's life
Stars and Stripes
June 16, 2021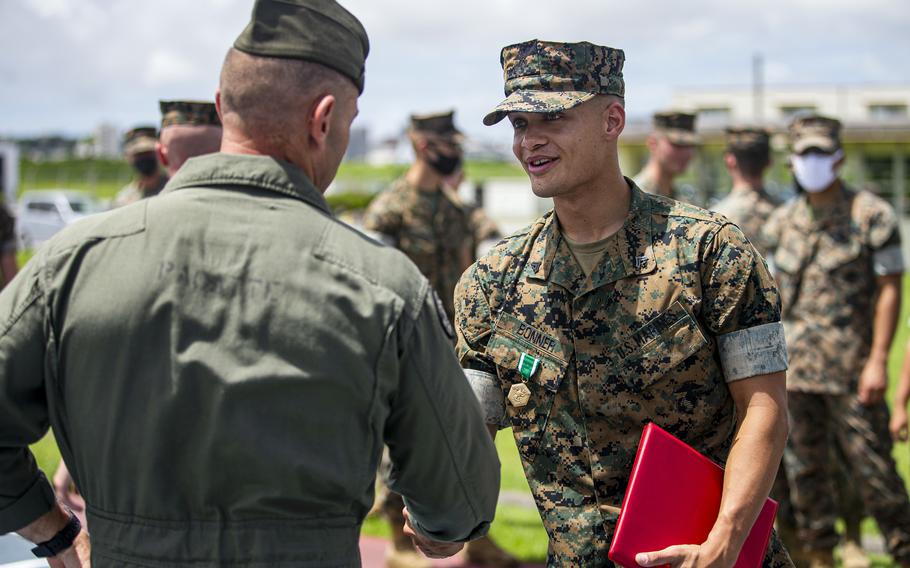 An Okinawa-based Marine who rendered lifesaving aid to a Japanese restaurant worker earlier this spring has received a medal for his actions.
Marine Cpl. Dominick Bonner, a chemical, biological, radiological and nuclear defense specialist with the 1st Marine Aircraft Wing at Camp Foster, was awarded the Navy and Marine Corps Commendation Medal on June 8, according to a Marine statement issued after the ceremony.
Bonner, of Parkville, Md., was celebrating his wife's birthday over breakfast at an off-base eatery on April 4 when he was told that an employee needed medical attention, the statement said.
The man was lying in the kitchen area, motionless and without a pulse, according to the statement. Bonner began chest compressions, taking over for one of the man's fatigued co-workers.
He provided the lifesaving aid for over 10 minutes until paramedics arrived and took him to a nearby hospital, according to the statement.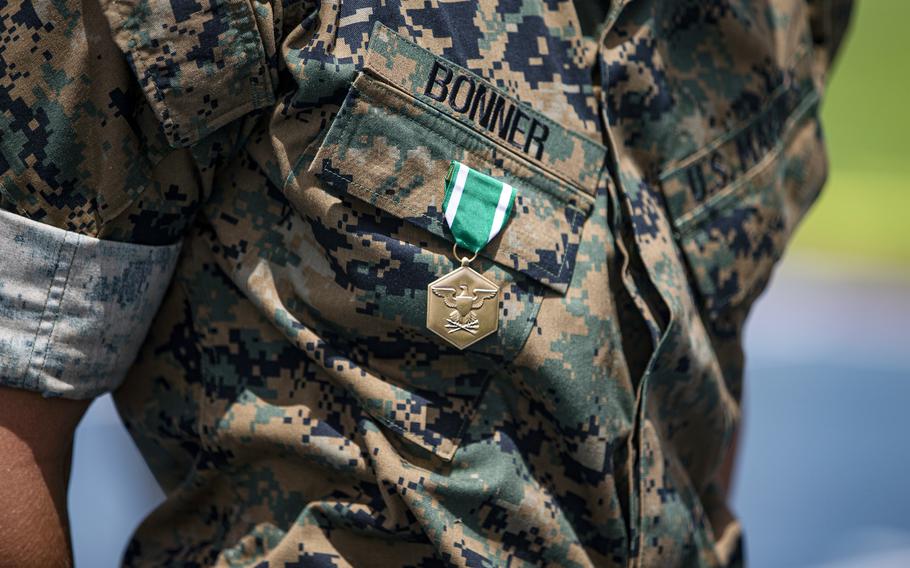 Information about the man's ailment and current condition was not available Wednesday.
The Navy and Marine Corps Commendation Medal is awarded to service members who distinguish themselves with "heroic or meritorious achievement or service," according to the medal criteria.
Bonner is the kind of Marine you want by your side, according to Gunnery Sgt. Joshua Malchow, the CBRN defense operations coordinator for 1st MAW.
"He is the definition of an outstanding noncommissioned officer, and the fact that he handled this situation the way he did doesn't surprise me," he said in the statement.
Bonner said he did what any Marine would have done.
"It's all about looking out for our fellow brothers and sisters of mankind," he said in the statement. "He needed help, and there was no way I was going to stand back and watch him die."
Twitter: @starsandstripes
Correction
The incorrect medal eligibility requirements were referenced in an earlier version of this story. Cpl. Dominick Bonner received the Navy and Marine Corps Commendation Medal.