'Hope ... dressed in beautifully adorned uniforms': Woman thanks Marine rescuers seen in viral flood video
by
Chad Garland
Stars and Stripes
September 23, 2021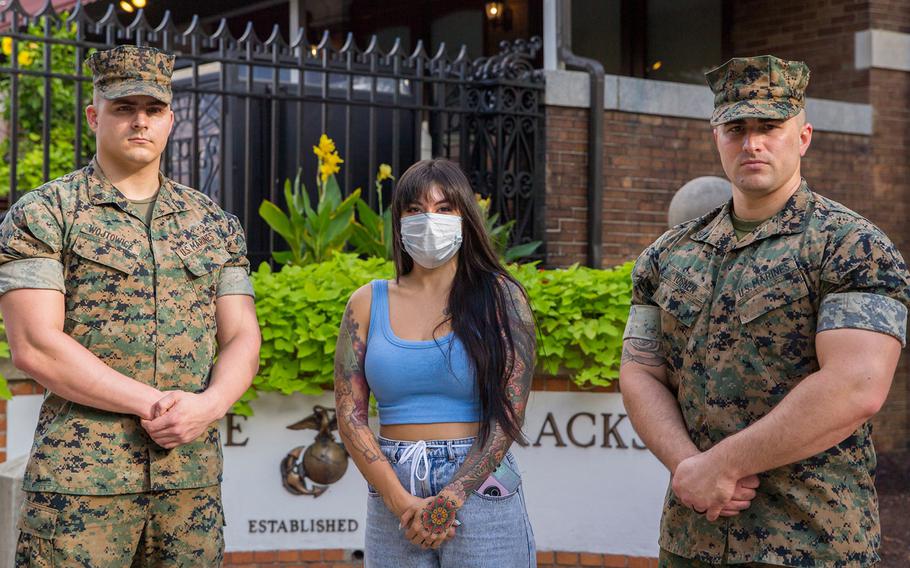 A woman who shot a viral video of Marines in dress blue-white uniforms rescuing her from floodwaters on a northern Virginia road thanked two of the service members at their barracks this week.
Virginia Waller-Torres met Monday with two of the half-dozen Marines who waded through knee-high water in their ceremonial white trousers during a downpour to push her Mini Cooper on Columbia Pike in Arlington, near the Pentagon.
"Marine power! … This is so cool," Waller-Torres says in the clip as the car is pushed past a parked Marine Corps bus emblazoned with the service's emblem. "Oh, my God, this is the most American thing ever."
The Mini Cooper was on a highway exit when it was hit by the flash flood, stalling the engine, she said in an online post. There was no safe way to exit as cars kept passing.
The group of Marines pushed the car to a spot under a nearby overpass, where the driver and Waller-Torres could get out. The police arrived soon after and took over.
Cpls. Jared Tosner and Mitchell Wojtowicz met with Waller-Torres at the Marine Corps Barracks Washington, also known as 8th & I, where they presented her with a challenge coin.
Her Marine rescuers are members of the service's Body Bearer section, an elite unit of hand-picked service members who perform funerals for Marines, veterans and their family members, as well as presidents and other dignitaries.
They had done five funerals earlier that day at Arlington National Cemetery, 8th & I said on Facebook. Tosner told Fox 5 in Washington earlier this week that they'd just completed a 3 p.m. funeral and saw it as a "small task" to give the Mini a push.
"Definitely didn't do it for attention or views or anything like that," Tosner said. "Just trying to do the right thing when no one's watching. In this case, somebody was recording."
Marines selected for the body bearer duty must be active-duty sergeants or below and must "possess outstanding physical stamina," as well as "unquestionable moral character, leadership, and organizational skills," the service said in a message calling for applicants in January.
The requirements call for Marines who can perform 10 repetitions of each of the following: bench presses at 225 pounds, squats at 315 pounds, military presses at 135 pounds and straight bar curls at 115 pounds.
Once selected, they train for six to 12 months before joining the team, then spend much of their time in the gym, lugging weight-filled trash cans through a parking garage to simulate carrying a casket and practicing other ceremonial duties.
The Marine Corps is the only service to use six body bearers instead of eight, the service said in a 2016 video. Marine body bearers are also the only ones to carry the casket at shoulder height and to give it a final head-high raise.
Their mission is to render those honors flawlessly without showing emotion, pain or physical strain.
"If there's anyone who's going to help these people, it'd be us," Wojtowicz told Fox 5. "We were the right ones for the job and hopped out without hesitation."
The reaction to the video showed that people are "starved for just wholesome positivity," Wojtowicz said.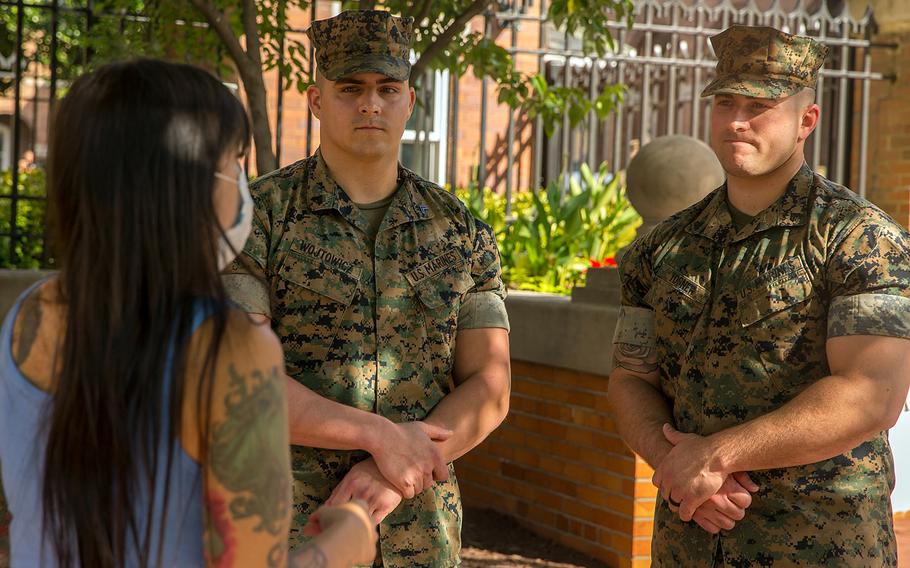 Waller-Torres praised the Marines in a public post on Facebook. The country has been divided "for what feels like so long now," she said, but that day, "it felt like hope was sent dressed in beautifully adorned uniforms."
"I prayed to God or whatever you may call the higher power and I guess it answered," she wrote. "I am so eternally grateful for everything. I cannot even begin to compose how it all feels … Thank you (praying hands emoji) fight the good fight."