Meet the Navy veteran who created the transgender pride flag
By
The State
June 7, 2022
---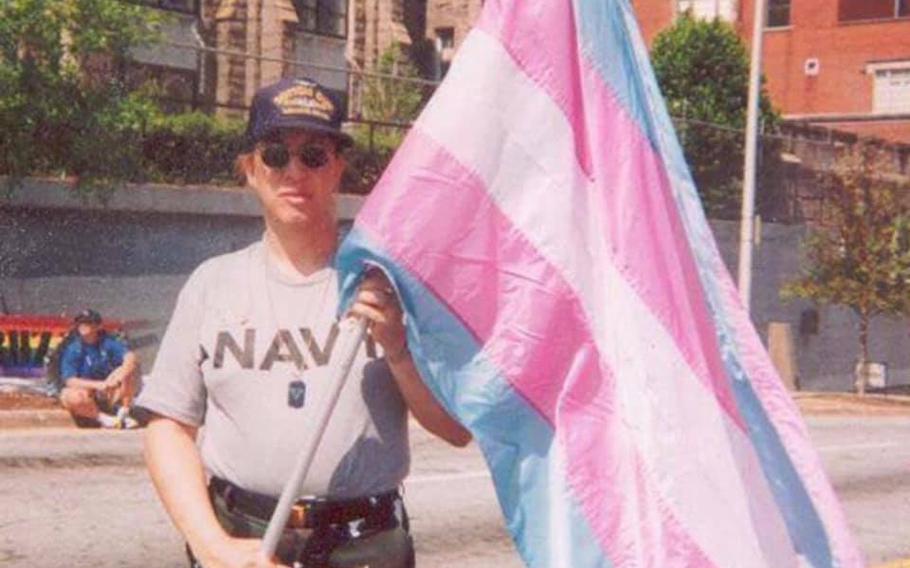 Monica Helms dabbled with dressing as a woman in the secrecy of her own room while serving as a crew member on the USS Francis Scott Key submarine in Charleston in the 1970s — and she was almost caught by her superiors.
Two decades later, Helms created the renowned Transgender Pride Flag in 1999.
The road to boldly expressing her creativity and love for the transgender community was arduous. Born in Sumter in 1951, Helms prayed to God when she was 5 years old to make her a girl.
"As I got older, I started trying on my mother's clothes when I was 12-13," Helms said. "Because I felt like I wanted to dress as a woman because it was a part of me that was missing."
While serving in the U.S. Navy and stationed in San Francisco in 1976, she went out in public for the first time dressed as a woman.
"I was very quiet about it, of course, obviously. It felt natural," Helms said.
The United States military counted "homosexual acts" as grounds for discharge in the 1970s. After World War I, sodomy was a crime under a court-martial. Helms left the U.S. Navy in 1978.
In 1992, she began taking hormones and officially came out as a woman in 1997. Worried that her transition would upset her father, Helms' mother told her she wasn't allowed back in her parents' house in Phoenix, Ariz. At the time, Helms' dad had Alzheimer's and diabetes.
"That was very painful," Helms said. "That made me want to get a job out of Phoenix and go somewhere else. That's why I came to Atlanta."
Throughout the '90s, Helms was encouraged by Mike Page, the creator of the bisexual Pride Flag, to create a transgender pride flag. She first flew it in 2000 in a Pride Parade in Phoenix.
"The stripes at the top and bottom are light blue, the traditional color for baby boys. The stripes next to them are pink, the traditional color for baby girls. The stripe in the middle is white, for those who are transitioning or consider themselves having a neutral or undefined gender," Helms explained.
Although legal progress has been made in recent years to benefit the LGBTQ+ community, such as the legalization of same-sex marriage in 2015, Helms said she believes the United States has a long way to go toward equality. Georgia and South Carolina's transgender community suffers discrimination under state laws, including South Carolina's recently passed ban on transgender athletes in high school sports.
"We're going to have to get visited by aliens in order for trans people to not be discriminated against. They're trying every so often to pass laws to restrict transgender kids from getting medical help," Helms said. "It's very upsetting."
She encourages anyone with a desire to transition to make sure they have a supportive community around them. Helms didn't have that while she transitioned as an adult.
"I had friends, and I lost some of them. But now, I have more friends that I can count on — people I know real well — than I've ever had in my entire life," Helms gushed.
Now, her relationship with her family is "perfect." Helms said that no one in her family has a problem with her transition.
"My father passed away in 2004. When that happened, my mother wanted me to come back," Helms said.
Helms founded the Transgender American Veterans Association (TAVA) in 2003 and is proud of the organization's work to encourage the U.S. Department of Veterans Affairs to publish a directive for trans rights.
"We received emails from trans veterans telling us that (the directive) worked. That places that they were not able to get help before are helping them," Helms said. "I feel that we may have even saved lives, in that respect."
In her free time, Helms builds and launches bottle rockets. She also loves to produce videos and go camping with her wife, Darlene Darlington Wagner.
June, recognized as LGBTQ+ Pride Month, is one of Helms' favorite times of the year, and she loves that the month encourages the queer community to be themselves in the face of adversity.
"We're very proud to be who we are," Helms said.
Since the early 2000s, Helms has always been shocked to see her flag in various places globally.
"I'm always in wonder of where I see it. I'm always excited to see it in different places. And, you know, (to see it) in conservative states, it's just, it's amazing," Helms said.
But there's one other place Helms wants to see the transgender pride flag fly.
"I need to see it in the International Space Station," Helms declared.
©2022 The State.
Visit thestate.com.
Distributed by Tribune Content Agency, LLC.
---
---
---
---