Their paths off the streets: LA veterans share their journeys to find homes
By
Stars and Stripes
March 15, 2022
---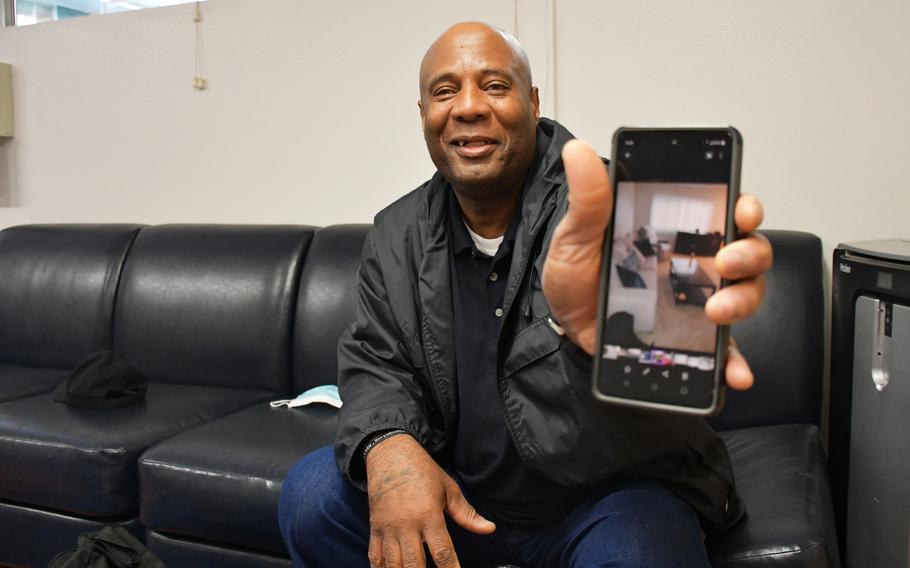 LOS ANGELES — One night in January 2020, 37,252 veterans were living on the street or in shelters across the country. About 10% of them lived in Los Angeles.
Whether more or fewer veterans became homeless during the past two years, the Department of Veterans Affairs still doesn't know. The federal government typically organizes a "point-in-time" count of the country's homeless population every January. The count was canceled in 2021 because of the coronavirus pandemic, and it was delayed this year by several weeks.
The count took place in February, and the results — which should shed light on the pandemic's effects on homelessness — are expected to be released by the Department of Housing and Urban Development in the fall.
The VA is keeping a close watch on numbers coming out of Los Angeles. The agency has set out to prove if it can end veteran homelessness in L.A., which has one of the tightest housing markets in the country and more homeless veterans than in any other city, it can be done anywhere.
VA Secretary Denis McDonough became determined to tackle the problem after he visited the VA in West Los Angeles last October and spoke to veterans living in Veterans Row, an encampment of about 40 veterans along San Vicente Boulevard, which abuts one end of the VA campus.
He returned to Los Angeles in late February. Veterans Row had been eliminated, and VA staff had helped 705 veterans move into either temporary or permanent homes. During that visit, McDonough announced new goals for VA staff, one of which was to find permanent housing for at least 1,500 veterans in 2022 — 10% more than were housed last year.
While some veterans in Los Angeles have already been helped by the increased attention toward the crisis there, others are still waiting their turn for a permanent home. Four veterans at various stages in the path out of homelessness shared their accounts.
Michael Shea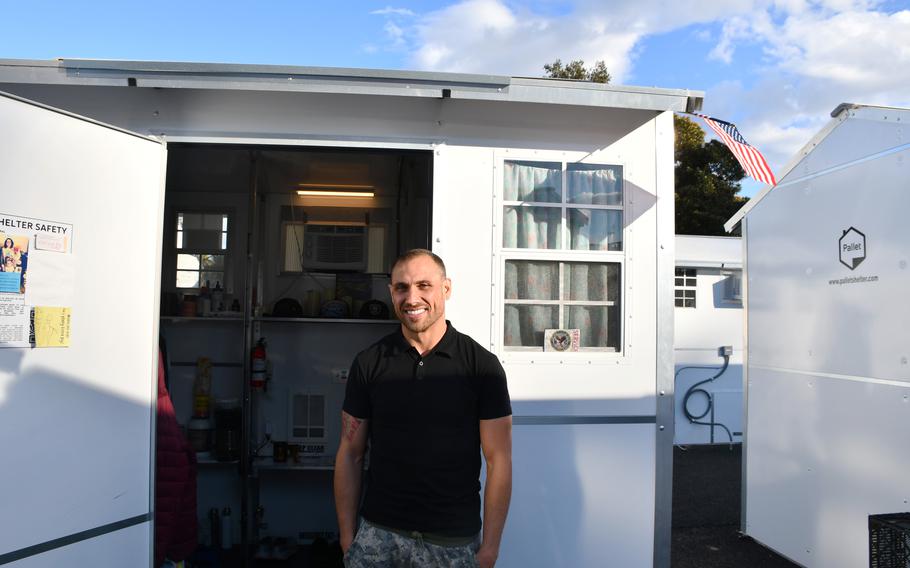 Army veteran Michael Shea walked to the 8-by-8-foot shelter that he'd been living in for about three months, which was indistinguishable among rows and rows of identical tiny shelters assigned to other veterans.
"Is it this one?" he asked, before moving one row over. "Oh, it's in this row."
Shea's temporary home is one of 110 tiny shelters located on the VA campus in West Los Angeles. The shelters were placed atop pallets on new concrete in what was recently an empty field about half the size of a football field.
Once he spotted the correct shelter, Shea opened the door, revealing a tiny room with a cot on one end and a rod for hanging clothes on the other. Shelving lined the back wall.
Shea, 32, kept the place organized. He had a coffee maker and snacks on one shelf and personal hygiene and cleaning supplies on another. His hats were lined up in a neat row. On the bed was a pile of purple yarn — his doctor had suggested he take up knitting to help with his anxiety. In one corner, he tucked a rolled mat that he unfurls for stretching.
Shea pulled a tent bag from its place beside his cot.
"So, this — I don't have to live out of it anymore," he said. "That's what I was living out of."
Shea left for basic training in 2007 and served three years in the Army, most of that time working as a parachute rigger at Fort Bragg, N.C. He was later injured and reassigned to an honor guard that performed military honors at funerals. In the debriefings after funerals, Shea and other members of the guard often got emotional, he said.
"It was probably the most honorable duty that I had while serving," he said. "Soldiers really understand, and being there when we wanted to be deployed and helping … there were tears, you know?"
Shea left the military as a specialist in 2010 after facing pressure to exit because of the Don't Ask, Don't Tell policy, which barred openly gay, lesbian or bisexual individuals from serving in the military. The policy was enacted under former President Bill Clinton's administration in 1993, and it was repealed by former President Barack Obama on Sept. 20, 2011.
Since Shea left the military, his life has been a wreck at times, he said.
He has a criminal history in Wisconsin, where he lived for a time. In 2016, his arrest made local news after he was accused of threatening to kill the Fond du Lac County district attorney and blow up the local government center. He allegedly made the threats while on a call with an outreach coordinator at the Clement J. Zablocki Veterans Medical Center in Milwaukee, according to a local report from the Fond du Lac Reporter. Shea disputes the claims.
"When you're in a mental health situation and you're going through it, then everything you say is looked at," Shea said. "So, it was very difficult."
Shea survived a suicide attempt in 2016, and then he bounced between VA programs, prison and halfway houses. At one point, he purchased a home in Illinois with a VA home loan, but it went into foreclosure. He lived on the streets of Chicago, and he stayed with his grandmother for a while.
He hit the road and came to California last year. Shea decided it was where he'd make a new start.
"I started traveling," Shea said. "I went to Washington, D.C., because now I'm totally free. And then, I came out here and saw Skid Row. I went downtown, and they told me they had a program for homeless veterans. So, I'm like, I'm going to restart in California, it's plan B."
Shea lived in an emergency shelter, and then in a tent on the VA campus in West Los Angeles. Late last year, the VA replaced the tents with tiny shelters. The VA also provides access to medical care, behavioral health services and help with permanent housing programs.
The situation isn't perfect, and it's not ideal to use portable toilets and mobile shower trucks, Shea said. However, it's better than living on the street, he said.
Shea receives VA disability compensation, and he recently paid the department back for the payments that he received while in prison. According to agency policy, VA payments should be suspended during imprisonment for conviction of any felony or misdemeanor.
Those payments have restarted for Shea, and he's been setting aside money for an apartment and going through the process to receive a housing voucher, he said. Housing choice vouchers are part of a government program that subsidizes the cost of housing in the private market for very low-income people. Veterans have their own program, referred to as HUD-VASH.
While Shea saves money and waits on a voucher, he is exploring his interests. He recently attended skydiving training and is part of the Skid Row Running Club, a nonprofit that aims to help participants overcome substance abuse and homelessness. Skid Row is a neighborhood in downtown Los Angeles that contains one of the largest homeless populations in the country.
Shea recently met a veteran living in Skid Row and persuaded him to move into the community of tiny shelters.
"I want to work on myself, and this is giving me the opportunity to explore," Shea said of the setup at the VA campus. "I have my independence. I have my own space. A lot of people say it's like a jail cell, but I don't believe that. It has four windows. I've been in solitary confinement, and here, you can open the door."
Kevin Huey
The coronavirus pandemic upended Navy veteran Kevin Huey's life.
Huey, now 34, was attending college outside Richmond, Va., and living on campus when the pandemic struck in 2020. His school temporarily shut down, and the abrupt change threw Huey off the path that he'd chosen.
"It's changed everything," he said. "It impacted by education, my job, my housing. My life is totally different now."
Huey didn't have any connections or support on the East Coast, so he decided to return to California, where he served in the Navy as an aviation structural repairman. He served from 2009 to 2015 and left the military as a seaman.
During his time in the Navy, Huey deployed three times as part of Operation Iraqi Freedom, Operation Enduring Freedom and Operation New Dawn.
As of late February, Huey was living in an 8-by-8-foot shelter on the VA campus in West Los Angeles. He was saving for a home and hoping to someday return to school and pursue a career in the aviation industry.
Veterans who live in the tiny shelters at the West Los Angeles campus are enrolled into the department's care, treatment and rehabilitative services program. Huey said he's been working with case managers and finding mentors.
"Being here, I've just been getting my life back on track," he said.
Huey recently received approval for a HUD-VASH voucher. As of last month, he was starting his search for a rental unit where the landlord would accept tenants who use housing vouchers. Because of the high demand for housing in Los Angeles, veterans who are awarded vouchers often face difficulty in finding apartments where the vouchers are accepted.
In obtaining a more permanent home, Huey was looking forward to simple pleasures, such as inviting friends over for coffee. He also wanted to continue the personal development that he'd started while living on the VA campus.
"Slowing down has given me a chance to analyze everything and focus on becoming the best version of myself," Huey said. "That's what I've been doing, and I plan to continue doing that."
Somewhere down the line, Huey wants to be an advocate for other veterans experiencing homelessness. He wanted to remind people, he said, that there is more to homeless veterans than their housing situation.
"I always try to remind people that everyone here is not defined by their homelessness," he said. "At some point in their lives, everyone here might have been someone important. They could've been a commander, or they might know four or five languages. I met a pilot out here one time. There are all kinds of people with valuable experiences who just need a place to stay, it's as simple as that."
Huey said he doesn't want to be looked at as just a "homeless guy."
"Being able to have dignity is important," he said. "I don't want to be looked at or treated like that because, you know, I'm educated. I've done things and been places."
Andrew Shelton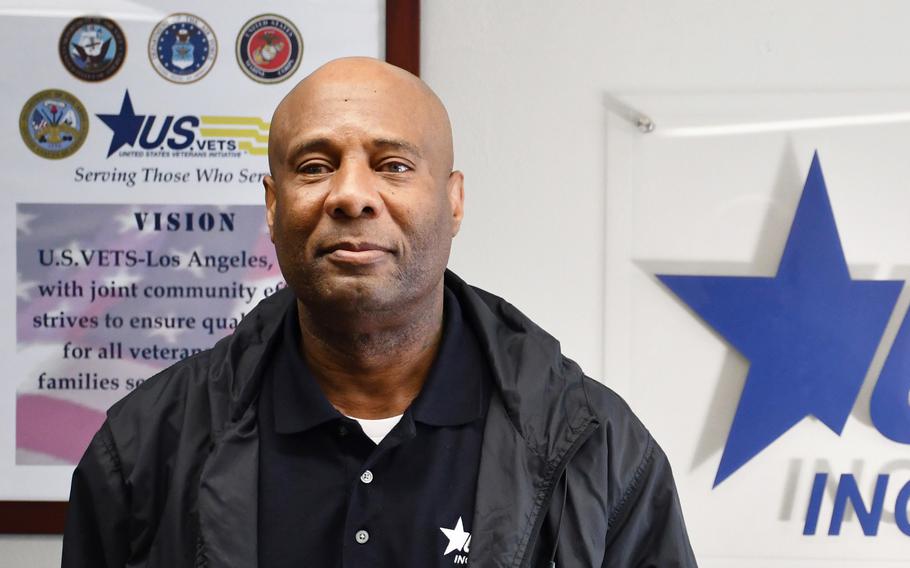 Army veteran Andrew Shelton pulled up a picture of his apartment on his cellphone, eager to show off the living room, with its couch, recliner and carpeted floors. Next, he scrolled to a photo of his Ford Fusion, which he's almost finished paying off.
After experiencing homelessness and spending time in prison, Shelton, 66, said he finally feels at peace.
"I had a hard life," he said. "But I got myself together, man."
During his military service, Shelton said he was injured when a piece of large equipment landed on his head. He left the Army as a master sergeant in 1993 and has spent time during the past 30 years in and out of prison.
Shelton arrived at the U.S. Vets housing complex in Inglewood in December 2020. The site provides 300 transitional housing units and 300 apartments for permanent living, with the two areas separated by a grassy courtyard. U.S. Vets is a nonprofit that provides housing.
Shelton was placed with three other veterans in a unit on the transitional housing side, where he lived for 10 months. During that time, he went through the organization's STOP program, or Specialized Treatment for Optimized Programming. The program helps parolees transition back into the community during their first year of release from prison.
He attended classes for substance abuse and anger management, and he received help obtaining a Social Security card and driver's license.
"I took classes every day. They taught me a lot," Shelton said. "The stuff I learned here — I'm using it to help other people not get caught up in the system."
In October last year, Shelton graduated the STOP program and found an apartment. Because of the injury from his military service, he receives disability compensation from the VA. The income disqualified him from using a HUD-VASH voucher.
During his time at U.S. Vets, he set aside enough money to afford an apartment on his own, he said.
Shelton has a job cleaning at the West Los Angeles VA campus at night, and he's part of the U.S. Vets "aftercare" program, which is designed to help veterans stay in their homes after graduating to permanent housing. The program teaches veterans about VA benefits, their tenant rights, financial management and using public transportation, as well as other life skills.
When Shelton is back at the U.S. Vets location in Inglewood, he encourages veterans who just arrived, he said.
"I say, 'Man, look, this is your chance. Get your life together. Get off the streets,' " he said. "'You have a roof over your head, you're getting three meals a day. Go get your Social Security number, get a job. They're helping you. You have to help yourself. That's what I did.' "
Kevin Kincey, a program manager with U.S. Vets, said Shelton became an inspiration to other veterans during his months at the site.
"They saw how he got there and started doing things. He checked all the boxes," Kincey said. "Some guys followed along with him, and you could see how one individual can change a whole atmosphere. His energy changed that whole room he was placed in."
Kevin Kincey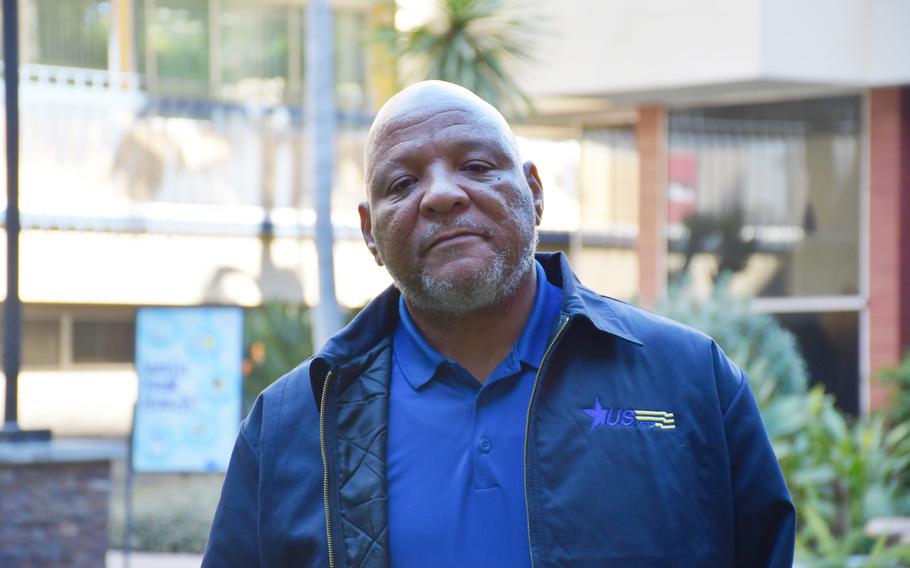 Kincey, 58, is an Air Force veteran who spends his days at emergency shelters and rehabilitation centers, inside prisons and walking the streets of Los Angeles. He looks for veterans who need help.
As a program manager for U.S. Vets, Kincey provides counseling and employment services to veterans in California, Arizona, Hawaii, Nevada, Texas and Washington, D.C. When he finds veterans, it's Kincey's job to give them information about medical resources, substance abuse treatment or whatever else they need.
"I tell my teams, 'You're a walking resource for veterans out there who don't know where to turn,' " he said. "You have to know all the agencies and where to send a person to get help.' "
About 25 years ago, Kincey was in the same position as the veterans who he now assists.
Kincey joined the Air Force in 1983 and left in 1991 as a staff sergeant. Afterward, he spent several years as a caregiver for his grandmother.
Kincey struggled with alcoholism, and he became homeless in 1998. He sought help through the VA and was admitted to the Bimini Recovery Home, an addiction treatment center in Los Angeles.
From there, Kincey went to live at the U.S. Vets housing complex in Inglewood. After six months, Kincey graduated from the program, and he secured permanent housing in 1999.
He was hired at a halfway house, and then applied for a position with U.S. Vets as a part-time house manager. He got the job and has now been working with the organization for 23 years, serving as an outreach coordinator before becoming a program manager.
When Kincey started working as an outreach coordinator, he found his true calling, he said. He was committed to the job from the day that his supervisor took Kincey on his first field assignment to an emergency shelter.
At the shelter, Kincey's supervisor told him to go into a roomful of people and ask if there were any veterans. He did, and one man raised his hand. Kincey recalled after he spoke to him, the veteran said, "Man, I was just sitting here thinking and asking God about what I was going to do next, and you showed up."
"That told me I was doing the right thing," Kincey said. "From that point on, I was hooked."
Kincey has been attuned to veteran homelessness in Los Angeles since the 1990s. He saw the problem get worse before it got better. A surge in the use of crack cocaine in the 1980s and 1990s "changed the dynamic of the housing situation," Kincey said.
"Homelessness at that point in time was everywhere you looked," he said.
Kincey thinks the efforts in recent years to end veteran homelessness are working, but there are still individuals who are "persistently homeless" who say they don't want to find a different situation, he said.
Kincey now works at the Inglewood site where he once lived, and he encourages the veterans living there to take advantage of the opportunities they're given.
"I tell them that the only thing we can do is give them the opportunity, and while we can't make them do anything, we present everything to them," he said. "If they choose to make the right choices, they'll be successful."
---
---
---
---