Housing veterans living on the streets in LA could spark momentum nationwide, VA secretary says
by
Nikki Wentling
Stars and Stripes
November 9, 2021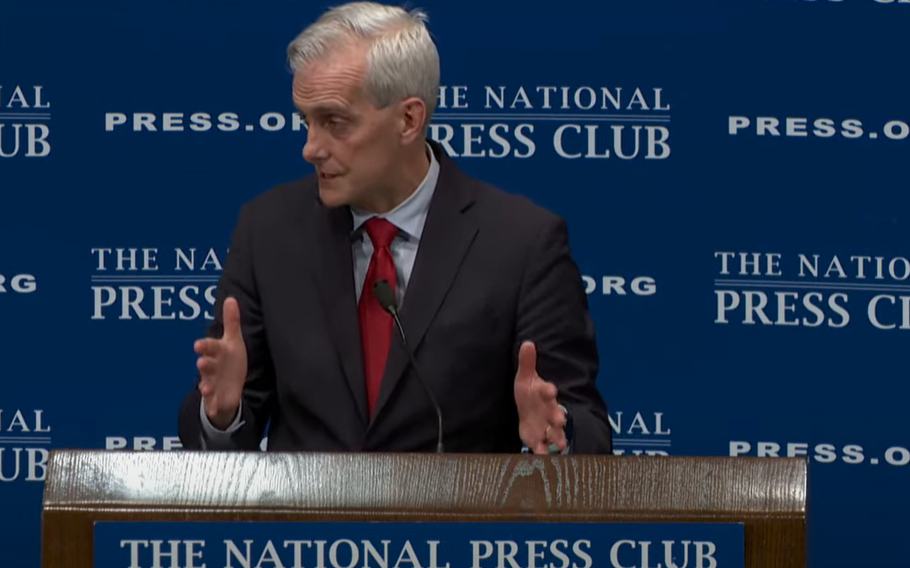 WASHINGTON — The Department of Veterans Affairs' focus on housing veterans living on the streets of Los Angeles will spark momentum to tackle veteran homelessness across the country, VA Secretary Denis McDonough said Tuesday.
McDonough, who spoke at the National Press Club, said the VA succeeded in its goal of getting all homeless veterans living in the area known as "veterans row" in Los Angeles into housing by Nov. 1.
About 40 people were living along veterans row, a homeless encampment just outside the West Los Angeles VA Medical Center, when McDonough visited the facility in October. He vowed Oct. 20 that all the veterans would be in either transitional or sustainable housing by Nov. 1.
"We succeeded in that first step," McDonough said Tuesday.
Veterans living in the encampment were placed in VA programs, as well as transitional housing at hotels and emergency shelters, the VA Greater Los Angeles Healthcare System said in a statement issued Oct. 28.
The secretary also promised the VA would house an additional 500 homeless veterans in LA in time for the holidays.
Veterans experience homelessness at a disproportionately high rate compared to the rest of the U.S. population, and there are more homeless veterans in Los Angeles County than anywhere else in the country. According to the Department of Housing and Urban Development, 37,252 veterans were experiencing homelessness in January 2020. Of those veterans, 3,681, or about 10%, lived in Los Angeles.
The VA is creating a manifest of all homeless veterans in LA, including background information for each veteran about the underlying issues that led to their homelessness. That could include substance abuse disorders, untreated mental health problems, unemployment and involvement in the justice system, McDonough said.
McDonough insisted the department wasn't ignoring homelessness in the rest of the country but he said the VA is focused on building momentum in LA. He wants to get back to the level of work being done on the issue between 2010 and 2016, when veteran homelessness was cut in half nationwide, he said.
The number of homeless veterans in the United States rose in 2017 for the first time in seven years. According to the most recent data, veteran homelessness increased from 2019 to 2020, which stoked fears among advocates that the effects of the coronavirus pandemic could add to an already regressive trend.
"It is really important, in my view, that we build up momentum in LA to demonstrate to the country that this is, indeed, a fixable problem," McDonough said. "I want us to get this job finished, and I think we can do it."
McDonough spoke at the press club ahead of Veterans Day on Thursday. In addition to providing an update on the department, he urged Americans to "serve veterans with as much heart and soul as they've served us."
"As a country, we now rely on a very small percentage of our population to fight for the rest of us," he said. "The risk is that veterans and nonveterans end up occupying two separate realities in America, leaving some veterans feeling isolated. The thing is, it is not on veterans to break down that barrier, it's on all of us."
---
---
---