'Center of the veteran homelessness universe': VA resumes homeless count with focus on vets in Los Angeles
By
Stars and Stripes
February 28, 2022
---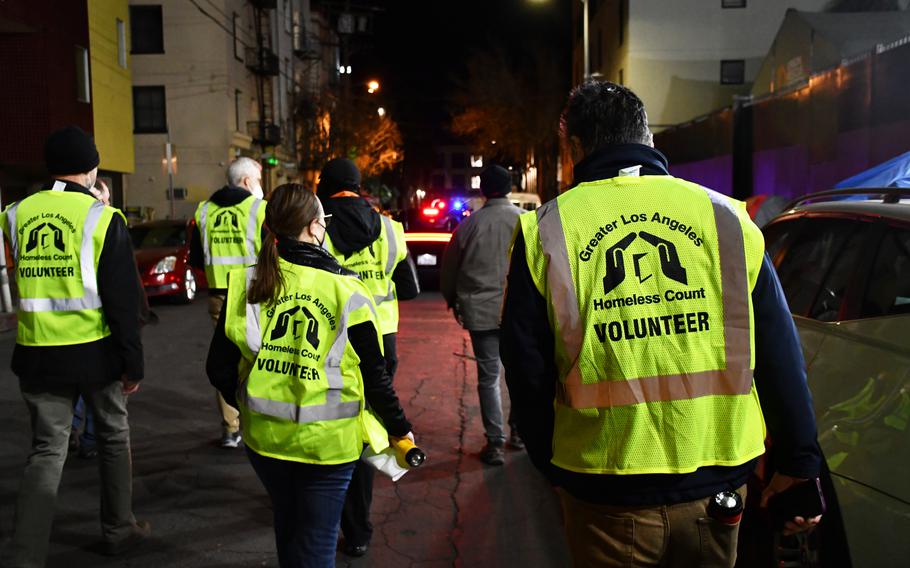 LOS ANGELES — Teams of Department of Veterans Affairs employees, wearing reflective vests and carrying flashlights, assembled at each corner of the VA campus in West Los Angeles on Wednesday night with the mission to find and count every homeless veteran within the 388-acre site.
Dressed in coats, gloves and hats on what was an abnormally cold night for Southern California, about 50 people trekked through wooded areas, parking lots and along stretches of grass abutting Interstate 405. The teams dodged holes left in the dirt by ground squirrels and gophers as they searched crevices between buildings and behind heating and air-conditioning units. It was their responsibility to lay eyes on every square foot of their zone, looking for tents or other makeshift dwellings where veterans could be.
One group of seven logged nine veterans. They were assigned to the south side of campus surrounding the main hospital, and all the veterans in their zone were staying inside their vehicles in a "safe parking" lot, where they're allowed to sleep overnight and are provided restrooms and security. Los Angeles County estimates roughly 15,700 people — about 25% of the area's homeless population — sleep in their vehicles nightly. Safe Parking LA operates nine lots in the greater Los Angeles area, including one on the VA campus. About 220 people stay on their lots every night.
"By you going out in this area where there's a lot of concentration of veteran homelessness, it helps us to paint this picture of what we're trying to do," Steven Braverman, director of the VA Greater Los Angeles Healthcare System, told the teams before they scattered across the campus. "It helps us to set goals, it helps us to get funding, it helps us to know where we need to go in order to ultimately eliminate veteran homelessness."
The effort, known as the point-in-time count, is typically held every year but was on hiatus after the coronavirus pandemic began nearly two years ago. The endeavor resumed this year, and thousands of volunteers combed the nation in January and February to count the country's homeless population.
Information from the count will be shared with the Department of Housing and Urban Development and used as the basis for federal, state and local governments to allocate funding and other resources to fight homelessness.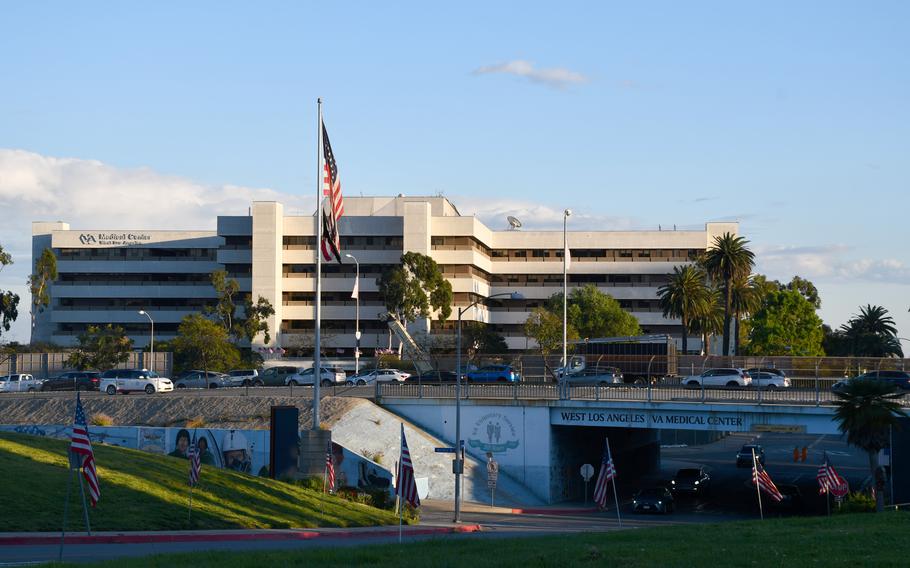 Veterans experience homelessness at a disproportionately high rate compared with the rest of the population. Two years ago, the count showed 10% of all homeless veterans in the U.S. resided in Los Angeles County.
During the past four months, VA Secretary Denis McDonough has put more focus toward housing veterans in Los Angeles, hoping any progress there would create momentum to end veteran homelessness nationwide.
Before scattering across the West Los Angeles VA Campus on Wednesday night, employees congregated in an administrative building, where they were assigned to zones and taught how to upload their counts into a mobile app, which would automatically be shared with the Los Angeles Homeless Services Authority.
"The secretary of the VA has made it very clear that from his perspective, we're the center of the veteran homelessness universe," Braverman told the group. "We have the most homeless veterans of any other community. ... If we can succeed here, the VA can succeed anywhere."
Los Angeles is expected to release their results in May or June, and the Department of Housing and Urban Development will issue a full report, with veteran-specific data, this fall.
McDonough started his efforts in Los Angeles by promising to get all homeless veterans living in the area known as "veterans row" into housing by Nov. 1, 2021. About 40 people were living along veterans row, a homeless encampment just outside the West Los Angeles campus, when McDonough visited the facility in October. In addition to eliminating veterans row, he urged local VA officials to house another 500 homeless veterans in Los Angeles in time for the holidays.
The VA surpassed those goals and got more than 700 veterans into temporary or permanent housing by the end of 2021. Some individuals living along veterans row moved inside VA grounds, where they now sleep in 8-by-8-foot shelters.
McDonough traveled to Los Angeles last week to see the progress and build a greater sense of urgency for homelessness efforts at the campus.
"I feel like our team is doing very important work, but that doesn't mean there's not work left to be done — there is," he said. "What remains is for us to underscore that we will not tolerate the idea that there's a homeless veteran in this country. When we internalize that and we apply urgency … we have all the other ingredients to get it done."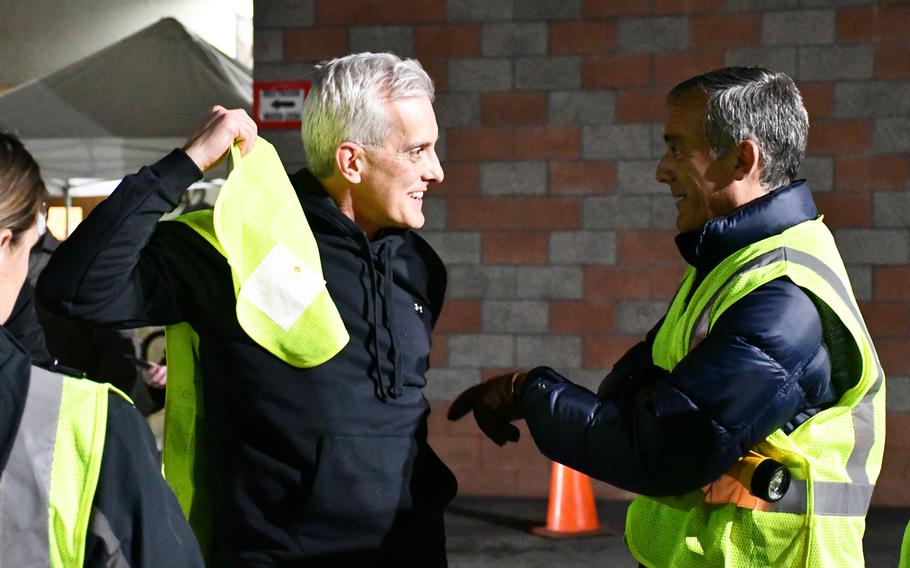 In Los Angeles County, where there were about 67,000 homeless people in 2020, the point-in-time count was a three-day effort.
McDonough joined Thursday and counted encampments in Skid Row, a neighborhood in downtown Los Angeles. Within the neighborhood's five city blocks is one of the largest communities of homeless people in the country.
McDonough was part of a group that included Los Angeles Mayor Eric Garcetti and Rep. Mark Takano, D-Calif., the chairman of the House Committee on Veterans' Affairs. They crisscrossed through a section of Skid Row while staff of the Los Angeles Homeless Services Authority tallied the number of people they came across.
Some individuals in Skid Row huddled around small fires, rested against buildings or slept on flattened cardboard. In a few shelters, televisions played or music blasted. McDonough's group, which totaled a dozen people followed by three security vehicles, drew attention from some of the people settling in there for the night. They yelled a greeting or inquired about what was happening, looking wary.
After about two hours, the group had counted about 100 tents, campervans and other makeshift shelters.
McDonough said Thursday that he didn't want to speculate about what the count might reveal about the number of homeless veterans in and around Los Angeles.
As of January 2020 — the time of the last complete count — 3,681 homeless veterans were living in Los Angeles County, a slight increase from 2019.
Los Angeles didn't conduct a full point-in-time count in 2021 because of the pandemic. However, the Department of Housing and Urban Development released results of a limited count, which logged only people living in emergency shelters or temporary lodging.
The results of that count, which were released earlier this month, showed a 10% drop in the number of veterans in homeless shelters. On a single night in January 2021, 19,750 veterans were staying in emergency shelters or temporary housing, down from 22,048 in 2020.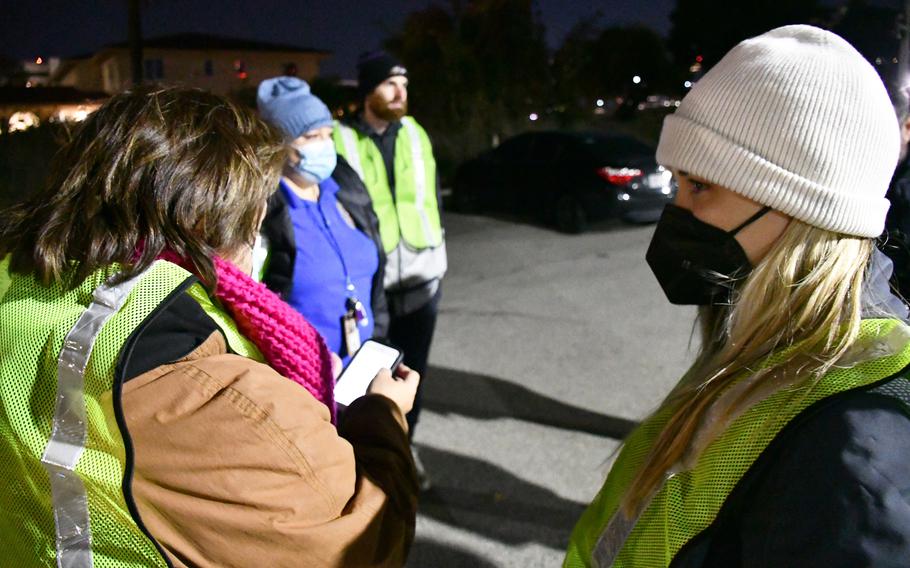 However, HUD emphasized the limited scope of last year's count meant its findings weren't completely reliable and didn't reflect "the full impacts of the COVID-19 pandemic on the prevalence of homelessness."
The numbers could be even more unreliable for determining the scope of veteran homelessness in Los Angeles, where 76% of the homeless veterans counted in 2020 were living on the street.
Given the gaps in data since 2020, the information collected last week is "vital" for the VA's policymaking, McDonough said.
"By being here on the street, carrying out these counts, we want to demonstrate that we're very serious about this," he said. "We take very seriously not only the challenge, but the stewardship of the resources the American people have given us to dedicate to this challenge."
In its 2022 budget request last year, the VA asked Congress for $2.2 billion for homelessness programs, a 16% increase from 2021. Congress, however, has yet to pass a full budget for 2022 and has instead approved multiple continuing resolutions, which keep the government operating at last year's funding amounts.
While Congress is set to reconsider a 2022 budget in March, federal agencies, including the VA, are preparing to release their 2023 priorities and funding requests.
---
---
---
---