Army should ban flying of Confederate streamers but allow 29th Infantry Division's Civil War patch, commission says
By
Stars and Stripes
August 1, 2022
---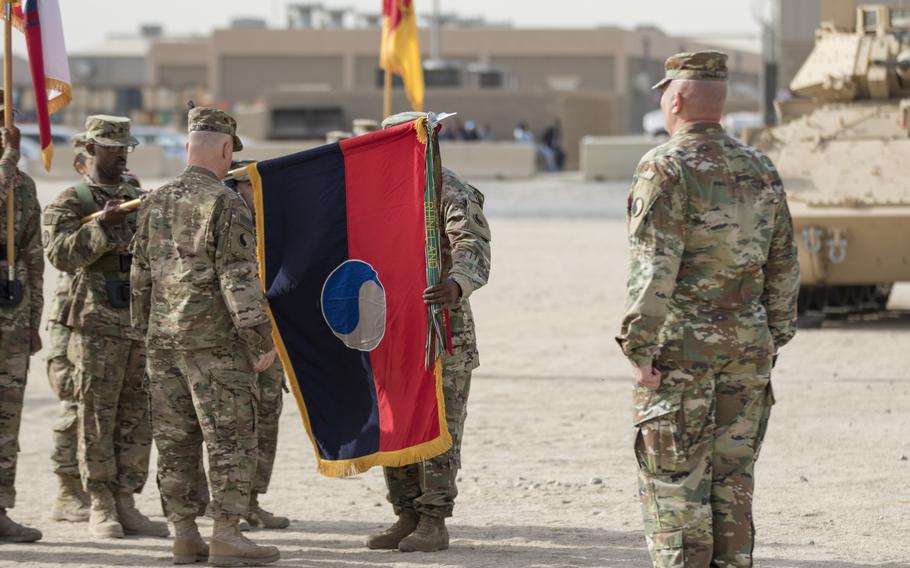 WASHINGTON — The commission charged with eliminating commemoration of the Confederacy in the U.S. military recommended Monday that the Army ban the flying of Confederate campaign streamers on unit flags but allow the 29th Infantry Division to keep a blue-gray patch referencing the Civil War.
A 1949 exception to Army regulations allows 457 Confederate battle streamers to be displayed and 48 Army units have at least one of them, according to the Naming Commission. Members of the eight-member group, convened by Congress last year to rename military assets associated with the Confederacy, called for the Defense Department to rescind the exception.
The commission also recommended a change to the description text of the blue-and-gray shoulder patch worn by the Army's 29th Infantry Division but said the design of the patch could stay the same. The yin-yang symbol used on insignia throughout the division has represented the blue uniforms of Union soldiers and the gray uniforms of Confederate soldiers since World War I.
Community feedback heavily influenced the decision to keep the symbol, said retired Adm. Michelle J. Howard, the commission's chairwoman.
"The community of the 29th ID indicates that they view the symbol as a unifying symbol for America and is imbued with the sacrifices and service of past 29th ID members," Howard wrote in a July letter to top members of the House and Senate Armed Services committees.
The division formed in 1917 and played a major role in World War II, landing on the beaches of Normandy on D-Day and eventually advancing through France and into Germany. It is now a formation of the Army National Guard and includes units from Virginia, Maryland, Kentucky, North Carolina, South Carolina and West Virginia.
Howard said the description of the division's patch should be modified to "reflect the rich history of the 29th, with focus on the unification of American citizens through service in the 29th" and scrubbed of language implying Confederate service and reconciliation of the North and South.
The description provided by the Institute of Heraldry, which oversees all federal government symbolic items, states the "division was composed of two masses of men, one from the North and the other from the South. Therefore, the North is represented by the blue and the South by the gray."
The commission also told lawmakers that it wants the defense secretary to task every service secretary with addressing tributes to the Confederacy on heraldry items or other symbols. In brief guidance, the group suggested complete redesigns for items that unmistakably honor the Confederacy and language modification for commemorations that rest primarily in the descriptive text.
The recommendations follow a lengthy list of proposed changes from the commission, which is set to present a final report to Congress on Oct. 1. The group has so far recommended renaming nine Army posts and identified more than 750 buildings, streets, ships and other military assets for review.
---
---
---
---