New names recommended for 9 Army bases that honor Confederates
By
Stars and Stripes
May 24, 2022
---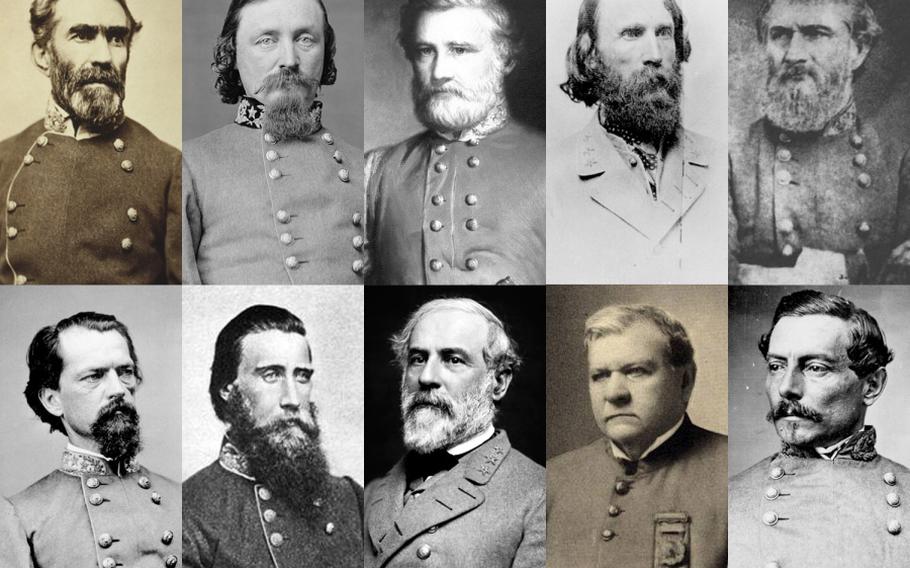 WASHINGTON — The Army will now have bases named after women and African Americans if Congress and Defense Secretary Lloyd Austin approve the recommendations offered Tuesday by an independent commission assigned to make the selections.
Congress mandated last year that an appointed Naming Commission come up with potential new names for nine Army installations that now honor Confederate generals from the Civil War.
The nine bases are all in former Confederate states and were named during the 1910s and 1940s amid the South's Jim Crow era.
These are the bases and the suggested name changes, according to retired Brig. Gen. Ty Seidule, a member of the commission:
— Fort Bragg, N.C., to Fort Liberty.
Fort Bragg, N.C., is home to the 82nd Airborne Division and the name Fort Liberty honors a line in the division's song: "We're all American and proud to be well we're the soldiers of liberty," Seidule said Tuesday in a call with reporters.
"Throughout our history, liberty remains the greatest value ever since the nation created a standing army to provide for the common defense that army's greatest battles have been for liberty," he said.
— Fort Polk, La., to Fort Johnson after Sgt. William Henry Johnson.
Johnson was a member of an all-Black infantry regiment that later became the 369th Infantry Regiment, according to the Army. Johnson is known for saving his fellow soldiers after suffering a German grenade attack on May 14, 1918, in France during World War I.
"Despite a grenade wound, Johnson attacked the Germans. First, he threw all his grenades, then he fired all his rifle ammunition," Seidule said. "He ran out of bullets to use, [then used] his rifle as a club until it was smashed to bits. [Finally], he took out his bowie knife to save his comrades."
— Fort Benning, Ga., to Fort Moore for Lt. Gen. Hal and Julia Moore.
The couple are honored each for their services to the nation, one in uniform and one as a civilian.
"With Hal and Julia Moore, we recognize the Army family that serves the nation together," Seidule said.
The lieutenant general served in the Battle of Ia Drang in Vietnam in 1965 and received the Distinguished Service Cross and later "played a crucial role in the transition to the all-volunteer Army," he said.
Julia Moore is honored for her advocacy that led the Army to establish its casualty notification program and survivor support networks, Seidule said.
"Before her intervention, the Army notified the families of casualties by telegram carried by cab drivers. Horrified, she started accompanying the cabbies to deliver the devastating news to families about their loved ones," he said.
— Fort Gordon, Ga., to Fort Eisenhower for former President Dwight Eisenhower.
"Eisenhower spent a lifetime in service to the nation starting as a West Point cadet in 1911 and finishing as president 50 years later," Seidule said. "Of course, we know Eisenhower best for leading one of the greatest operations in military history: the D-Day landings in Normandy on June 6, 1944."
— Fort A.P. Hill, Va., to Fort Walker after Dr. Mary Walker.
Walker is a Medal of Honor recipient who served as a doctor during the Civil War. She was the Army's first female surgeon to go into battle, where "she remained with wounded soldiers after the U.S. Army unit departed, disregarding her own safety," Seidule said.
"The enemy captured her and she spent four months in a prisoner of war camp," he said.
— Fort Hood, Texas, to Fort Cavazos after Gen. Richard Cavazos.
Cavazos was a Distinguished Service Cross recipient who fought in the Korean and Vietnam wars and later commanded the Army's III Corps, which is headquartered at the installation, Seidule said.
"As a young lieutenant in Korea, [Cavazos] led his company on three separate charges of an enemy position," he said. "Then he returned to the field five times to evacuate his wounded soldiers before allowing medics to treat his wounds."
— Fort Pickett, Va., to Fort Barfoot for Tech. Sgt. Van T. Barfoot.
Barfoot was a Medal of Honor recipient who served in the Army for more than 34 years, Seidule said.
"On May 23, 1944. Tech. Sgt. Barfoot was in Northern Italy with his unit attacking a well-entrenched German position," Seidule said. "Barfoot moved out alone against the enemies' left flank. [Took] out three separate machine gun emplacements one after the other capturing 17 prisoners."
— Fort Rucker, Ala., to Fort Novosel after Chief Warrant Officer 4 Michael J. Novosel, Sr.
Novosel was a Medal of Honor recipient who flew more than 2,500 extraction missions in Vietnam, rescuing more than 5,500 wounded soldiers, Seidule said.
"On one extraordinary mission on Oct. 2, 1969, he saved 29 men despite suffering severe wounds," Seidule said. "Incredibly, on another mission, he rescued his son, a fellow helicopter pilot."
Seidule said he hoped the name would inspire "the next generation of Army aviators."
"Novosel represents the many families who served the nation," he said.
— Fort Lee, Va., to Fort Gregg-Adams after Lt. Gen. Arthur Gregg and Lt. Col. Charity Adams.
"The local community suggested we consider a hyphenated name, we thought that was a great idea," Seidule said.
Gregg, who is now 95 years old, enlisted in the Army at 17 at the end of World War II. He commanded logistics units "in war and peace all over the globe" during his career and still makes time to mentor soldiers and families, Seidule said.
Adams left her teaching job in 1941 to join the military, later becoming one of the highest-ranking female soldiers in World War II. She commanded a postal battalion in Europe from 1944-1945, "working under the motto, 'no mail, no morale'," Seidule said.
"Adams and her unit made it their mission to sustain soldiers at the front and keep the families at home connected to soldiers, handling more than 6 million pieces of mail a month," Seidule said. "They cleared a six-month backlog in half the time expected and delivered tens of millions of envelopes to soldiers in the field."
The commission also considered changing the name of Fort Belvoir, Va., which was named after Union Army Gen. Andrew A. Humphreys from 1917-1935 before it was renamed in 1935 after the family who owned the plantation where the installation now sits.
However, the group decided Belvoir "does not meet the criteria Congress provided" for the renaming recommendation, "but will recommend the Department of Defense conduct its own naming review of the post," the commission said Tuesday in a statement.
Army and Pentagon leaders began looking at stripping bases of Confederate-linked names in 2020 amid a nationwide racial reckoning after the Memorial Day killing of George Floyd by Minneapolis police.
In the commission's selection process, the members of the group visited the bases last year for listening sessions with military commanders and community leaders "to gain feedback on their process, preferences for new names and an understanding of local sensitivities," the commission said.
They also opened a website for the public to make suggestions between September and December, which resulted in the commission receiving 3,670 different name suggestions in more than 34,000 submissions, Seidule told reporters.
"We believe that these new names will inspire soldiers to achieve the highest standards demanded by their nation, in peace and in war," he said. "I speak for all eight commissioners when I tell you, it is our honor to unanimously recommend these names."
The names will be delivered in a report due to Congress in October. Lawmakers must give their approval on the names, which will then go to Austin to carry out the renaming formally, Seidule said.
---
---
---
---