More than 750 Defense Department items with names tied to the Confederacy listed for possible renaming
By
Stars and Stripes
March 31, 2022
---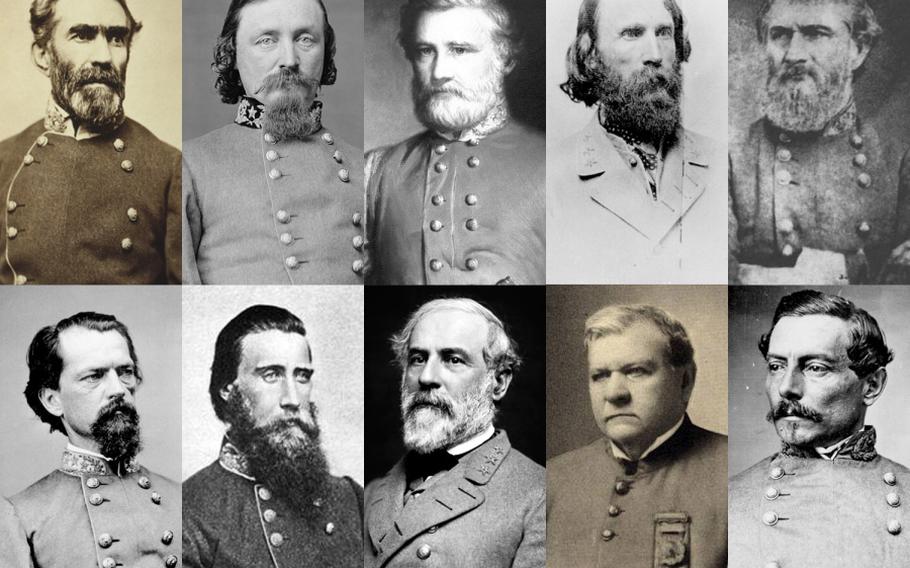 A federal commission created by Congress has published for the first time its official list of Defense Department assets it will consider for name changes over links to the Confederacy.
The so-called Naming Commission on Wednesday released the list of 758 Defense Department items at U.S. military installations around the world that it said likely honor Confederate officials and causes, including hundreds of signs, roads, memorials, vessels and buildings on posts in the U.S., Germany and Japan. The commission, which was created in 2020, said decisions about which items the panel would recommend for changes or estimated costs associated with those actions had yet to be determined.
"We will update the inventory list in collaboration with the Department of Defense, including its sub-agencies and the military branches, as we continue to identify assets within our area of consideration," said retired Navy Adm. Michelle Howard, the Naming Commission's chairwoman. "This work is vital to understand the scope and estimated cost of renaming or removing Confederate-named assets and will enable us to provide the most accurate report possible to Congress."
The commission's final report is due to Congress on Oct. 1, a deadline the commission said it is likely to meet. A spokesperson for the commission said cost estimates for the name changes, which include nine Army installations across the U.S. southeast, would not be released until that report was provided to lawmakers. Defense Secretary Lloyd Austin is expected to make final decisions on renaming installations and other Defense Department assets as soon as next year, based on the commission's work.
Earlier this month, the panel announced it would formally recommend changes for those nine Army posts — Fort Polk in Louisiana, Fort Benning and Fort Gordon in Georgia, Fort Bragg in North Carolina, Fort A.P. Hill, Fort Lee and Fort Pickett in Virginia, Fort Rucker in Alabama, and Fort Hood in Texas. The installations, each in former Confederate states, were named for Confederate officers during the 1910s and 1940s during the south's Jim Crow era. The commission said last year that it would not recommend a name change for Camp Beauregard in Louisiana, which was also named for a Confederate general, because it is owned by that state's National Guard and is not within the commission's authority to consider.
The vast majority of the items the commission labeled for potential change are owned by the Army, including dozens of signs bearing the names of the nine installations that it will recommend for renaming. For example, of the 31 items that it is considering on Fort Bragg — named for Confederate Gen. Braxton Bragg — only 10 are unrelated to the post's name. Those include streets named for Confederate generals Thomas "Stonewall" Jackson, Lewis Armistead and George Randolph.
The list includes 10 items at the U.S. Military Academy at West Point, N.Y., primarily streets, signs, paintings and buildings honoring Confederate Gen. Robert E. Lee, who was an 1829 West Point graduate. Lee later served as the institution's superintendent before resigning his commission in 1861 to lead the Confederate Army during the Civil War.
It also includes three memorials at Arlington National Cemetery in Virginia — one each honoring Lee and Jackson and another "dedicated to Confederate soldiers."
In Germany, the commission is looking at seven streets likely named for Confederates on U.S. Army Garrison Bavaria and U.S. Army Garrison Rheinland-Pfalz.
In Japan, the commission is considering the names of three Army boats — LCU-2022 Harpers Ferry, LCU-2025 Malvern Hill and LCU-2027 Mechanicsville — based at Yokohama North Dock, which were likely named for Confederate battlefield victories. It is also looking at two Navy vessels stationed at Yokosuka Naval Base for different reasons. The commission is considering recommending changes to the USS Shiloh — named for U.S. Gen. Ulysses S. Grant's first major victory during the Civil War. It features "crossed and furled U.S. and Confederate flags" on its crest. It is also considering a recommendation to rename the USS Chancellorsville, which is named for a Confederate victory.
Congress mandated the commission in the 2021 National Defense Authorization Act, which sets annual spending and policy priorities for the Defense Department. Lawmakers did so as Army and Pentagon leaders began looking at stripping bases of Confederate-linked names in mid-2020 amid a nationwide racial reckoning after the Memorial Day killing of George Floyd by Minneapolis police. Then-President Donald Trump vetoed the law, objecting to the renaming commission, but Congress overrode his veto.
Commissioners — appointed last year by the Pentagon and lawmakers — have spent recent months touring military installations and meeting behind closed doors with community leaders. The panel said it received tens of thousands of public suggestions for new names for the Army posts. It has since narrowed its potential name recommendations to 87.
The list includes fallen Army Sgt. 1st Class Alwyn Cashe, who was the only Black service member to receive the Medal of Honor for actions in Iraq or Afghanistan; Audie Murphy, the most decorated U.S. soldier during World War II who went on to become an actor; Army Gen. Colin Powell, the only Black chairman of the Joint Chiefs of Staff and former secretary of state; and Mary Walker, the Army's first female surgeon who was awarded the Medal of Honor for lifesaving actions during the Civil War and remains the woman in U.S. history to earn the nation's highest military honor.
---
---
---
---