'Quite intense': Public offers 27,000 suggestions — including some attacks — on renaming military bases that now honor Confederates
by
Corey Dickstein
Stars and Stripes
October 1, 2021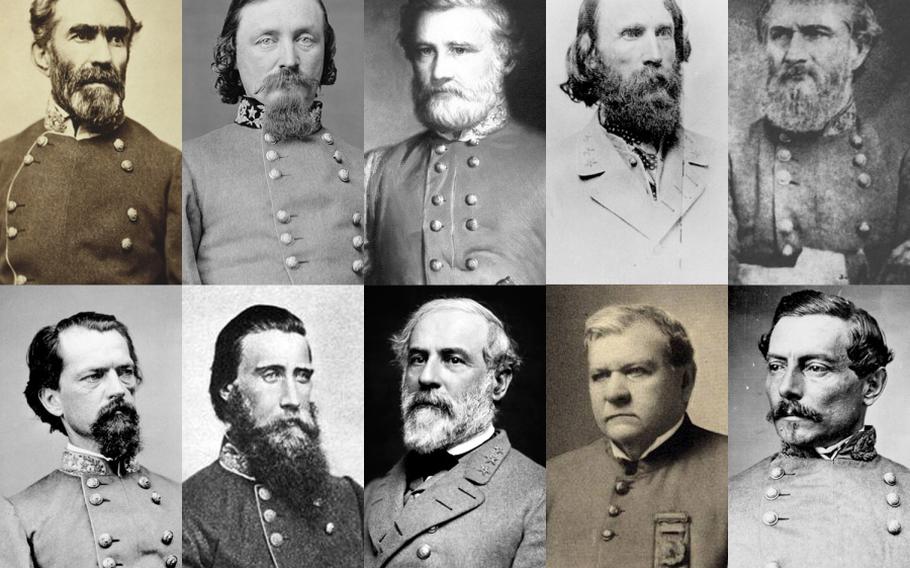 Among more than 27,000 public submissions of new names for Army bases now honoring Confederate generals were a number of "quite intense" proposals that disparaged the Congress-mandated renaming process, the leader of the commission undertaking the effort said Thursday.
"There are some folks who are distinctly opposed [to renaming bases named for Confederates] and the verbiage they used is quite deliberate," said Michelle Howard, the retired Navy admiral and chairwoman of the Naming Commission. "They make it clear that they do not support the commission."
Howard said the majority of suggestions would be taken into consideration, including 5,000 names proposed multiple times by members of the public. The eight-member commission, which began work in the spring, is charged with providing recommendations to Congress by October 2022. Lawmakers will then instruct the defense secretary to change the names of bases, ships, buildings and other military assets that commemorate the Confederacy.
In addition to at least nine Army bases, Howard estimated there were thousands of items across the military that likely qualified to be changed.
Commissioners spent the summer months visiting several of the Army bases named for Confederate generals and other military institutions with Confederate-linked items, Howard said. They met with military and civilian leaders -- including elected officials, business leaders and local nongovernmental organizations -- in those communities in an effort to hear directly from those who would be most impacted by the name changes.
Most of the meetings went smoothly, she said, though people often expressed their displeasure with the decision to change the names.
"There are those who took the opportunity to vent a little to the commission and made it clear … they feel it's part of the history of the area, and they're very tied to the history of the area," Howard said. "But, in the end, they understand that the law has already been written — that it's not a decision for the commission, that that decision has already been made by Congress."
Congress mandated the commission in the 2021 National Defense Authorization Act, which sets annual spending and policy priorities for the Defense Department, as Army and Pentagon leaders began looking at stripping bases of Confederate-linked names last year amid a nationwide racial reckoning after the Memorial Day killing of George Floyd by Minneapolis police. Then-President Donald Trump vetoed the law, objecting to the renaming commission, but Congress overrode his veto.
The Army installations in question, all in former Confederate states, were named during the 1910s and 1940s during the south's Jim Crow era. They are Fort Polk in Louisiana, Fort Benning and Fort Gordon in Georgia, Fort Bragg in North Carolina, Fort A.P. Hill, Fort Lee and Fort Pickett in Virginia, Fort Rucker in Alabama, and Fort Hood in Texas. Camp Beauregard in Louisiana was also named for a Confederate general, but it is owned by that state's National Guard and it is not within the commission's authority to rename, officials said in May.
The commission is also considering whether it should suggest renaming Fort Belvoir in Virginia, Howard said. That Army installation just outside of Washington was initially named for Gen. Andrew A. Humphreys who served in the Union army during the Civil War. It was renamed in 1935 after the family who owned the plantation on which the installation now sits.
Howard said the commission will determine whether that previous renaming was tied to the honoring the Confederacy in any way. She said the panel has tasked historians with looking for clear evidence on the decision to rename the post.
The retired admiral spoke with reporters Thursday after briefing House and Senate Armed Services committee staffers on where the commission stands. After several months of work, she said she finally understood why Congress gave the commission almost two years to complete its work.
Among the details that the commissioners provided Congress on Thursday was an early estimate of the costs that would be associated with changing Army installation names, Howard said. However, she said those were rough figures and declined to provide further information about them.
She also appeared dismissive of some suggestions to rename certain installations for different individuals with the same surnames as the Confederate generals for whom the bases' names now honor.
For example, Wisconsin state Sen. Dale Kooyenga, R-Brookfield, in May suggested renaming Fort Bragg for a cousin of its current namesake Confederate Gen. Braxton Bragg. The lawmaker suggested the post could simply honor Braxton's cousin Union Gen. Edward Bragg, who was from Wisconsin.
"Any name that's provided to us we're going to take that into consideration and work our way … down the names and then get to a final list that we can consider," Howard said. "I will tell you, though, there were members of communities we met with who stood up and said, 'If you do that — if you use the same name, even with a different human in a different context, then you almost undo' what they thought the intention of the law was.
"So, I took that to heart — hearing members of the community say that."
Howard said the public submissions include names that would honor women and people of color and others. She said Sherman and Benavidez were among the most common names submitted. Sherman would honor Union Gen. William Tecumseh Sherman, who was perhaps most famous for his 1864 scorched-earth march through Georgia. Benavidez would honor Green Beret Staff Sgt. Roy Benavidez, who was awarded the Medal of Honor for valor in Cambodia during the Vietnam War. She did not tie either name to a specific base on Thursday, however Benavidez' name has been suggested publicly for Fort Hood.
The commission will accept public suggestions for military installations through Dec. 1. It is seeking names that commemorate individuals, high-profile military operations, geographic locations or core military values. Suggestions can be submitted at www.thenamingcommission.gov.