'Forever chemicals' research would be expanded under bipartisan legislation
By
mlive.com
July 13, 2022
---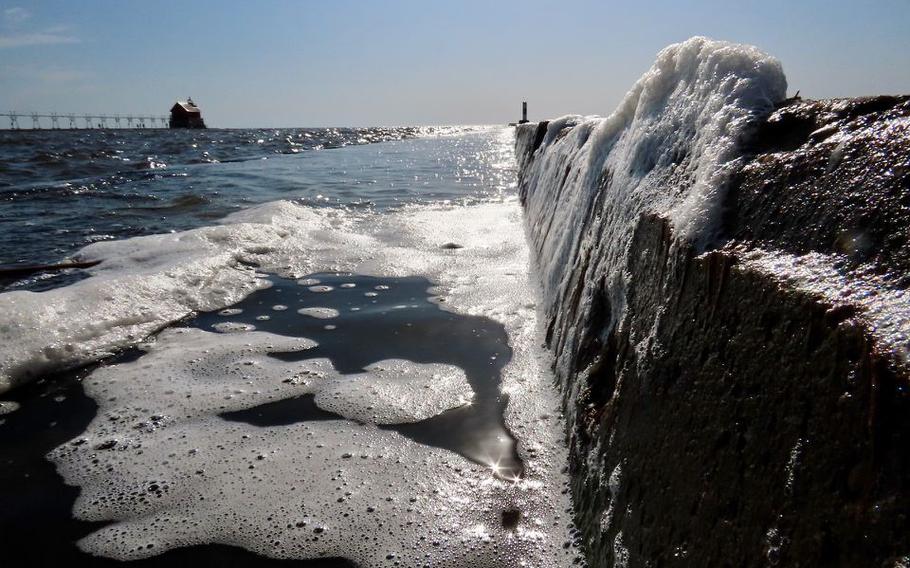 (Tribune News Service) — Federal agencies may be prompted to work with top scientists to study toxic "forever chemicals" and determine the best prevailing knowledge for decision-makers who face contamination in communities across the nation.
Michigan's U.S. Sen. Gary Peters, D-Bloomfield Township, this week announced new bipartisan legislation he introduced with Republican Sen. Jerry Moran of Kansas, which would require federal officials at agencies with expertise about chemical pollutants known as PFAS to work on a consensus study with the National Academies of Sciences, Engineering, and Medicine.
The goal is to consolidate the scientific understanding of per- and polyfluoroalkyl substances known as PFAS and how to clean up contamination sites. Ultimately, decision-makers about PFAS regulations and cleanup efforts would be better informed by a more collective grasp of the emerging environmental contaminant, Peters said.
"To effectively address this crisis, we need a more complete understanding of the impact PFAS has on our health, environment, and communities," the senator said in a released statement.
The proposed bill called the Federal PFAS Research Evaluation Act is meant to solidify what is known about exactly how harmful PFAS substances are to people, specific levels of toxicity, how people can be exposed, ways to clean up the pollution, and how to destroy the chemicals. The bill would result in four nonpartisan, scientific consensus reports.
Moran called the proposed legislation a meaningful step forward to better understand how PFAS chemicals harm communities and bolster the nation's research into effective ways to counter dangerous toxins.
In Michigan, state environmental officials have more proactively sought out PFAS pollution sites and pursued cleanup plans than in other states. Michigan was among the first states to adopt PFAS regulations for drinking water that were tougher than federal standards.
The U.S. Environmental Protection recently lowered to virtually zero what's considered a safe level in drinking water for two of the most well-known individual PFAS compounds in the chemical family of thousands.
Abigail Hendershott, executive director of Michigan's PFAS Action Response Team, said the proposed federal legislation could build on the existing work of several federal agencies, strengthen collaboration among agencies, and advance scientific knowledge about this class of contaminants.
Environmental advocates across Michigan praised the proposed bipartisan bill.
"This legislation is an important step in establishing a coordinated federal approach to the PFAS crisis," said Tony Spaniola of nonprofit group Need Our Water, a PFAS community action group in Oscoda.
Oscoda is an up north Michigan town along the Lake Huron shoreline which is home to the former Wurtsmith Air Force Base, where PFAS pollution was first discovered by state regulators in 2010. Officials have since then identified 222 sites contaminated with PFAS chemicals statewide.
Others also said the effort to bolster federal PFAS research remains critical.
Bentley Johnson from the Michigan League of Conservation Voters said this bill would make sure future actions to address PFAS would be "designed smart from the start."
"Toxic PFAS exposure is a health crisis in Michigan and around the country, and scientific research is an essential piece to understanding both the impacts of PFAS and solutions to clean up contamination and prevent further harm," Johnson said.
PFAS compounds were first developed in the 1940s to be used in various commercial and household products like non-stick cookware, food packaging, and water-repellant clothing. Foam that contains PFAS has long been used to extinguish jet fuel fires at airports and military sites.
The compounds are dubbed "forever chemicals" because they do not naturally break down in the environment and can accumulate in the human body over time. PFAS substances are known to be harmful, and scientists have linked exposure to them to multiple health problems, such as high blood pressure and cholesterol, thyroid and infertility issues, liver damage, and certain cancers.
©2022 Advance Local Media LLC.
Visit mlive.com.
Distributed by Tribune Content Agency, LLC.
---
---
---
---