Top House lawmaker rebukes 'too cautious' approach to Ukraine aid, calls for long-range artillery and sophisticated drones
By
Stars and Stripes
June 15, 2022
---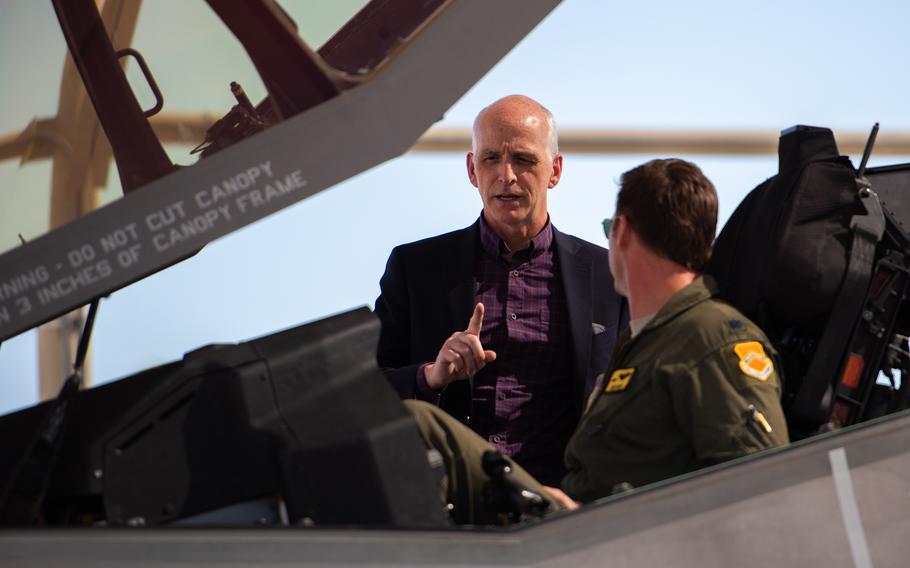 WASHINGTON — The chairman of the House Armed Services Committee on Wednesday called for the U.S. to send Ukraine long-range artillery and drones capable of deep strikes in Russian-held territory, describing current weapon shipments as too slow and cautious.
Rep. Adam Smith, D-Wash., said he has been pressing the issue with the White House "near constantly" and disagreed with President Joe Biden's decision to limit Ukrainians to rocket systems with munitions that have a range of just 40 miles. Fearing a wider war, the White House obtained assurances from Ukraine that it would not use the weapons to strike targets within Russia.
Smith criticized the hesitancy and restrictions at a Defense Writers Group event, and he said Ukraine should get more sophisticated weapons and in large quantities.
"Ukraine borders Russia, if you give them a mortar shell that can go a mile, theoretically it can strike Russia," Smith said. "The point of giving them the weapons is not to be able to strike into Russia, the point is to be able to hit the Russians who are in Ukraine from a longer, safer distance."
Ukraine is losing 100 to 200 soldiers on the battleground per day, according to Ukrainian officials. Russian forces are able to inflict such mass casualties due to a manpower and equipment advantage in the south and eastern Donbas region, where Russia's four-month war against Ukraine is now concentrated.
The ongoing artillery duel across open terrain requires higher-grade weapons support from the U.S., Smith said. The U.S. sent four High Mobility Artillery Rocket Systems, or HIMARS, in a military aid package this month, but future shipments should include munitions and powerful drones capable of flying longer distances, he said.
Smith expressed exasperation with the pace of ongoing discussions to sell Ukraine multi-use MQ-1C Gray Eagle drones that can collect large amounts of data and carry eight Hellfire missiles, a significant upgrade from the single-use unmanned aerial systems Ukrainian forces have used so far. Negotiations over the Gray Eagles have been bogged down by concerns over logistics and training, he said.
"Let's get them over there, let's get started," Smith said. "The issue is if the Russians are able to see better and shoot farther, then you're at a disadvantage so I think we should give them more of that."
Russia's ability to garner intelligence and conduct surveillance and reconnaissance is far superior to Ukraine's because they have better drones scoping out enemy artillery positions, he said.
"The Ukrainians don't have that same capability," Smith said. "There needs to be more ISR capability, more drone capability and more counter-drone capability to disrupt Russians looking at them."
Smith said his frustration with the White House's overly timid approach to arming Ukraine is shared by most of the House Armed Services Committee.
"My sense is that the consensus amongst the committee is we need to be more aggressive about what we give," he said. "That I will say with great confidence in a bipartisan way. [There's] a sense that we could be doing more in terms of the type of weapons that we're sending."
Mykhailo Podolyak, an adviser to Ukrainian President Volodymyr Zelenskyy, said Monday that ending the bloodshed in Ukraine will require 1,000 howitzers, 1,000 drones, 2,000 armored vehicles, 500 tanks and 300 multiple launch rocket systems. Zelenskyy on Tuesday specifically requested anti-missile defense systems.
Defense Secretary Lloyd Austin on Wednesday announced an additional $1 billion in military aid for Ukraine that includes 18 howitzers, two harpoon missile systems for coastal defense, more ammunition for rocket launchers and other equipment. The assistance package is the largest since the war broke out in February.
Smith said the U.S. remains capable of funneling the weaponry to the front line, despite claims by Russians that they are targeting and eliminating deliveries of weapons from the West.
"It will be a constant cat-and-mouse game to figure out how to get around Russian defenses … but I can say we are still able to get a substantial amount of weapons into Ukraine," he said.
---
---
---
---