STRATCOM commander says US nuke forces prepared despite Russian aggression, growing Chinese nuclear capabilities
By
Stars and Stripes
March 8, 2022
---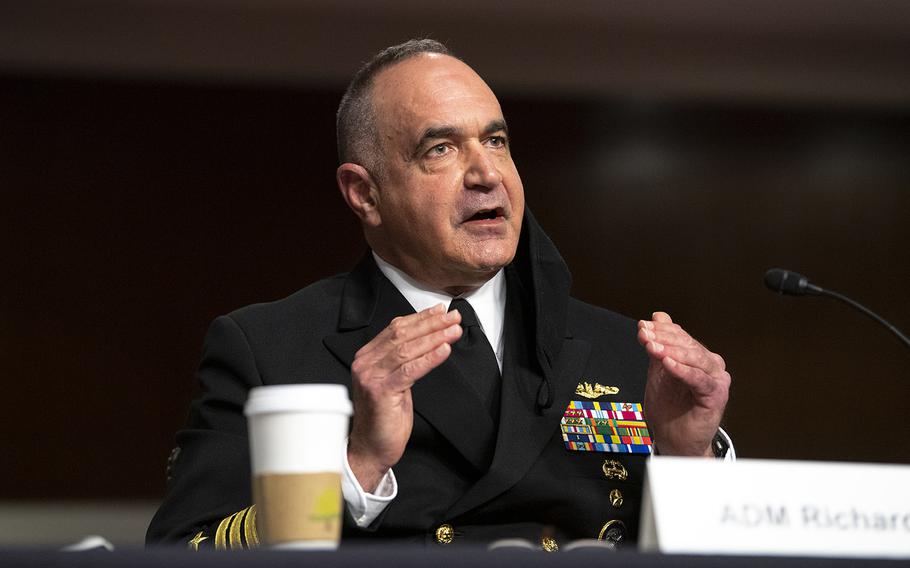 U.S. nuclear forces are prepared for any mission, the commander in charge of America's nuclear arsenal said Tuesday, warning senators that new Russian aggression in Europe and China's emerging nuclear power could place the world in unprecedented danger.
"Today, we face two nuclear-capable near-peers who have the capability to unilaterally escalate to any level of violence in any domain worldwide with any instrument of national power at any time" including nuclear weapons, Adm. Charles Richard, who has led U.S. Strategic Command since 2019, told the Senate Armed Services Committee. "We have never faced a situation before like that in our history."
Recent actions by Russia and China have alarmed Richard and other top U.S. officials, including their tests of next-generation hypersonic weapons, investments in other nuclear modernization efforts, their recent increases in nuclear drills and training, and Russia's attack on Ukraine.
In the days after Russia's unprovoked invasion of Ukraine last month, its President Vladimir Putin placed his nuclear forces on heightened alert raising the specter that he was prepared to use nuclear weapons, U.S. officials have said. Richard on Tuesday declined to answer most senators' questions about the ongoing conflict until they met later Tuesday in a classified briefing. Nonetheless, he told them that he would look to Putin's past actions to determine what he is likely to do in the future, but he did not elaborate.
Richard said his command has long prepared for similar scenarios to those Putin has launched since the Feb. 24 invasion of Ukraine. STRATCOM has trained to respond to the "limited nuclear [weapons] use in a conventional aggression scenario," such as Putin's attack on Ukraine, he said. So far, the admiral said, "nothing has happened that we didn't anticipate, that we hadn't thought about and hadn't prepared for."
If it came down to it, Richard said his "forces are ready right now to do anything [President Joe Biden] asked us to do."
Meanwhile, Richard told lawmakers that China became a fully nuclear capable power last fall and has continued "breathtaking expansion" of its nuclear enterprise with "opaque intentions" about how it might use such forces and capabilities. Despite its growing nuclear power, China's arsenal remains much smaller than that of Russia or the United States.
Nonetheless, its new capabilities mean the Pentagon must work harder than ever to deter nuclear war, he said.
"Every day we're thinking about their decision calculus, and what we have to do to influence that so that, basically, they say, 'Not today,'" Richard said. "Right now you have to look at what's happening in one place, and then walk over and see what that does to change decision calculus, and change your messaging, potentially change your posture."
And STRATCOM must do so with dated nuclear weaponry and infrastructure, Richard said, imploring lawmakers to pass a full fiscal year 2022 budget, which would boost funding for the Pentagon's efforts to build modern nuclear-capable intercontinental ballistic missiles, and new classes of nuclear bombers and submarines. The federal government, including the Pentagon, has operated since Oct. 1 under temporary spending measures passed by lawmakers who have failed to pass a 2022 budget. The stopgap funding measures largely provide the military identical funding levels to fiscal year 2021 and stop the Pentagon from starting some new modernization programs.
While Russia and China have fielded some advanced nuclear weapons, the United States has continued to use decades-old nuclear weapons, including the Minuteman III ICBMs and B-52 bombers that were first fielded in the 1960s and the Ohio-class ballistic missile submarines in use since the 1980s. It will be years before the Pentagon fields next generation nuclear weapons, including the Ground-Based Strategic Deterrent ICBMs, the Columbia-class nuclear-armed submarines and the B-21 Raider bombers.
"Today's nuclear force is the minimum required to achieve our national strategy," Richard said. "We must modernize the nuclear triad, the nuclear weapons complex and supporting infrastructure to meet presidential objectives. And while modernization must be the priority, please make no mistake, STRATCOM's forces are ready today."
---
---
---
---