Pentagon estimates 600 Russian missile launches as invasion meets 'strong Ukrainian resistance'
By
Bryan Pietsch, Hannah Knowles and Dan Lamothe
The Washington Post
March 7, 2022
---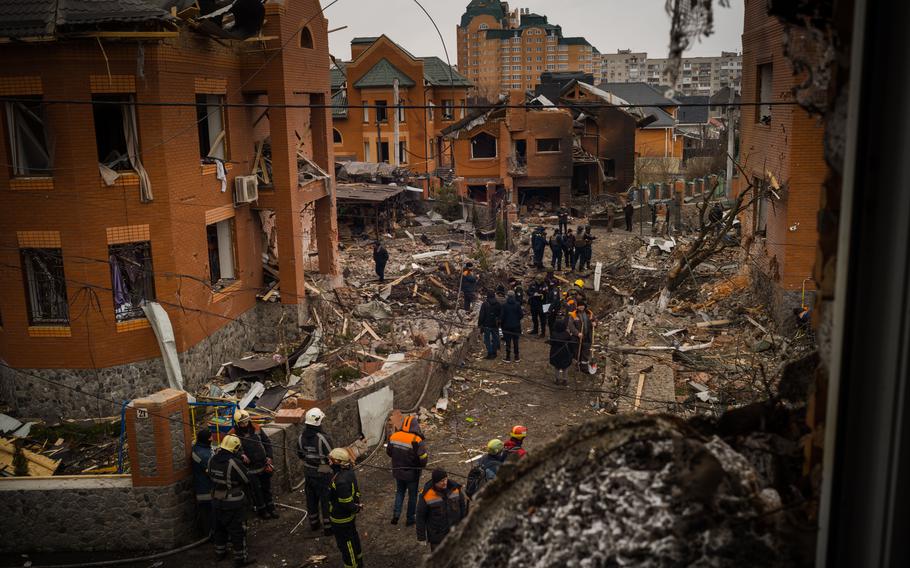 Russian troops are being met with "strong Ukrainian resistance" in their attempts to advance in Ukraine, a senior U.S. defense official said Sunday, adding that Russia has deployed about 95% of the forces it had amassed along Ukraine's borders and that approximately 600 Russian missile launches had occurred.
Across Ukraine's north and east, Russian forces have "continued efforts to advance and isolate" major cities, including the capital, Kyiv; Kharkiv, the second-largest city; and Chernihiv in the north. The United States, however, has "observed limited changes on the ground over the past day," said the official, who spoke on the condition of anonymity under terms set by the Pentagon.
Russia and Ukraine have lost aircraft and "missile defense inventories" but still have "a majority of their air defense systems and capabilities" intact, the official said.
In the south, the official said, Russian forces are encircling Mariupol, a city of 430,000 that has lost heat, water and power under a siege. Reports of widespread outages continue, the defense official said, and there is also fighting near Kherson and Mykolaiv.
"There does not appear to be any significant movement along the Russian axes," the official said, adding that a military convoy that has for days been crawling toward Kyiv "continues to be stalled."
The convoy — stretching some 40 miles — has been bogged down by fuel and food shortages. Ukraine's military has directed civil defense volunteers to ignore armored vehicles and instead target fuel trucks, which lack armor and are often driven by poorly trained Russian soldiers.
Britain's Defense Ministry said in an intelligence update Sunday that "the scale and strength of Ukrainian resistance continues to surprise Russia." It noted that there was a "realistic possibility that Russia is now attempting to conceal fuel trucks as regular support trucks to minimise losses."
But Russia is responding to the Ukrainian resistance with harsher tactics, Britain said, with its military "targeting populated areas" such as Kharkiv, Chernihiv and Mariupol, likely in an effort to "break Ukrainian morale."
Ukraine's resolute resistance to the invasion is at odds with what Russia appears to have expected; some Western officials have noted in recent days that the conflict could last for months, if not years. Defense officials continue to caution that Ukraine is severely outmanned and outgunned in its effort to stop Russia from taking Kyiv, and with it, the Ukrainian government.
---
---
---
---