Pentagon: Judge's halt of vaccine mandate for federal workers does not impact troops
By
Corey Dickstein and Caitlin Doornbos
Stars and Stripes
January 24, 2022
---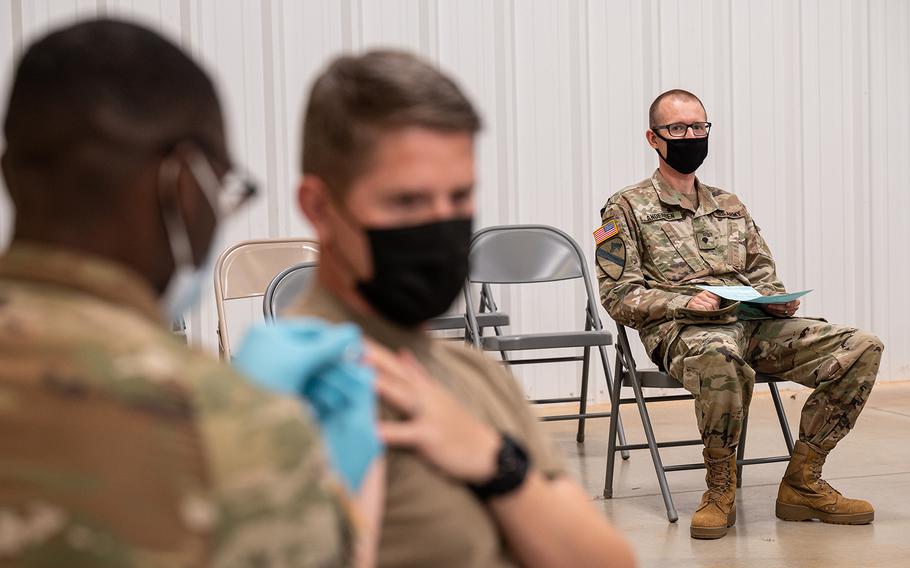 Stars and Stripes is making stories on the coronavirus pandemic available free of charge. See more stories here. Sign up for our daily coronavirus newsletter here. Please support our journalism with a subscription.
WASHINGTON — A federal judge's order temporarily halting President Joe Biden's coronavirus mandate for federal workers does not impact military service members, Pentagon officials said Monday.
Defense Department lawyers believe the injunction ordered by Texas-based U.S. District Judge Jeffrey Brown on Friday applies only to civilian federal employees, including DOD civilian workers, according to a defense official who was not authorized to speak publicly and requested anonymity. Top Pentagon officials do not plan to alter their current "lawful orders" requiring the coronavirus shots for troops, unless they are granted waivers for medical or religious purposes, the official said Monday.
A Pentagon spokesperson confirmed the Defense Department was not making any immediate changes for uniformed service members.
"We have not been informed of any changes to the [coronavirus] vaccination policy for service members," the Pentagon spokesperson wrote Monday in an email.
That decision came as lawyers representing 35 Navy special operators in a similar but separate federal lawsuit asked another federal judge to bar the Navy from punishing any sailors who requested a religious-based exemption from the coronavirus mandate for troops. U.S. District Judge Reed O'Connor, another Texas-based federal judge, on Jan. 3 granted the specific sailors — 26 SEALS, five special warfare combatant craft crewmen, three divers and one explosive ordnance disposal technician — an injunction from any Navy punishment in response to their federal lawsuit requesting the mandate be struck down for troops with religious objections to the vaccine.
As of Jan. 19, the Navy said some 3,217 active-duty sailors had filed a request for a religious accommodation, but the service had not granted any.
Lawyers for the Navy special operators wrote Monday that O'Connor should expand his injunction to protect those other sailors seeking a religious accommodation. The attorneys with the First Liberty Institute, a Christian conservative legal group based in Texas, accused the Navy of failing to consider sailors' "sincerely held religious beliefs" in declining to grant waivers.
The new temporary injunction ordered Friday by Brown blocks the Defense Department from punishing unvaccinated civilian workers, though Pentagon spokespersons declined to comment citing pending litigation. The Justice Department plans to appeal the ruling, Reuters reported Friday.
In his 20-page order temporarily halting the inoculation mandate for some 3.5 million federal employees, Brown wrote Biden likely lacked the power to single-handedly require the jab for "civilian federal employees." Brown's ruling specifically cites Biden's Sept. 9 executive order mandating the shots for federal employees. It does not mention Defense Secretary Lloyd Austin's Aug. 25 order requiring the vaccine for military service members.
Brown, who is based in Galveston, wrote his order was not meant to discourage vaccination efforts. He endorsed the need for Americans to get the shots.
"It is instead about whether the president can, with the stroke of a pen and without the input of Congress, require millions of federal employees to undergo a medical procedure as a condition of their employment," Brown wrote. "That, under the current state of the law as just recently expressed by the Supreme Court, is a bridge too far."
White House Press Secretary Jen Psaki said Friday some 93% of federal employees had received at least one coronavirus shot and about 98% had been either vaccinated or filed a request for religious or medical exemption.
"We are confident in our legal authority" to mandate coronavirus vaccinations for federal workers, Psaki told reporters.
The Pentagon's top spokesman John Kirby said Friday before news of Brown's ruling broke that service members have long faced mandatory vaccinations required by the Defense Department.
"It's not uncommon for us to make vaccines mandatory … it's part of being a service member," he said. "When you're ordered to get a vaccine, you've got to get that vaccine."
As of last week, 334 Marines, 22 sailors and 100 airmen have been separated for refusing the vaccine. The Army has not issued any separations to date, but last week said it would begin processing them in the coming weeks.
Also as of last week, the Pentagon had yet to fire any of its civilian employees for refusing the vaccine, Kirby said Jan. 13, adding the Defense Department was "still finalizing" guidance on how to process vaccine-refusal terminations for its civilian workforce.
The Marine Corps is the only service branch to date that has issued any religious waivers. The service had approved two out of 3,293 religious exemption requests processed as of Thursday.
---
---
---
---