Rep. Jackie Speier closes in on goal of military justice reform as she prepares to end her 14-year tenure in Congress
by
Rose L. Thayer
Stars and Stripes
November 19, 2021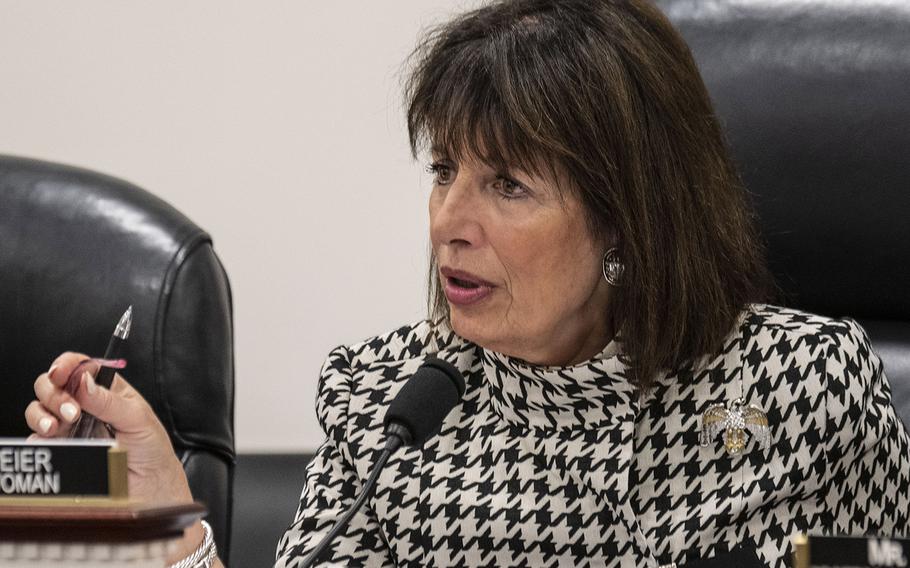 Rep. Jackie Speier, D-Calif., stood on the House floor weekly in 2011 to share the stories of service members who were sexually assaulted by fellow troops during their time in the military.
Her effort started April 6, 2011, and she called out the lack of action in Congress, despite holding 18 hearings on the issue during the previous 16 years.
"The longer it goes unaddressed, Congress becomes an accomplice in these crimes," Speier said. "Beginning today, I'm going to tell these women's stories on the House floor, and I'm going to keep telling them and keeping telling them until something is done about it."
Later that year, she filed her first legislation to reform the military justice system and now, as she announced her retirement Tuesday, she is as close as she's ever been to pushing major reforms into law.
Don Christensen, a former Air Force prosecutor and president of Protect Our Defenders, an advocacy group for military sexual assault survivors, said Speier is the first person with whom he met about eight years ago to discuss reforms to the military criminal justice system.
"There has been no better voice in the House than Jackie Speier when it comes to taking care of military families and survivors of sexual assault and sexual harassment. She's by far the strongest advocate for those who have been left behind by a system that's in need of reform," he said.
The 71-year-old Speier announced that she will not seek reelection in 2022. Speier, who represents San Mateo County and a portion of San Francisco, said in a video posted to Twitter that it's time for her to go home and spend more time with family and friends.
"I'm going to make every day count," she said Thursday of her final year in Congress. "I want to make sure that our service members have the resources they need to do their jobs, and the training they need to do their jobs."
Whether the focus is reforming military housing, providing better support to service members who are victims of sexual assault, or improving resources for military-connected children with special needs, Speier has pushed major changes on the Defense Department from her seat as the chairwoman for the House Armed Services Committee's subpanel on personnel.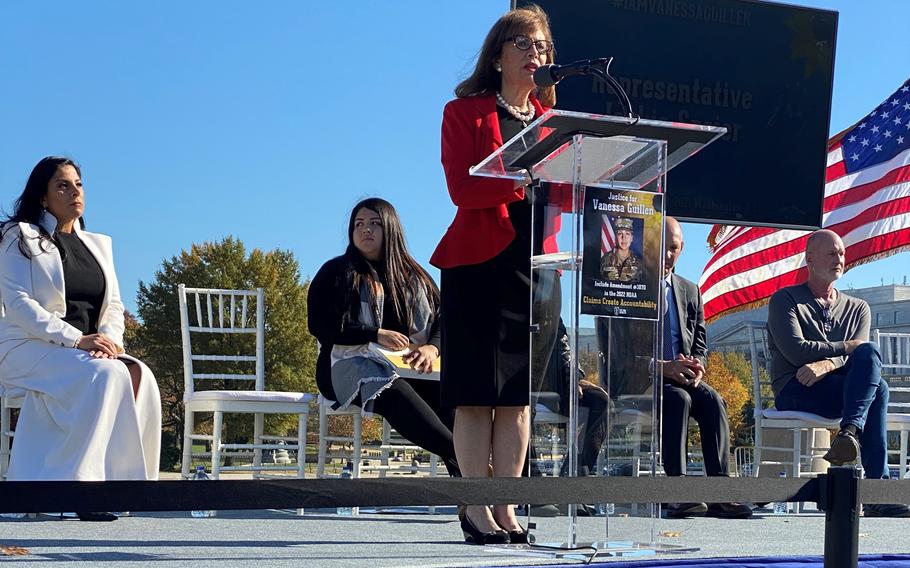 Though she doesn't have a personal history with military service, Speier said she asked to join the House Armed Services Committee to improve her chances of passing reforms for victims of military sexual trauma.
She became passionate about helping those victims after reading through a 2011 lawsuit filed by 17 service members who were sexually assaulted by fellow troops. The suit called on the Defense Department to compensate the victims for their injuries but was ultimately thrown out.
When Speier began reading the stories of military sexual trauma survivors on the House floor, she began with those included in the lawsuit. It grew to encompass other stories submitted to Speier's office.
"Each of them would call after they watched the video of their story being told on the House floor saying, 'Thank you. Someone believes us,' " Speier said Thursday, recounting the story at a Washington rally for military justice reform. "The military failed to give them justice, which many of you have told me was even more painful than the actual sexual assault."
She first introduced a bill in November 2011 to remove the decision to prosecute cases of sexual assault from the military chain of command and instead have an independent prosecutor review the cases.
A decade later, the measure is finally close to becoming a law. Drafts of the 2022 National Defense Authorization Act in the House and Senate include measures to create independent prosecution offices, but the annual spending and policy bill for the Defense Department has yet to be voted on and signed into law.
Speier has passed legislation over the years that has made small changes to improve the rights of victims, particularly in the appellate system, Christensen said. She helped change the legal standard required to overturn a case because of command influence, which had previously allowed perpetrators go free even after they were found guilty.
Sen. Kirsten Gillibrand, D-N.Y., who has fought the same battles for military justice in Senate, said in a statement that it's been an honor to work with Speier for service members and veterans.
"I can't think of a better way to close out your time in Congress then by coming together to finally [pass the Military Justice Improvement and Increasing Prevention Act] and ensure justice for our service members," Gillibrand said.
Last year, Speier renamed her justice reform legislation in honor of Army Spc. Vanessa Guillen, a 20-year-old soldier who was killed in April 2020 by a fellow soldier at Fort Hood, Texas. Prior to her death, Guillen told her family she had faced sexual harassment on base but was too afraid to report it. An Army investigation later found she did report the allegations to a supervisor who did not handle the information correctly.
Her death led to a nationwide movement to call for reforms that likely swayed the opinions of lawmakers who had been hesitant to support change, particularly to remove the chain of command from prosecution. Not only do more lawmakers back the measure now, Defense Secretary Lloyd Austin also supports it.
Natalie Khawam, an attorney who worked with Speier on behalf of the Guillen family, said the congresswoman's determination helped make this possible.
"She's just an inspirational role model, quite honestly, to many, many people," she said. "I hope that other people who are interested in politics or to be in office would do a 10th of what she's done for our country and for our military."
Khawam also worked with Speier on a reform passed in 2019 to allow military members and families a method to seek compensation for medical malpractice by military health care providers.
Christensen said he believes, in part, Speier's ability to connect with victims and families stems from her own personal experiences. As a congressional aide for Rep. Leo Ryan, D-Calif., in 1978, Speier traveled to Jonestown in Guyana to investigate human rights violations in the compound of the cult, People's Temple.
When leaving, members of the cult boarded their plane and she, Ryan and four others were shot. Ryan died, and Speier, who was shot five times, lay on the tarmac for hours before help arrived. Meanwhile, more than 900 members of the cult drank juice laced with poison and died.
"I vowed that if I survived, I would dedicate my life to public service. I lived, and I served," Speier said in her retirement video.
After holding several local and state positions, she won her first election to Congress in 2008. About a decade later, she rose to leadership of the personnel subcommittee and began holding hearings on issues not addressed directly by the committee in years, she said.
In February 2020, Speier presided over the first hearing in more than a decade on the military's program for special needs family members, the Exceptional Family Member Program. She accused government officials of "happy talk" instead of action when it comes to helping these families, particularly those military-connected children in need of special medical or educational services that are impacted by the transient nature of military life.
That hearing required the committee set up an overflow room, because so many families showed up. Speier promised a town hall to discuss the issues further, but the coronavirus pandemic took hold of America about a month later, stifling the plans.
Speier said Thursday that she intends to make this meeting happen in some way during her last year.
"I think there's more issues that we need to address," she said of the Exceptional Family Member Program.
Similarly, she has pushed the Defense Department to do better when it comes to providing housing to military families.
In May, she stood at the gate to Fort Hood and called on the Pentagon to terminate its contracts with private companies to manage on-base family housing because of an "abysmal" record on fixing issues such as sewage problems, leaky roofs and mold.
"Congresswoman Speier has been a fierce advocate for military families living in unsafe privatized military housing," said Sarah Lynne Kline, vice president of the Armed Forces Housing Advocates, a group that advocates for reforms in military housing. "Her actions and commitment to fighting for military families gave many, including our team at the Armed Forces Housing Advocates, a loudspeaker to echo the concerns she had seen firsthand during her frequent visits to installations. Her presence in Congress will be missed."
Speier on Thursday laid out a packed agenda that she hopes to meet in the next year — increasing access to contraception for military spouses, improving family leave and day care options for the troops, reviewing the fitness standards for nursing mothers on active duty, and evaluating the issues that cause so many service members to die by suicide.
She pledged to continue to fight for reforms for military justice, particularly to create a method for victims of sexual assault to file a claim to seek compensation in stances where the military was negligent or failed to prevent the assault.
---
---
---