Gillibrand pushes to add military trauma compensation to Senate NDAA
by
Rose L. Thayer
Stars and Stripes
November 18, 2021
Advocates for military justice reform have spent the last decade pushing for commanders to be removed from the decision to prosecute sexual assault and harassment among service members.
Now some of those same advocates want military victims of sex-related crimes to have the right to sue the government for negligence or failing to prevent the assault.
Sen. Kirsten Gillibrand, D-N.Y., said she is pushing to get a vote this week on an amendment to the 2022 National Defense Authorization Act that would do it. Called the Military Claims Act, the amendment would allow service members who experience personal injury or death due to a sex-related offense committed by another service member to file a claim in the same way that civilians can. The member's next-of-kin could file in instances of death.
The Congressional Budget Office reviewed a similar amendment that was proposed in the House, but did not pass, and estimated it could cost the Pentagon $500 million during the next 10 years. The preliminary estimate was subject to "considerable uncertainty," according to the estimate.
During the past 10 years as Gillibrand and others have pushed for these changes, she said Congress has provided more than $2 billion for the Pentagon to tackle the issue of sexual assault. Yet, "nothing has really changed," she said Thursday at a rally in Washington to call for justice for Army Spc. Vanessa Guillen.
The 20-year-old soldier was killed in April 2020 by a fellow soldier at Fort Hood, Texas. Prior to her death, Guillen told her family she had faced sexual harassment on base, but was too afraid to report it.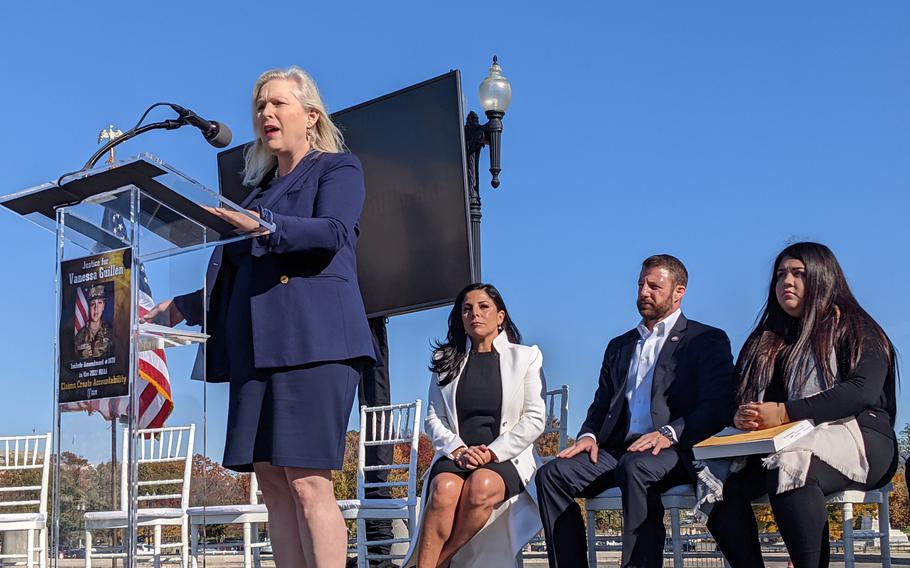 The amendment, Gillibrand said, is a "common sense" approach to provide justice for victims and their families.
"It is wrong that justice is not possible for Vanessa Guillen's family and for Vanessa Guillen," Gillibrand said. "The service member deserves to be compensated by filing a claim against the organization that failed to protect them."
Portions of another bill from Gillibrand, the Military Justice Improvement and Prevention Act, have already been added to the Senate version of the National Defense Authorization Act, an annual bill that sets spending and policy for the Defense Department.
Most notably in that bill is the call to create an independent prosecutor to review cases involving sexual assault and harassment to determine whether the cases should go to court-martial. As it stands now, a service member's commander makes that decision.
About 20,000 service members are sexually assaulted every year, yet the military justice system only convicts about 200 troops annually for sex-related crimes, said Rep. Jackie Speier, D-Calif., who has mirrored Gillibrand's work on the issue in the House.
"That is the definition of failure and injustice," she said speaking at Thursday's rally.
Speier got a similar prosecution-related amendment into the House version of the NDAA, but it fell short when it came to compensation. She included the measure as part of several justice reforms in her 2021 legislation titled the I am Vanessa Guillen Act.
Speier said she will continue to work to push for compensation for victims.
"It is time for us to take responsibility for a toxic environment in which many of our service members served. They come to serve. It's our duty to keep them safe," she said. "When service members have said to me that they were willing to put their lives on the line for this country to protect our freedom against the enemy, they never thought the enemy was going to be another soldier or airman or sailor or Marine standing next to them. It's a disgrace and it's a disgrace that we are going to change this year."