'Complex and painful' process for military sexual trauma claims needs improvement, advocates say
by
Nikki Wentling
Stars and Stripes
November 17, 2021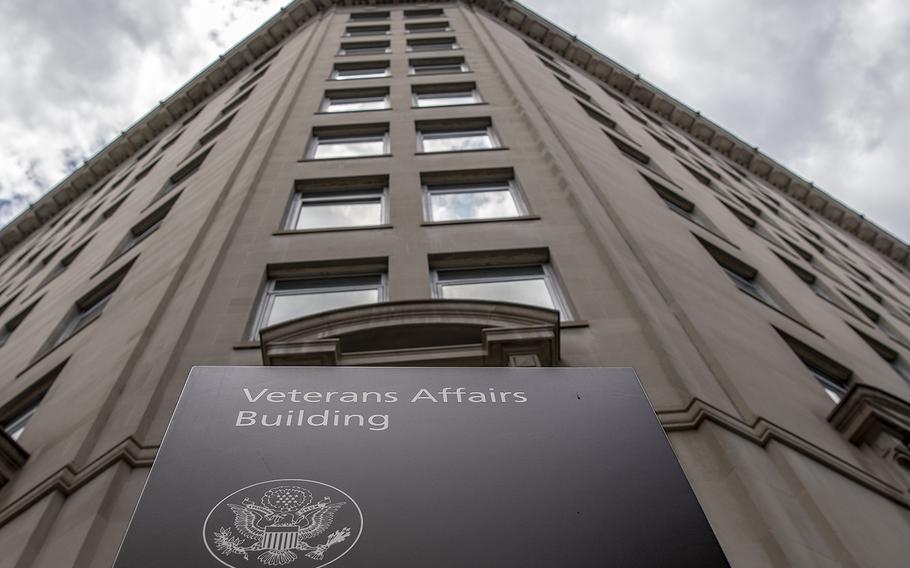 WASHINGTON – Lawmakers and advocates said Wednesday that more improvements are needed in how military sexual trauma claims are handled to avoid retraumatizing survivors, despite recent changes implement by the Department of Veterans Affairs.
The VA Office of Inspector General first reported in 2018 that the VA had wrongfully denied about 1,300 claims in a five-month period for post-traumatic stress disorder related to MST. The IG initiated a follow-up investigation this year and discovered its recommendations from 2018 were never implemented. Veterans were still unfairly denied benefits, the office said in its August report.
VA officials said during a congressional subcommittee hearing Wednesday that the department's approval rate for MST claims has "increased significantly" in the past few years. However, advocates want the agency to finally implement the recommendations from the IG's office, as well as provide more guarantees that the claims are being handled correctly.
"The claims process for MST survivors should not – and must not – be so complex and painful," said Shane Liermann, the deputy national legislative director at Disabled American Veterans.
One in three female VA patients and one in 50 male patients have experienced MST, according to results this year from a VA screening program.
MST claims filed with the VA are especially complex, the IG's office said. To receive disability benefits, veterans must have a diagnosis of post-traumatic stress disorder, as well as credible evidence that sexual assault or harassment occurred during their military service. Veterans also need a medical opinion linking their symptoms to the assault or harassment.
In May, the VA designated five specialized offices to handle veterans' claims of MST in an effort to reduce the rate that the claims are denied. Specially trained veterans service representatives now process the claims at offices in Lincoln, Neb., Hartford, Conn., Columbia, S.C., Portland, Ore., and New York.
Beth Murphy, the executive director of compensation service at the Veterans Benefits Administration, said the change had already produced results. In 2018, the VA approved 57% of MST claims. So far in 2021, the VA has approved 74% of claims – about 17,000 of the 23,000 claims filed.
"We're doing the right things and heading in the right direction," Murphy said. "There is room for areas to improve in execution. We can tighten things up."
Murphy testified Wednesday that the VA is working to establish a single "remote operations center" to oversee MST claims, which the agency believes will increase accountability. The office is expected to open in 2022 in New York, she said.
The VA, however, has not yet completed the recommendations set out in the inspector general's report from August, many of which were the same recommendations made in 2018. In part, the inspector general called on the VA to reassess MST claims that were previously denied and share a plan to improve communication and oversight of claims processing.
"What was particularly disturbing is that we had our 2018 audit and identified processing issues. We detailed them, put together recommendations, and then when we were in the process of assessing their response to the recommendations, we had concerns they weren't doing them correctly," VA Inspector General Michael Missal said. "That's what caused us to do the second audit, and we found they failed in properly implementing each of the recommendations."
Murphy said the VA would implement the recommendations in early 2022.
"We want to make sure we do it right this time," she said.
Representatives from national veterans organizations also testified at the hearing and urged the VA to improve the process. They asked the VA conduct wellness checks and provide mental health care to veterans as they go through the process of filing MST claims. In addition, they asked the VA consult experts in sexual trauma when writing letters to veterans to ensure they're not inflammatory or retraumatizing.
Health care providers who conduct compensation and pension exams, which are key to determining whether veterans' conditions are linked to MST, should be specially trained and competent about military culture, they said.
"The VFW implores VA to properly implement all of the IG's recommendations to avoid a worsening situation and re-traumatization of MST survivors," said Kristina Keenan, an associate director at Veterans of Foreign Wars. "MST claims are complex, but more needs to be done to ensure they're carefully and adequately processed by personnel with MST training."
Wentling.nikki@stripes.com
Twitter: @nikkiwentling