Military suicide rates rise again in 2020 and defense officials don't know why
by
Caitlin Doornbos
Stars and Stripes
September 30, 2021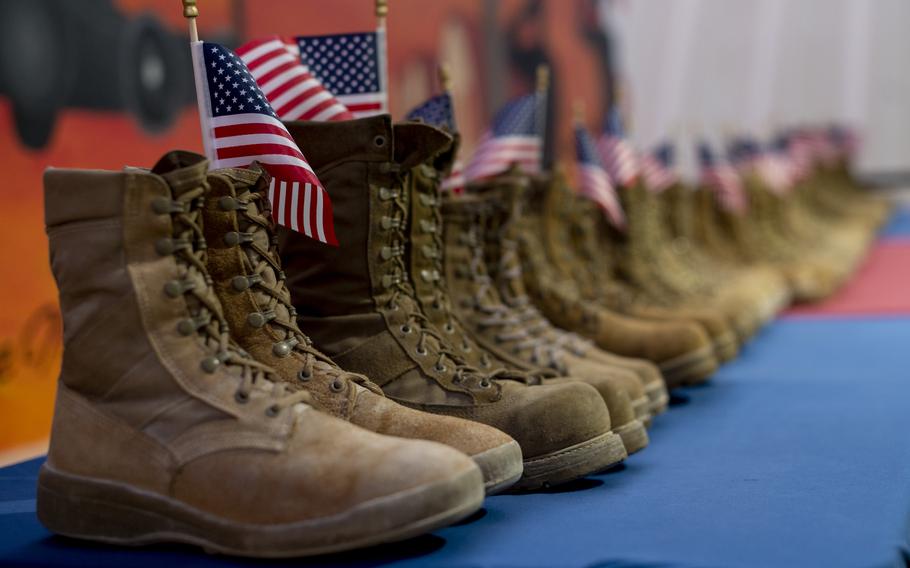 WASHINGTON — The suicide rate for active-duty troops rose again in 2020, according to the Pentagon's annual suicide report, and defense officials said Thursday they do not know why.
About 29 per 100,000 active-duty troops died by suicide in 2020, up from about 26 in 2019 and about 25 in 2018. Defense Secretary Lloyd Austin in a statement Thursday described the upward trend as "troubling" and called for a greater effort to tackle issues of mental health in the military.
"We cannot bring back those we have lost, but we hope that we can in some way honor their memory by doing more — right now — to prevent future tragedies from suicide among our wider DOD family," he said.
In total, 580 active-duty, National Guard and Reserve troops died by suicide in 2020 — up from 504 in 2019 and 543 in 2018, according to the report. Of those, about 103 were Army National Guard members, representing a jump of about 35% from 2019 numbers. Active-duty soldiers also saw a nearly 20% rise.
The report also concluded enlisted and young male service members are at a higher risk of suicide than their elder peers and commissioned officers, said Dr. Karin Orvis, director of the Defense Suicide Prevention Office. Though enlisted men made up about 42% of the military population in 2020, they accounted for about 63% of all military suicides that year, according to the report.
"In short, we see continued heightened risk for our young and enlisted service members," Orvis said, noting young men are at a higher risk of suicide nationwide.
The report also tracked military family suicide rates, which found about 53% of all military spouses who end their lives are male despite there being significantly more female military spouses than male.
This is the third year that the military produced an annual report about suicide in the ranks, which Maj. Gen. Clement S. Coward, acting executive director for the Pentagon's Office of Force Resiliency, said helps to leverage "best scientific practices — collecting evidence, analyzing trends, and so forth" to develop suicide prevention strategies.
To help tackle the issue, the Pentagon is "implementing a new policy to screen for depression and suicide risk during primary care visits" at military hospitals and clinics for all patients who are 11 years old and older, Orvis said.
"We're also exploring measures on how to better understand help-seeking behaviors, perceived barriers to care and suicidal thoughts and behaviors among our military spouses," she said.
While service members are exposed to trauma in their work, Orvis said there was little difference between the rate of suicides among troops who deployed overseas and those who did not.
"We have just as many individuals who died by suicide who have never deployed," she said, without providing specific data. "It may be a factor for some [but] suicide is so complex — there's not one single factor, not even for a single individual — but we aren't seeing that that is something that is a driving factor [for suicide]."
The coronavirus pandemic was also not believed to have played a significant role in driving suicide rates in the military, though it brought about heightened stress and social isolation that can be associated with an increased suicide risk, Coward said.
Though suicide rates increased between 2019 and 2020, Orvis said the increase was not "statistically significant" enough to indicate that the pandemic drove an increase.
"We did not see a statistical change in suicide rates between calendar year 2020 and calendar year 2019 that would indicate a [coronavirus]-related increase in risk," Coward said.
Further, only about 400 — or less than 1% — of the 65,181 calls placed to the Veterans/Military Crisis Line in 2020 regarded the coronavirus, according to the report.
Though Orvis said the pandemic was not the main cause for the increase in suicides, it remains unclear what is causing the rising numbers of suicides in recent years, according to the report.
"One of the things that is bedeviling about suicide is that it's often very hard to connect dots in causality — what leads somebody to make that decision," Chief Pentagon spokesman John Kirby said Thursday. "It's difficult to denote specific causality with suicide on an individual basis, let alone on an institutional basis. And I think that's why it's so difficult for us to speak to it with any specificity, except to say we take this very, very seriously."
While the Pentagon typically compares its suicide rates to that of the general population, the national Centers for Disease Control and Prevention has yet to release its 2020 suicide figures, Orvis said.
"However, we do know that the U.S. population suicide rate for calendar year 2019 is comparable to our calendar year 2019 military suicide rates for the active component, Reserve and the National Guard after accounting for age and sex," she said.
The report comes after three soldiers in the 10th Mountain Division in Fort Drum, N.Y., died of apparent suicides in a two-day period this month. One of the three had recently returned from helping with the evacuation mission in Afghanistan, though officials did not suspect the deployment was "the primary reason" behind the suicide.
Troops and veterans who want to contact the Veterans/Military Crisis Line can dial 1-800-273-8255 then press 1, or text the crisis line at 838255. An option to chat online is available at veteranscrisisline.net.