Looking for a sign: Air Force vet stands out at Yokota with message of suicide awareness
by
Erica Earl
Stars and Stripes
September 29, 2021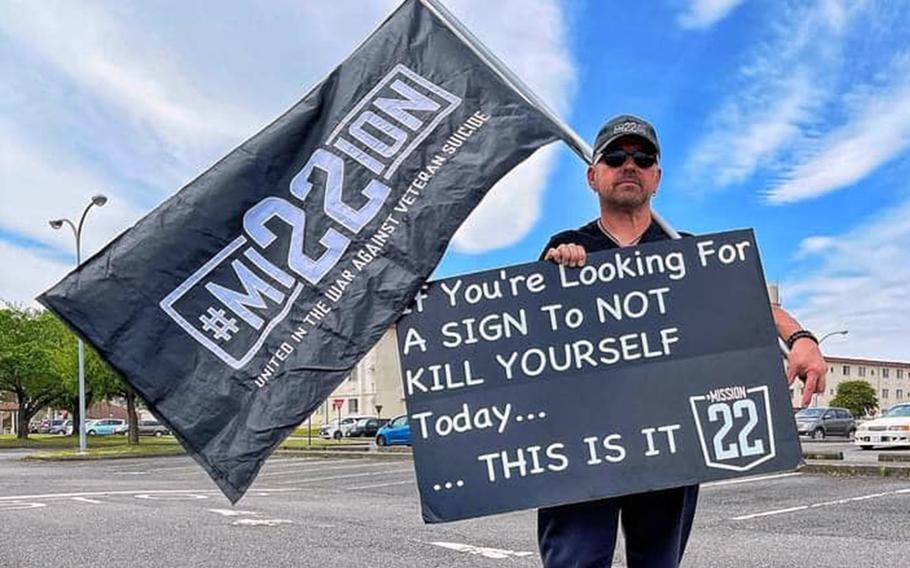 YOKOTA AIR BASE, Japan — One day each month, for just an hour or two, Air Force veteran Scot Northcutt stands at one of Yokota's busiest intersections holding a sign with a jarring message.
"If you are looking for a sign to not kill yourself today, this is it," it says.
Northcutt spreads his message on behalf of Mission 22, an organization aimed at bringing awareness to veteran suicide. He founded the local chapter, Yokota for Mission 22, in May, he told Stars and Stripes during an interview on Sept. 3.
Mission 22 is a private, nonprofit organization that promotes awareness of mental health treatment and builds memorials for veterans. At Yokota, Northcutt promotes Mission 22 on the street corner, through a Facebook group, and by manning a booth inside the exchange and at on-base events.
"Some people seem to go out of their way to avoid looking at the sign, or very deliberately avert their eyes," he said. "Occasionally I will get a couple honks or a thumbs up in passing. But anyone can approach me if they need someone to talk to."
Like Mission 22's namesake, Northcutt said he chooses the 22nd of each month to display his sign to represent the 22 veterans the Veterans Administration in its 2020 annual National Veteran Suicide Prevention Annual Report stated die by suicide each day.
Because military bases are considered nonpublic forums, where the free exercise of speech, assembly and debate are restricted, Northcutt needs fresh approval each month from the private organization office at Yokota to stage his event.
Private organizations are approved in accordance with Air Force regulations, according to an email from the base legal office. Each organization must submit a written constitution, bylaws and documents outlining its intent and mission.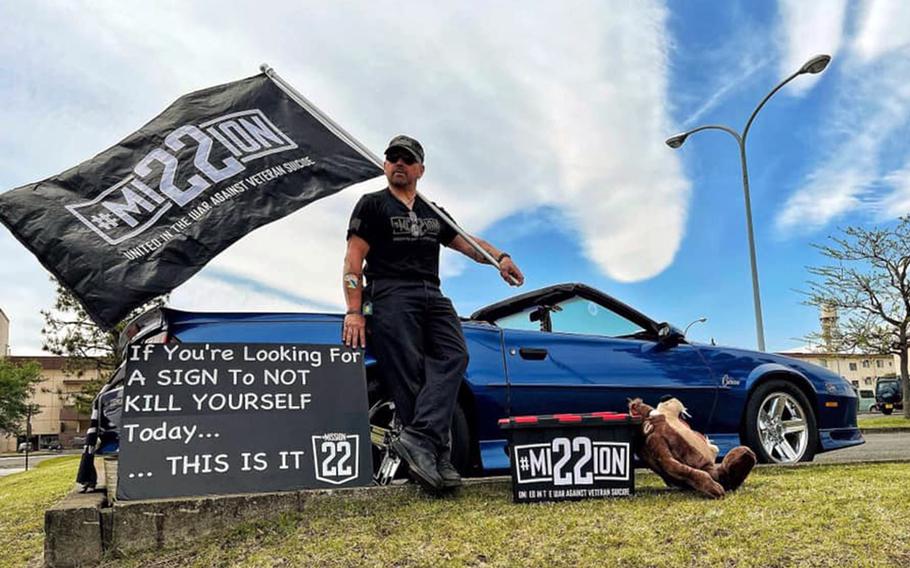 "They operate on Air Force installations with the written consent of the Installation Commander," Vanessa Moran, the private organization coordinator at Yokota, told Stars and Stripes by email Sept 15.
She said her office approves events on base each year at which multiple organizations voice their interests and concerns. One, the Yokota LGBTQ+ Family, holds an annual Pride parade under the same regulations that allow Northcutt to air his suicide awareness message.
One stipulation all private organizations must follow is a Defense Department ban on displaying anything other than approved flags. That means LGBTQ+ Family may not carry rainbow flags during its parades, said Ashley Negrete, the group's vice president.
A July 2020 memo from the secretary of defense bars flags other than the American flag, organizational flags and unit guidons, although Northcutt sometimes displays a large Mission 22 flag.
Northcutt, a former B-1b Lancer crew chief at Dyess Air Force Base, Texas, and a mechanic at the base Aero Club, said the time he devotes to Yokota for Mission 22 comes from a personal sense of mission. He lost his cousin and two friends to suicide.
"I got tired of watching leadership stand over coffins and talk about how great service members were," he said.
Yokota for Mission 22 is not a substitute for organizations like Military One Source and the Chaplain Corps, Northcutt said. But he hopes he can help guide people to resources, wellness checks and a sense of community.
During September, which is Suicide Awareness Month, Northcutt also stood at his information booth inside the exchange, and he hopes to sponsor more community events in addition to continuing his monthly vigil outside the base post office.
"Computer trainings are not enough to bridge the gap of reaching down to people for as important of a topic as this one," he said. "It's a tough topic, but I hope I can slowly get more reception and encourage people to stop by when they see me holding my sign."