'Fake news': China denies reports of plot to take over Bagram Airfield from Taliban
by
Caitlin Doornbos  
Stars and Stripes
September 7, 2021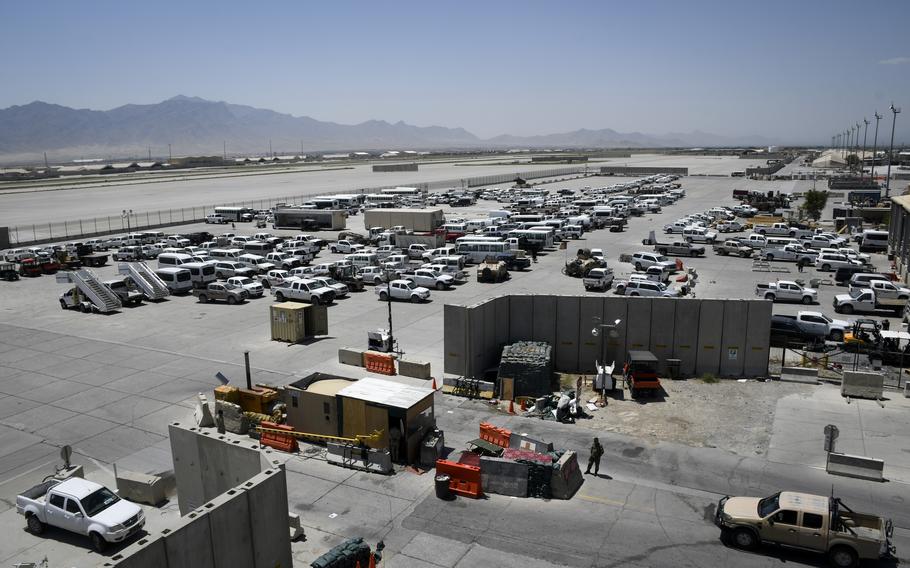 WASHINGTON — A Chinese Foreign Ministry spokesman denied reports Tuesday that Beijing is discussing a deal with the Taliban to hand over a former U.S. air base in Afghanistan.
"I can tell you this is purely fake news," Chinese Foreign Ministry spokesman Wang Wenbin said, referring to media reports that the Taliban could hand over Bagram Airfield to Beijing following the American departure from Afghanistan last week.
Bagram, about 35 miles north of Kabul, was the largest American base in Afghanistan for nearly two decades before the U.S. turned it over to Afghan Security Forces on July 2 as part of its withdrawal from the country that started May 1.
Six weeks later, on Aug. 15, the Afghan government forces surrendered the air base to the Taliban, which took control of the nation's capital the same day.
The reports of a possible deal followed former U.S. Ambassador to the United Nations Nikki Haley's comments that "we need to watch China" during an appearance on Fox News last week.
"I think you are going to see China make a move for Bagram Air Force Base," she said. "I think they are also making a move in Afghanistan and trying to use Pakistan to get stronger to go against India."
President Joe Biden ended the U.S. war in Afghanistan on Aug. 31 after nearly 20 years of American troops being deployed to the country. This was done, in part, to switch Defense Department focus and efforts toward what his administration calls the nation's pacing threats: China and Russia.
"There's nothing China or Russia would rather have, would want more in this competition, than the United States to be bogged down another decade in Afghanistan," Biden said Aug. 31 in his speech about the end of the war.
Though Wenbin denied plans about the airfield, China, which shares a border with Afghanistan, has been building ties with the Taliban.
Chinese Foreign Minister Wang Yi welcomed a group from the Taliban, including its co-founder Mullah Abdul Ghani Baradar, during a trip to China on July 28, and Beijing "maintained contact and communication" with the Taliban as it took over the country last month, Foreign Ministry spokeswoman Hua Chunying said at an Aug. 16 news conference.
"The Afghan Taliban said on multiple occasions that it hopes to grow sound relations with China, looks forward to China's participation in Afghanistan's reconstruction and development and will never allow any force to use the Afghan territory to engage in acts detrimental to China," she said.