A timeline of important moments at Bagram Airfield from 2001-2021
by
Phillip Walter Wellman
Stars and Stripes
July 2, 2021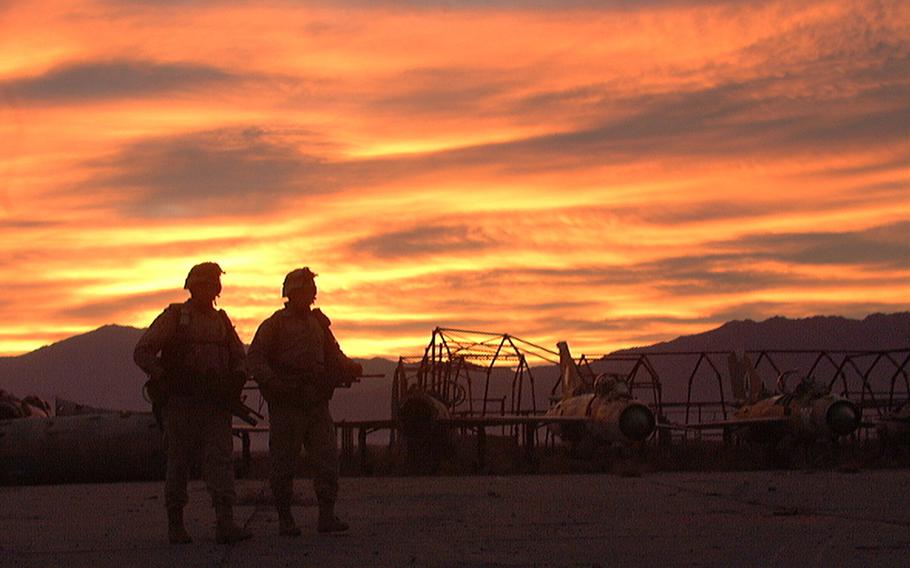 The following recounts some of the important moments at Bagram Airfield, which served as the largest U.S. base in Afghanistan for much of the war since it began in 2001:
October 2001 – The U.S.-led invasion of Afghanistan. British troops quickly secure Bagram Airfield, where the Taliban and Northern Alliance fighters had clashed.
December 2001 – More than 300 troops, mainly with the 10th Mountain Division, provide force protection at the base.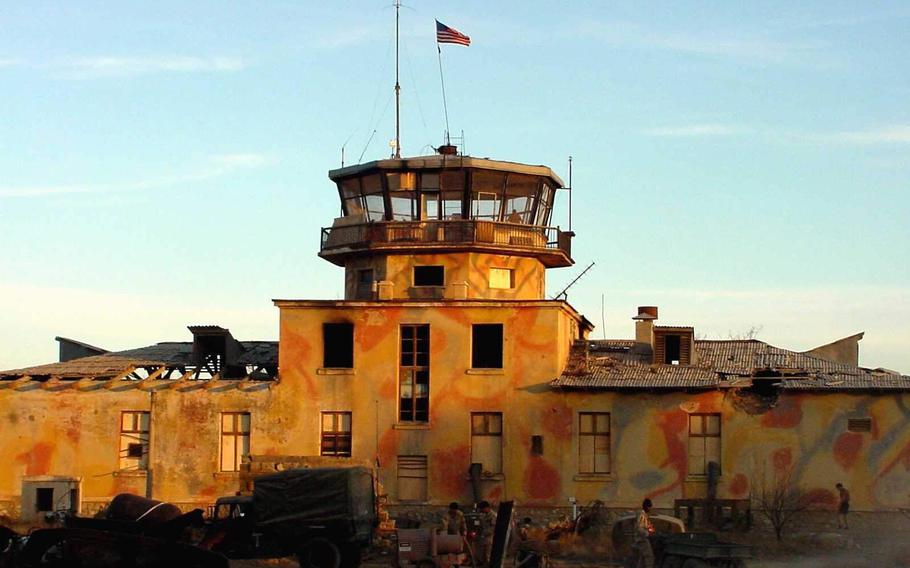 February 2002 – Spc. Jason Disney, a vehicle repairer and welder with the 7th Transportation Battalion's 58th Maintenance Company out of Fort Bragg, N.C., dies in an industrial welding accident. The main road at the base is named in his honor.
June 2002 – Some 7,000 U.S. and coalition troops serve at Bagram.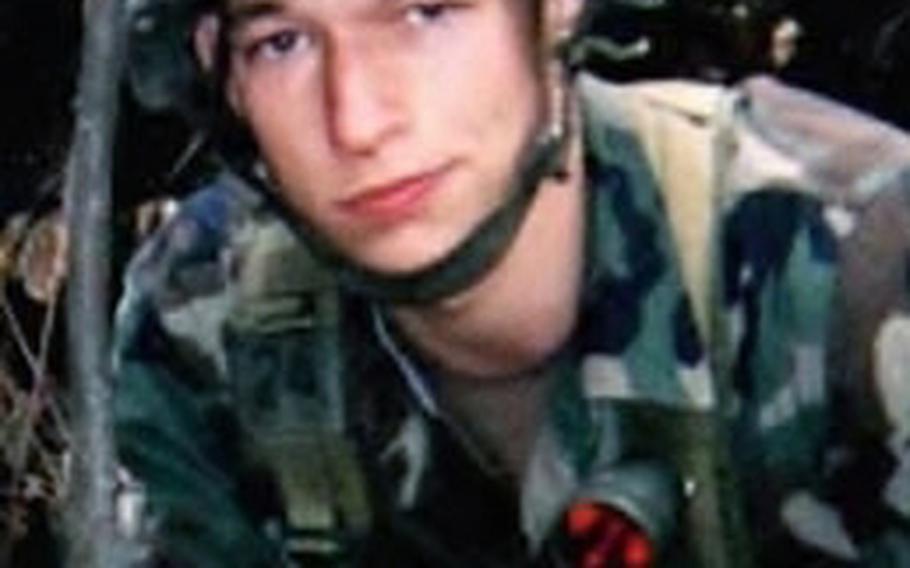 March 2005 – The military announces it is spending $83 million on its two air bases in Afghanistan, Bagram and Kandahar Airfield.
April 2005 – A USO facility is named after Army Ranger and former pro football player Pat Tillman, who died in a friendly fire combat incident.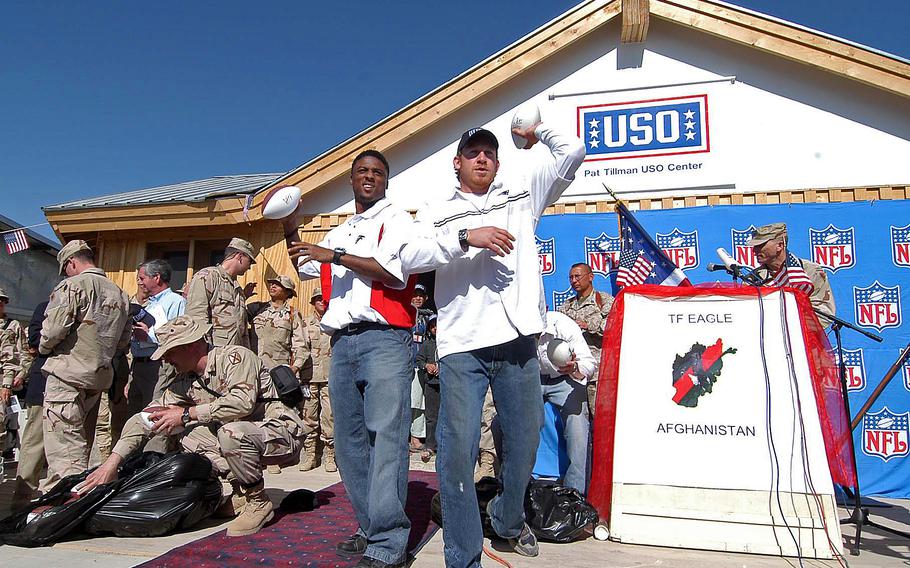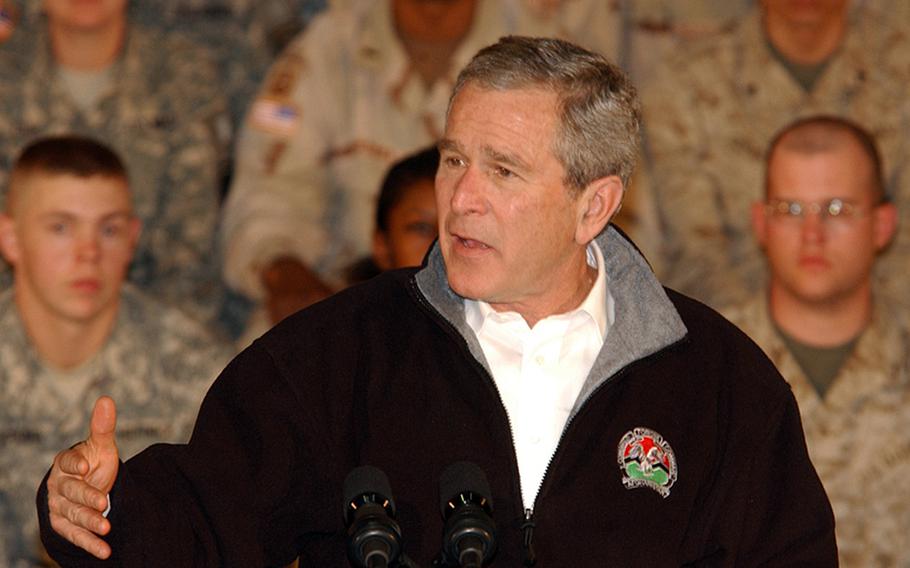 March 2006 – President George W. Bush makes a surprise visit and delivers a speech to troops, assuring them they are making strides toward democracy in Afghanistan.
December 2006 – The U.S. completes a nearly 12,000-foot-long runway at a cost of $68 million. It is thicker and 2,000 feet longer than the previous runway.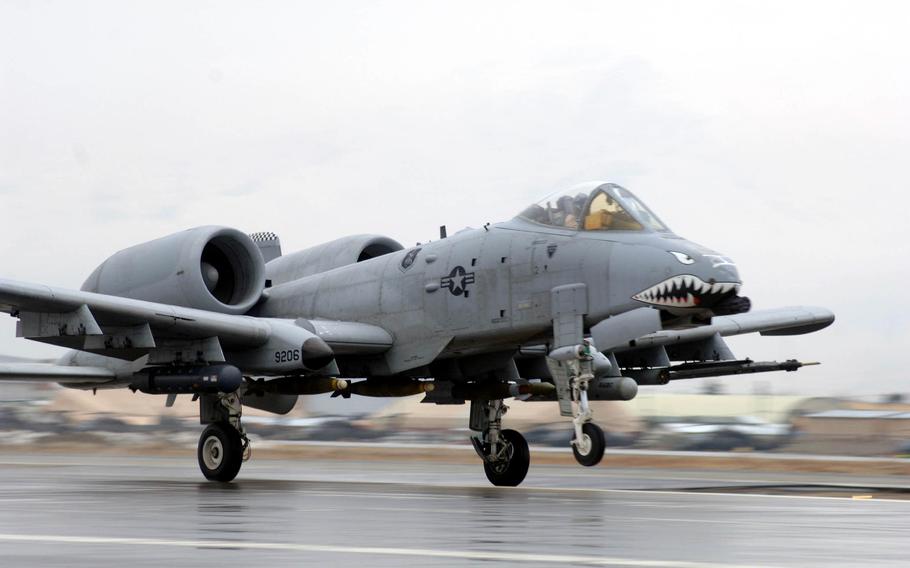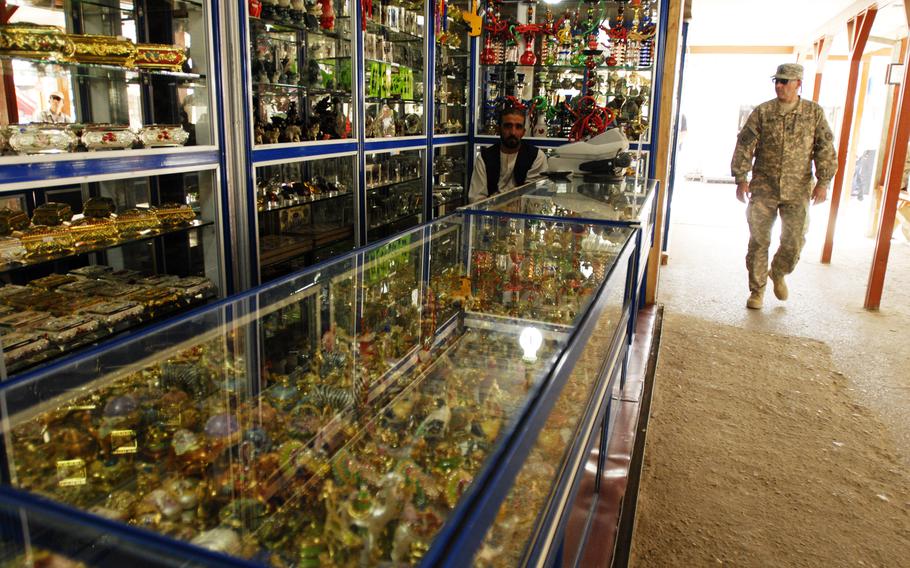 February 2007 – A suicide attack at a security gate kills 23 people and injures 20 more. The attack was claimed by the Taliban and happened while Vice President Dick Cheney was visiting.
July 2007 – The base resembles a small town, with traffic jams and various retail and food outlets, including Burger King, Subway and Pizza Hut.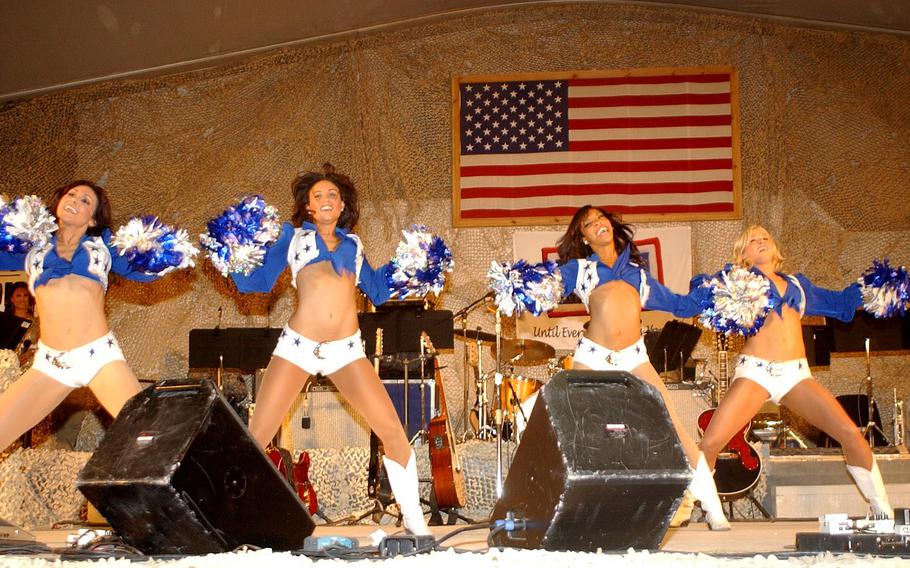 December 2008 – President George W. Bush makes his final visit to the base.
June 2009 – Two U.S. soldiers are killed and at least six others wounded during an early morning rocket attack.
October 2009 – More than $200 million in construction projects — from dormitories to cargo-holding yards — are either underway or planned on the Air Force side of the base.
November 2009 – Construction of the Parwan Detention Facility, adjacent to the base, is completed. It houses 3,000 inmates.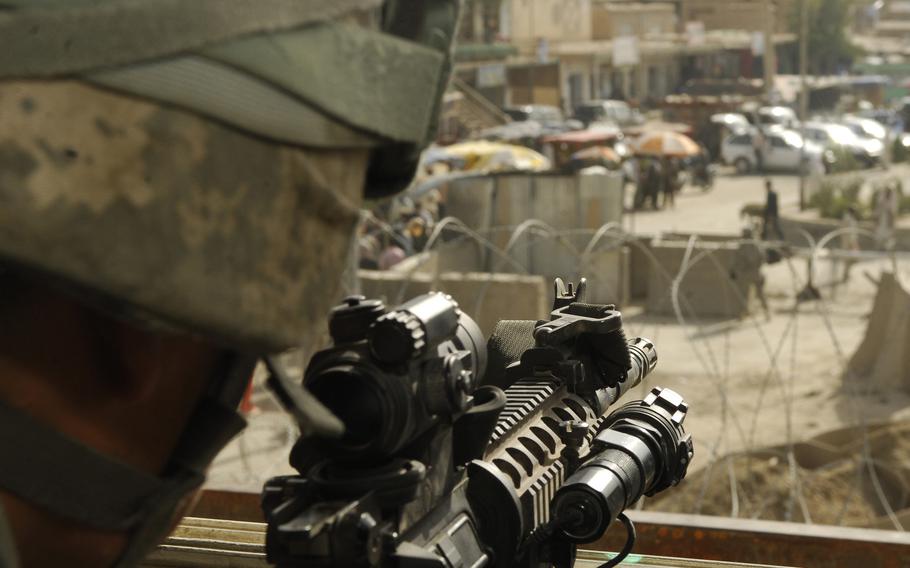 May 2010 – About a dozen insurgents attack Bagram's north end, killing one American contractor and wounding nine service members. The attackers were dressed in U.S. Army uniforms.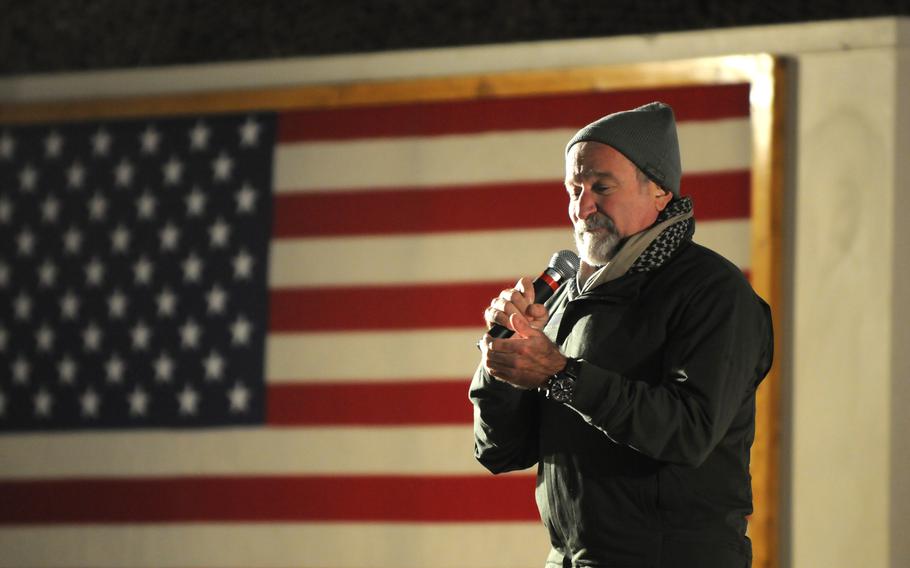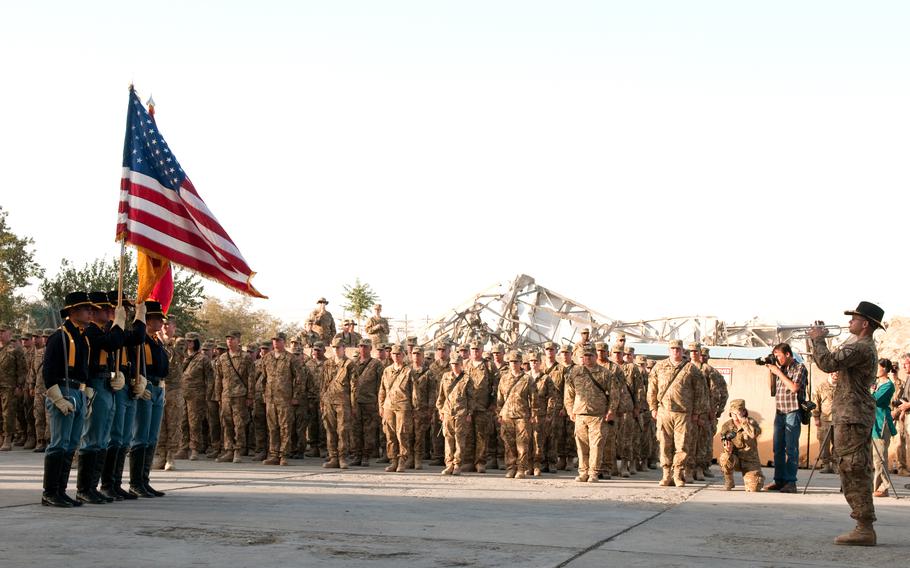 February 2012 – Hundreds of Afghans hold violent protests against the burning of Qurans at the base. The U.S. Embassy in Kabul goes into lockdown because of the protests.
May 2012 - President Barack Obama visits, tells troops there will still be "heartbreak, pain and difficulty ahead."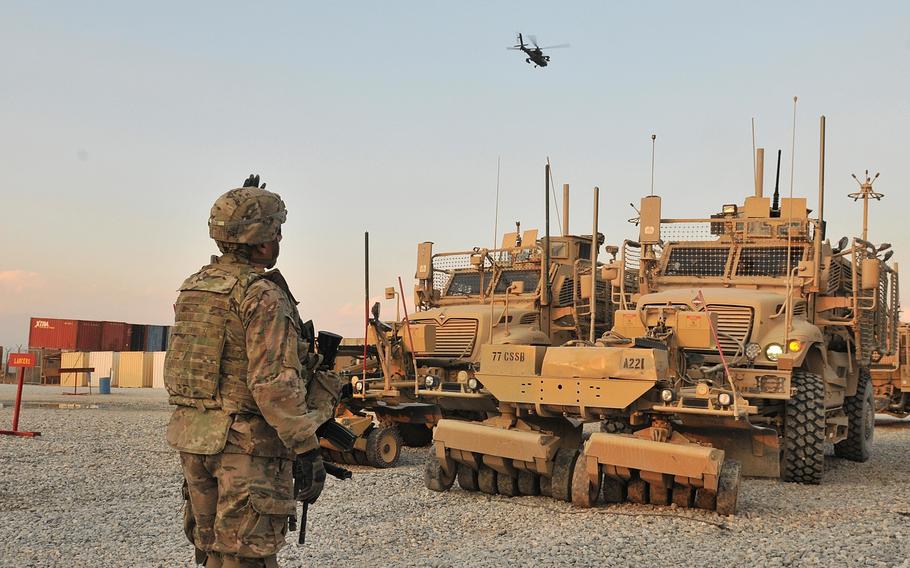 April 2013 – A Boeing 747 crashes shortly after taking off, killing all seven U.S. crew members.
June 2013 – A Taliban mortar attack kills four American troops and injures several others.
November 2013 – A rocket attack kills two civilian contractors.
May 2014 – Obama visits again, gives speech lauding troops for making sure that "America's war in Afghanistan will come to a responsible end."
June 2014 – The military says Bagram is "the busiest single runway airfield" used by the Defense Department. Forty-six types of aircraft are used and there is an average of more than 700 operations a day.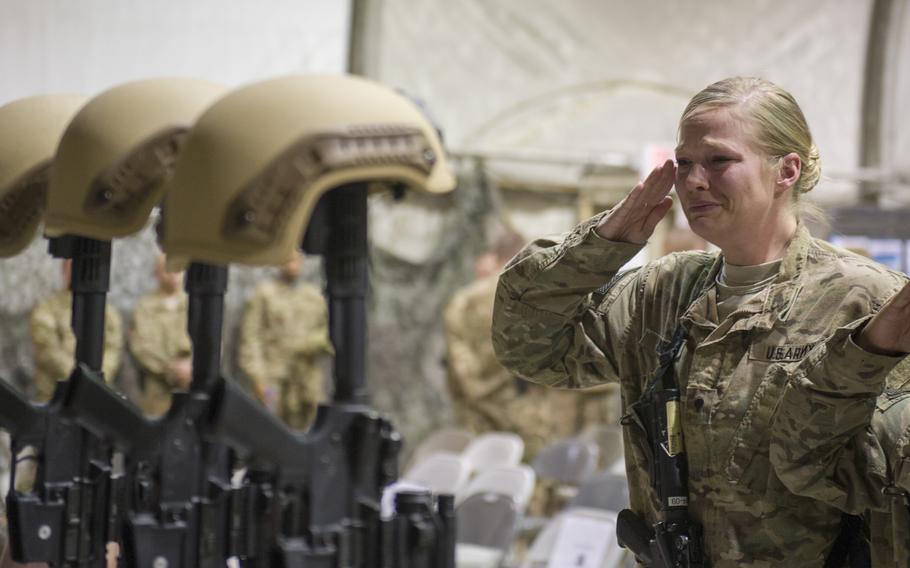 January 2015 – The international coalition ends its combat mission and transitions to training, advising and assisting Afghan forces. The U.S. maintains separate counterterrorism forces.
December 2015 – A suicide bomber on a motorcycle kills six American troops in an attack near the base.
November 2016 – An Afghan contractor conducts a suicide bombing on Bagram and kills four Americans, injures 17 others.
December 2017 – The U.S. conducts 4,361 airstrikes in 2017, more than triple the number it did in 2016.
December 2018 – Airstrikes continue to increase. The Trump administration says it is part of a plan to bring the Taliban into peace negotiations under favorable terms.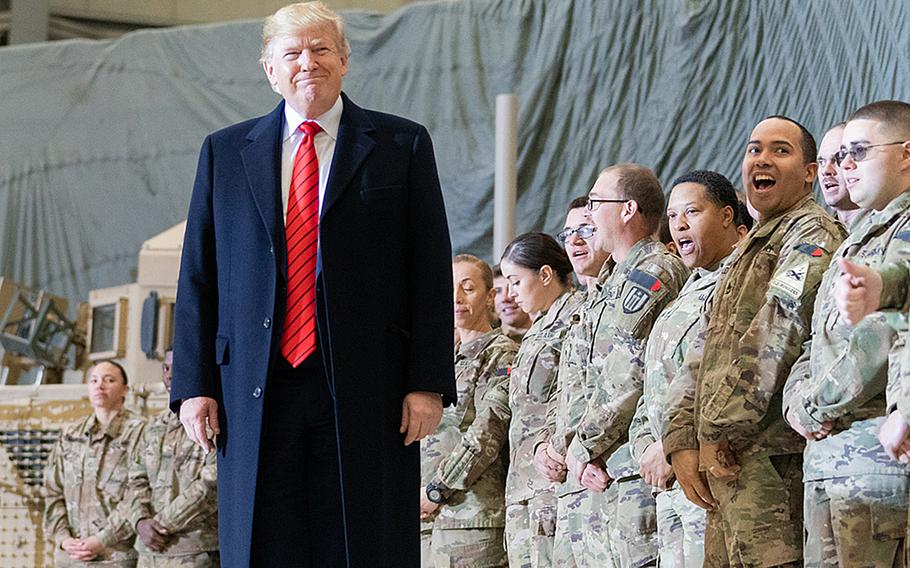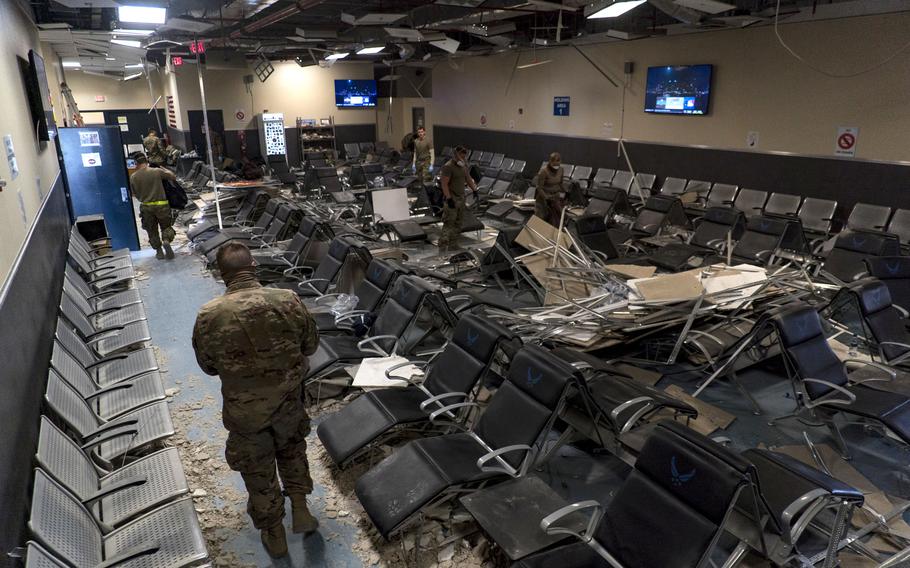 April 2019 – Three Marines are killed, three others injured and a contractor wounded by a roadside bomb near the base. The Taliban claim responsibility.
November 2019 – President Donald Trump visits Bagram and helps serve Thanksgiving meal to service members.
December 2019 – A suicide bomber targets a medical facility under construction adjacent to the base, killing two Afghan civilians and wounding dozens of others. There are no U.S. casualties.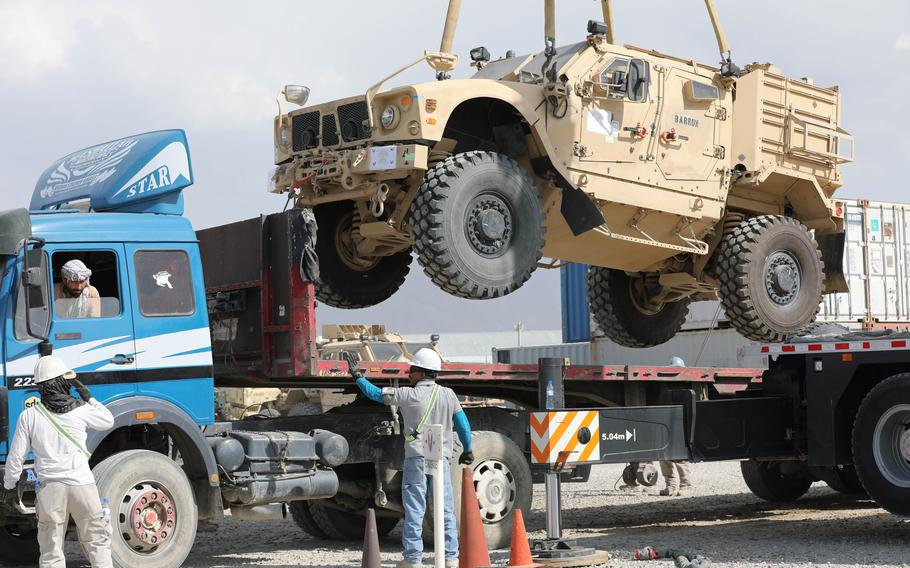 February 2020 — The U.S. and the Taliban sign a peace agreement that would lead to international forces leaving Afghanistan in mid-2021.
March 2020 – Quarantine areas are set up on Bagram to prevent the spread of the coronavirus.
May 2021 — Several thousand troops have left the country through Bagram since the signing of the agreement. U.S. begins its full withdrawal from the country.  
July 2021 – The U.S. leaves Bagram Airfield and turns it over to Afghan forces.