US consular officials at Kabul airport struggled with surging crowds and painful choices
by
Karen DeYoung
The Washington Post
September 2, 2021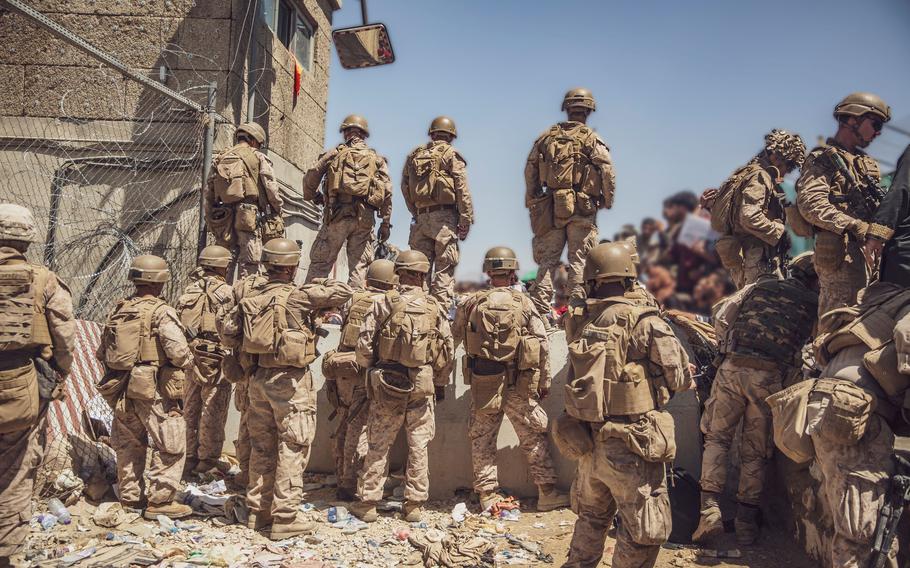 U.S. consular officials waded into massive and increasingly desperate and belligerent crowds of Afghans outside the Kabul airport, searching for familiar faces or valid documents. They sent private instructions and authorization to American and allied citizens and to eligible Afghans, only to see those messages become useless as they suddenly appeared on the phones of thousands pushing toward the gates.
Afghan "entrepreneurs" sold bogus access to other Afghans and then tried to lie or bully their way inside. Taliban fighters manning perimeter checkpoints got conflicting orders from their chains of command or made up their own rules for who got through.
"Everybody who lived it was haunted by the choices we had to make and the people we were not able to help," a senior State Department official said Wednesday, describing the perspective of consular officials on the ground during the two-week military evacuation effort that ended this week.
Since the last evacuation flight, attention has focused not on the nearly 125,000 who got out but on those who were left behind — 100 to 200 Americans, along with what the State Department official said was "the majority" of tens of thousands of Afghans eligible for special U.S. visas. In response to the chaotic exit, some Republicans have called for President Biden to resign or face impeachment, and many Democrats have voiced criticism.
Veterans and other groups seeking to extract particular Afghans have called Biden feckless, a liar or far worse. Parents of some of the 13 U.S. service members killed Thursday by an Islamic State suicide bomb at an airport gate have cursed him.
Biden on Tuesday called the evacuation mission an "extraordinary success," despite those involved operating under "severe stress and attack."
But some senior officials have acknowledged that it should have started earlier and could have been better - even as they placed whatever blame the current administration may shoulder on the backs of two decades of unsuccessful U.S. policy.
For both the military and diplomats, there will be Congressional inquiries and internal "lessons learned" accountings.
Undersecretary of State Victoria Nuland on Wednesday repeated administration assurances that "there is no deadline" for what she said was an ongoing mission. "These efforts did not end on August 31, and they will not end until we have secured the evacuation of any American citizens and [permanent residents] and Afghans" at risk who want to leave.
Telephone trees are in near-constant contact with Americans inside Afghanistan, Nuland said, as the State Department tries "to ascertain precisely who still wants to leave, their family members, and what routes may or not feel comfortable" for them.
"Messages are being tailored depending upon who they are or where they are," she said. "The first thing we have to do is ensure that we can get air routes and land routes secure," while continuing "to evaluate who is where, who they have with them, case by case."
Marking off a series of figures, Nuland said that since the evacuation began on Aug. 14, a department task force has made 55,000 phone calls and sent more than 33,000 emails to those inside Afghanistan, and that "hundreds and hundreds of U.S. diplomats" have been coordinating with third countries to discuss safe passage.
Afghanistan has land borders with Pakistan, Uzbekistan, Turkmenistan, Tajikistan and Iran and a 50-mile-long border with China that has no road access. Some of those countries have said they will not admit Afghan refugees, and all lie far from Kabul through often-treacherous terrain.
The Kabul airport has been closed since the last U.S. military flight departed just before midnight Monday, Afghanistan time. Nuland said that Turkey and Qatar - both of which have diplomatic missions remaining in Kabul - are "trying to get the airport open [and] we're relatively optimistic."
A plane carrying technicians from Qatar arrived there Wednesday, Agence France-Presse and Qatari media reported. Airports in other Afghan cities are reportedly operating, although it as unclear whether the Taliban was allowing charter flights to land and load evacuees.
Taliban officials have said that anyone is free to leave provided they have proper documentation. In the case of Afghans, they have said, that requires not only a visa for another country but also an Afghan passport that the Taliban themselves will have to issue for those who do not have them. Many Afghans in hiding have reported that they have destroyed their documentation, out of fear of the Taliban discovering that they worked for foreign militaries or organizations.
It is unclear how those without visas, for the United States or other countries that have withdrawn their diplomatic representation from Kabul, will obtain them. Of those countries with embassies remaining, it is not known whether any will handle U.S. consular business in Afghanistan.
The U.S. Embassy has moved to a new office in Doha, the Qatari capital, where Nuland said that it will handle consular, humanitarian aid and security activities. Asked whether the United States will establish diplomatic relations with a still-to-be-formed Taliban government, she said that "we have made no decisions . . . and we certainly won't unless and until we see" whether the Taliban fulfills its commitments for inclusive governing and human rights.
Even as Nuland discussed the road ahead, the senior State Department official sought to explain on a more granular level what the past two weeks were like for the hundreds of U.S. officials working on the airport evacuation effort. The official spoke on the condition of anonymity under rules set by the State Department.
"It wasn't pretty," the official said. "It involved some really painful trade-offs and choices for everyone involved."
The official identified five impediments to a "steady throughput" of evacuees, which he listed in descending priority - from U.S. citizens and permanent residents, to citizens of foreign allies, to Afghans holding or eligible for Special Immigrant Visas because they worked in some capacity as part of the 20-year U.S. effort, to other vulnerable Afghans including activists, women and journalists.
The effort was "constrained" by security imperatives, the official said. The Islamic State, a sworn enemy of the United States and the Taliban, was "trying to kill as many of those people as possible," the official said, adding that "despite our best efforts they were successful" in the bomb that blew up just outside the airport gate, resulting in the deaths of what the official said were 169 Afghans, in addition to the 13 U.S. service members.
Second was that "access to the airport was designed to be difficult," to prevent attacks by vehicles carrying explosives, suicide bombings or other attacks. The officials were "trying to essentially retrofit a facility designed to restrict access [in order to] provide access," something that would be "difficult to do . . . even without additional crowds."
Third, "one of the major misconceptions" during the operation was "this notion that if they got close to the airport it was simply a matter of the United States and allies opening a gate. In fact, all of those people had to first go through Taliban checkpoints."
"The criteria that the Taliban used to allow [entry] were variable and changed in some cases hourly and at times inconsistent with the indications the Talibs had given to us that they would allow certain people to pass," the official said.
"It was quite clear that the Talibs on the checkpoints faced some of the same challenges in terms of overwhelming demand for access that we saw at entry points," the official said, adding that "at various times when there was a surge in a particular place," their response was not to assign more people to process them but to "simply close it down." Sometimes only foreigners were allowed through some checkpoints.
The official denied that the Taliban were given lists of eligible evacuees, which some have charged enabled them to find Afghans that may have been in hiding.
"We did not do that," the official said. "What we did do on a couple of occasions was to ensure that vehicles - buses that were allotted specific times to try to facilitate access . . . had manifests. This was to provide a degree of confidence that Afghans that were on those buses were in fact" those who had U.S. priority.
The fourth constraint was "viral communications among Afghans" about access to the airport. "When I arrived, I attempted to use electronic communication with local staff" to facilitate entry, the official said. "Within an hour, everyone on the crowd had that new 'pass' on their phones."
Finally, there were the communications from those who claimed to be at the gate escorting American citizens or "prominent" Afghans. "In some cases, there were no Americans," the officials said. "In some cases, there were five Americans with hundreds of Afghans they refused to be separated from."
Some of those efforts, the official said, were "of an entrepreneurial nature" by Afghans "looking to facilitate access for financial reasons."
As systems were put in place and broke down, however, "we simply did not have the people or the time to be able to try to sift through that crowd of people demanding access," which the official said often seemed on the verge of turning into a "mob."
"That's not a criticism of people desperate to leave," the official said. "It's just that characteristic of human behavior in those kinds of positions."