Biden: US troops gathered Americans from crowds outside Kabul airport
by
Corey Dickstein
Stars and Stripes
August 20, 2021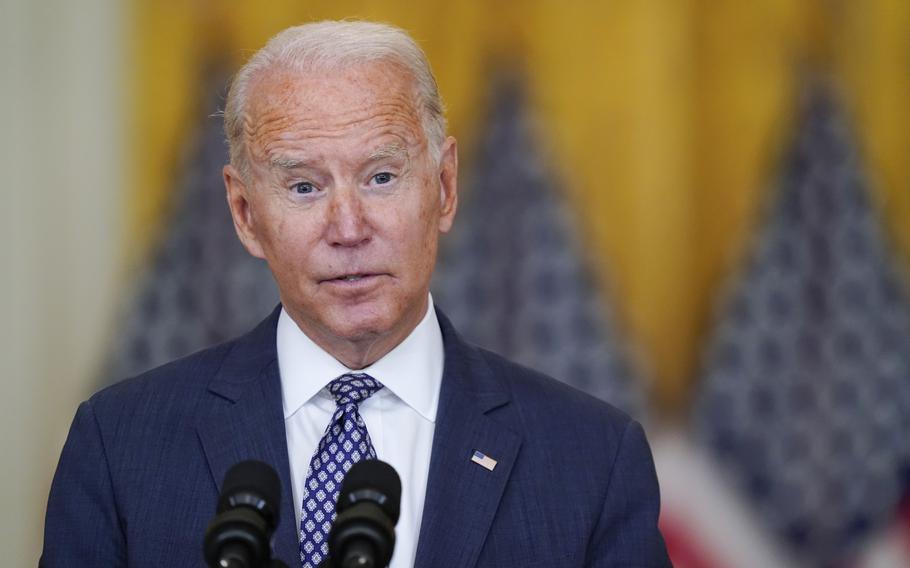 U.S. troops left Kabul's international airport on Thursday to gather U.S. citizens trapped in the large, chaotic crowds just outside the airfield's walls, President Joe Biden said Friday, vowing to provide "every resource necessary" to get Americans out of Afghanistan.
"Let me be clear, any American who wants to come home, we will get you home," Biden said in his second address to the nation since Afghanistan's near-total fall to the Taliban last weekend.
The president said American troops helped 169 U.S. citizens enter Hamid Karzai International Airport, the last U.S.-held ground in Afghanistan, after they were stuck for hours in the crowds of thousands outside its gates on Thursday. It was the first known time American troops had moved outside the perimeter of the airport, known as HKIA, since the Taliban captured the city Sunday.
Biden indicated more U.S. troops could leave the relative safety of HKIA to help Americans stranded in Kabul, if necessary. That appeared to be a change in policy for the administration after Defense Secretary Lloyd Austin told reporters Wednesday that he had no capability to send American forces into Kabul.
But the president also said he was not aware of specific reports of Taliban fighters hindering the passage of American passport holders through the city, citing an agreement U.S. military commanders at HKIA struck with Taliban commanders in Kabul with whom they are regularly speaking.
Allowing Americans and U.S.-allied Afghans with proper paperwork through to the airport was in the Taliban's "best interest," Biden said. He noted, as top Pentagon officials have repeatedly said this week, the Taliban had been warned any violent interference with the evacuation operation would be "met with a swift and forceful response." Pentagon officials have acknowledged U.S. fighter jets have been circling Kabul in case commanders need to order a quick response.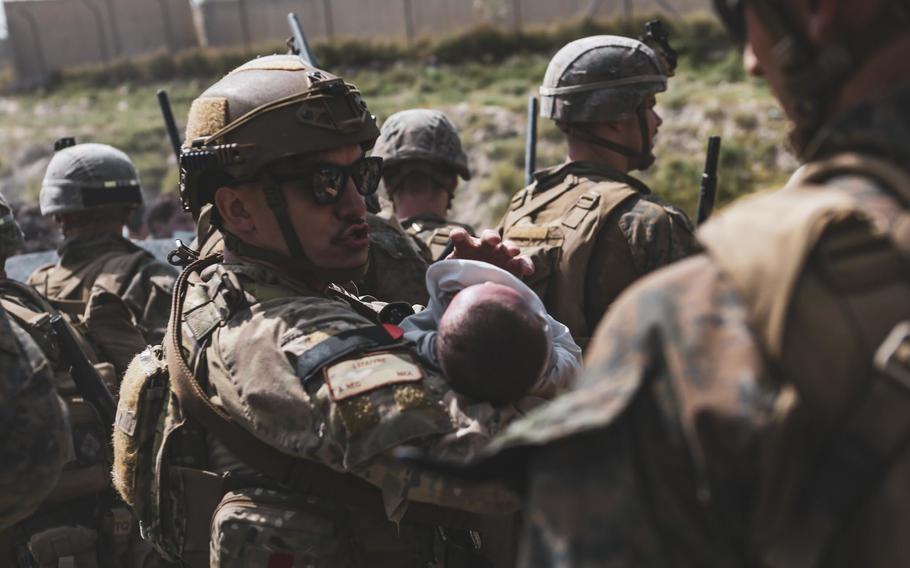 The president said he had spoken to those commanders on the ground Friday, during a situation room huddle with his top national security advisers and "made it clear to them we will get them whatever they need to get the job done."
Biden has faced growing pressure in recent days from lawmakers and nongovernmental organizations to do more to increase the flow of evacuees from Kabul — Americans and U.S.-allied Afghans. Those calls have only grown amid reports, via several news outlets including The Washington Post and the BBC, that European allies had sent their troops outside HKIA's walls to escort people to the airport. The United States has almost 6,000 troops — mostly Marine and Army infantrymen — deployed to the single-runway airport in Kabul, charged with ensuring security and order inside its perimeter. Pentagon officials said there are also some special operators at HKIA.
Among Biden's most vocal critics on his handling of the Afghanistan exit, Sen. Joni Ernst, R-Iowa, said she had urged Austin and Secretary of State Antony Blinken to commit American troops to "guarantee safe passage for Americans to Hamid Karzai International Airport." She also signed onto a letter Thursday with 15 other Senate Republicans imploring Biden to keep troops at HKIA beyond the Aug. 31 end date for the mission.
"Not only should we protect American citizens in Afghanistan, we must also uphold our promise to the thousands of Afghans who put their lives on the line to work with us to advance our shared security goals," reads the letter, led by Sen. James Inhofe, R-Okla., the top Republican on the Senate Armed Services Committee. "You must devote all means necessary to ensure every American citizen and all eligible Afghan partners are successfully evacuated.
Ten nongovernmental organizations, including Amnesty International and Human Rights Watch also issued a letter to Biden on Friday, demanding the White House "urgently do more to evacuate Afghans from harm's way."
Biden said Friday that he still believes the United States could complete its effort to evacuate tens of thousands of Americans, NATO ally personnel, and U.S.-allied and at-risk Afghans from Kabul by the Aug. 31 deadline that he set months ago. But he indicated he was open to extending it, if needed.
"I think we can get it done by then, but we'll make that adjustment as we go," the president said.
Biden spoke just as flight operations at HKIA resumed following an hourslong pause in operations, according to Biden and defense officials. It was the second long pause in evacuation operations since Monday, when U.S. troops spent hours clearing the airport's runway of thousands of Afghan civilians who had crowded there.
Defense officials said Friday that several thousand evacuees were inside the airfield gates and cleared for flights once they resumed. Some of those flights were expected to carry evacuees to locations in Europe and the Middle East, after defense officials acknowledged a backlog of evacuees had occurred at its main military hub in Qatar, Al Udeid Air Base. That backlog was at least partially responsible for the temporary stoppage of military flights at HKIA, said an official on the condition of anonymity.
Biden said the U.S. military had evacuate some 5,700 people from Afghanistan on Thursday, its largest single-day total since operations began Aug. 14. He said in total 13,000 people had been evacuated from Kabul on American aircraft since the mission began.
The White House also said 11 nonmilitary charter flights had evacuated people from Afghanistan on Thursday, but officials did not say how many evacuees were on those flights. The White House did not provide a specific breakdown of the numbers of Americans, Afghans and others it had removed from Kabul.
Meanwhile, Biden called news and social media images depicting acts of desperation among scared Afghans seeking to flee the Taliban outside HKIA "heartbreaking." New reports documented Taliban fighters harassing and assaulting Afghans trying to escape the country. In one viral video, an Afghan baby is handed to U.S. Marines over the razor-wire wall that forms the airport's perimeter. The Marine Corps verified the authenticity of the video on Friday, and the service said the baby was later reunited with its father inside the airport.
"We've seen gut-wrenching images of panicked people act out of sheer desperation," Biden said. "You know, it's completely understandable. They're frightened or sad, uncertain what happens next. I don't think any one of us could see these pictures and not feel that pain on a human level."