First of three US battalions arrives in Kabul to assist the evacuations of American diplomats, Afghan refugees
by
Caitlin Doornbos 
Stars and Stripes
August 13, 2021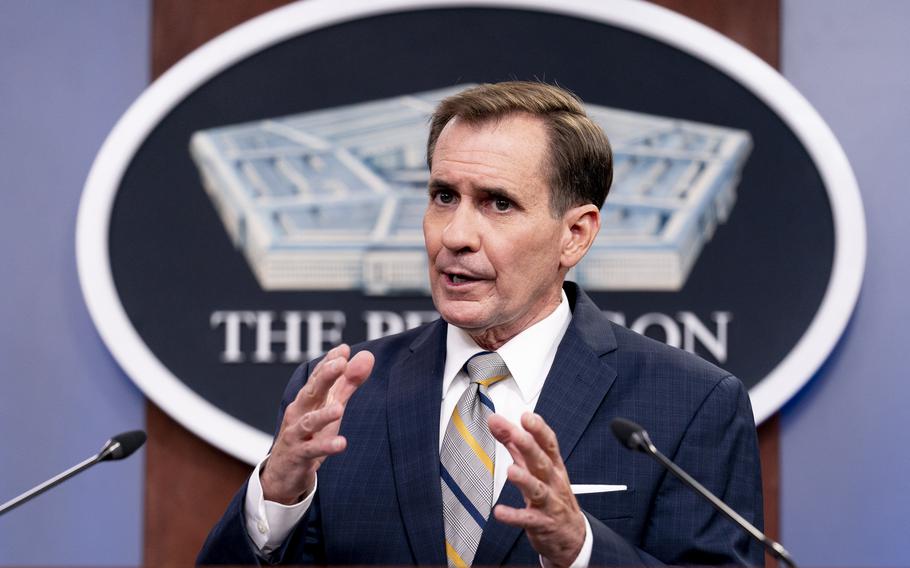 WASHINGTON — The first of three battalions has arrived in Kabul, a day after 3,000 U.S. troops were ordered to the city to help some American diplomats and Afghan refugees evacuate Afghanistan as Taliban fighters make rapid gains throughout the country, chief Pentagon spokesman John Kirby said Friday.
"Troop movements that we mentioned yesterday, are happening as we speak," Kirby told reporters at the Pentagon.
A Marine battalion was the first unit to arrive Friday in the Afghanistan capital.
"[The unit] was already pre-staged in the region and has lift, sustainment and support capabilities," Kirby said.
An additional Marine infantry battalion from a Marine expeditionary support unit and an Army infantry battalion are expected to arrive "in the next couple of days," he said.
A 3,500-person brigade combat team from the 82nd Airborne Division at Fort Bragg, N.C., is preparing to deploy to Kuwait within the next week to help process Afghan refugees seeking special immigrant visas who helped American personnel during their nearly 20 years in Afghanistan.
The deployments come as the Taliban sweeps through Afghanistan, taking control of half the country's 34 provincial capitals in the final weeks of the U.S. military drawdown from the country, which began May 1 and is scheduled to end by Aug. 31.
"We are certainly concerned by the speed with which the Taliban has been moving … it's deeply concerning," Kirby said. "The deteriorating conditions are a big factor in why [President Joe Biden] has approved this mission."
Once all the troops have arrived in Kabul, the Americans will have the capacity to airlift "thousands" of people out of Afghanistan, though daily evacuation numbers could fluctuate, Kirby said. The troops will also help secure the Hamid Karzai International Airport, where many evacuating personnel and refugees will take commercial flights out of the country.
There also remains a contingent of U.S. Forces Afghanistan Forward troops who were already in the country helping with security at the airport and the U.S. embassy about four miles away, Kirby said.
"These are the existing security elements that were already in Kabul and are comprised of the [Tactical Air Command] and lift aviation assets, infantry security personnel and some intelligence, surveillance and reconnaissance assets that are already there at the airport," he said.
Kirby said he does not know whether the troops deploying to Kabul this weekend will receive imminent danger pay after reiterating Friday that it is not a combat mission, but that troops will be armed and have the right of self-defense if attacked.
Within the past 24 hours, the Taliban has taken Afghanistan's second- and third-largest cities, Herat and Kandahar, The Associated Press reported Friday.
"Kabul is not right now in an imminent threat environment, but if you just look at what the Taliban has been doing, you can see that they are trying to isolate Kabul," Kirby said. "Now, what they want to do if they achieve that isolation, I think, only they can speak to."
The Taliban's isolation strategy mirrors what they've done elsewhere in the country, "isolating provincial capitals, and sometimes being able to force a surrender, not necessarily with much bloodshed," he said.
Kirby also reiterated despite the Taliban's gains, the Afghan Security Forces have advantages with "greater numbers…a capable Air Force…modern equipment and the benefit of the training that we have provided them over 20 years."
"They have the material, the physical, the tangible advantages," he said. "It's time now to use those advantages."