Citing Taliban violence, US expands Afghan refugee program
by
Phillip Walter Wellman
Stars and Stripes
August 2, 2021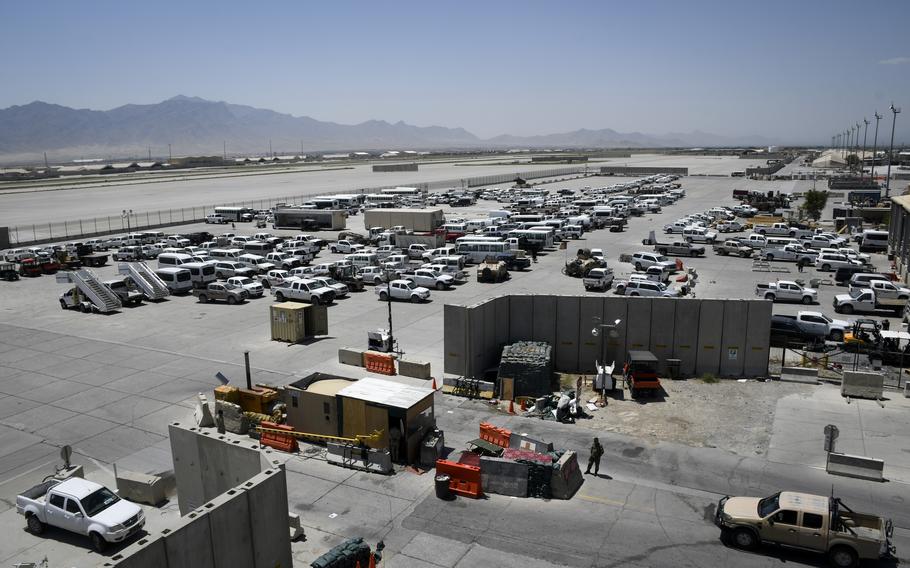 KABUL, Afghanistan — The U.S. will give more asylum opportunities to at-risk Afghans as Taliban violence surges ahead of the withdrawal of American forces by the end of August. 
The State Department said Monday that "many thousands" of Afghans now qualify to permanently resettle in the United States. That number includes current and former employees of American news organizations, development agencies and other U.S.-funded relief groups. 
"The U.S. objective remains a peaceful, secure Afghanistan," the State Department said. "However, in light of increased levels of Taliban violence, the U.S. government is working to provide certain Afghans, including those who worked with the United States, the opportunity for refugee resettlement." 
The new "Priority 2" category of the U.S. Refugee Admission Program was created to address the situations of Afghans who don't qualify for an existing Special Immigrant Visa. It applies to Afghans and members of their immediate family who may be in peril because of U.S. affiliation. 
Rights groups had called on President Joe Biden to do more to protect Afghans who had been affiliated with the U.S. but may not have worked directly for the U.S. government.  
The groups said those Afghans face just as many risks as counterparts covered by the provisions of the Special Immigrant Visa. 
About 20,000 Afghans who worked for the U.S. government as translators or in other positions have already applied to resettle in the U.S. as part of the visa program. 
Of those, 2,500 who passed security screenings are now being relocated. The first group of about 200 applicants arrived at Fort Lee, Va., on Friday. 
The Taliban have taken control of about half of the country's roughly 400 districts and continue to launch offensives, according to the U.S. military. 
Last week, the special inspector general for Afghanistan reconstruction said the continued violence poses an "existential crisis" for the country.