'Surprised and unready': Afghan forces have faced surge of attacks since US-Taliban deal, report says
by
Phillip Walter Wellman
Stars and Stripes
July 29, 2021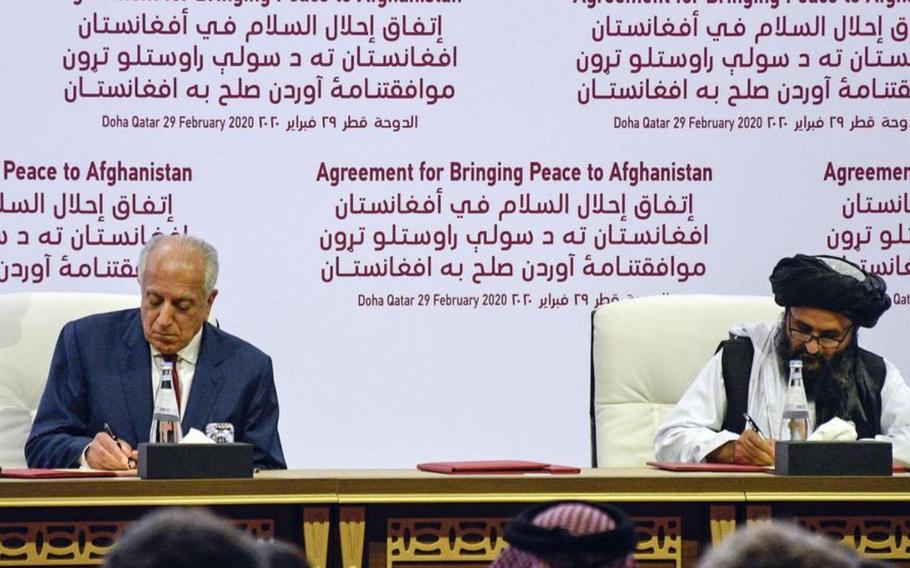 KABUL, Afghanistan — Afghanistan faces an "existential crisis" after a continuing rise in Taliban attacks that began well ahead of the withdrawal of U.S. troops from the country, a government watchdog agency said Thursday.
Each quarter since the U.S. and Taliban signed a peace deal in February 2020 has shown a marked increase in enemy attacks compared to the same periods in previous years, a report by the Special Inspector General for Afghanistan Reconstruction said. NATO data on the increases had been kept from the public since December 2019, the report said.
Between March and May, enemy forces conducted nearly 10,400 attacks, over 1,000 more than were recorded during that time last year, and 3,000 more than the same time in 2019, the report said.
Each of the last four quarters saw more than 10,000 enemy attacks, according to the data, which NATO said was based on reporting by Afghan forces and could be higher.
Last year, the U.S. said the Taliban verbally agreed to curb violence, and warned the insurgents would face consequences if they didn't. But the relentless attacks did nothing to stop the drawdown of international forces, which is nearly complete.
On Sunday, U.S. Central Command leader Marine Gen. Frank McKenzie told reporters in Kabul that the military had stepped up airstrikes against the Taliban and could continue doing so, at least until the U.S. combat mission in Afghanistan ends Aug. 31. The announcement came just days before chairman of the Joint Chiefs of Staff, Army Gen. Mark Milley, said the Taliban had taken control of about half of Afghanistan's roughly 400 districts.
"The overall trend is clearly unfavorable to the Afghan government, which could face an existential crisis if it isn't addressed and reversed," SIGAR inspector general John Sopko said in a letter accompanying Thursday's report.
Since the Taliban launched its most recent offensive in May, the Afghan army has "appeared surprised and unready, and is now on its back foot," Sopko said.
The report pointed to several problems plaguing Afghan security forces as they fight the Taliban.
Most Afghan army units refuse to conduct missions without support from Afghan special operations forces, SIGAR said. When special operations forces do arrive, they're often misused to perform tasks intended for conventional forces, like route clearance and checkpoint security, the report said.
All Afghan aircraft have also become strained since the departure of most international troops because of increased requests for close air support, intelligence, reconnaissance missions and aerial resupply, SIGAR said. The aircraft are flying at least 25% over their recommended maintenance intervals, which could have dire consequences, the report added.
The report came after the United Nations said earlier this week that May and June saw the highest number of civilian war deaths and injuries in Afghanistan for those two months since systematic documentation began in 2009.