Biden announces end of US combat mission in Iraq by year's end
by
Corey Dickstein
Stars and Stripes
July 26, 2021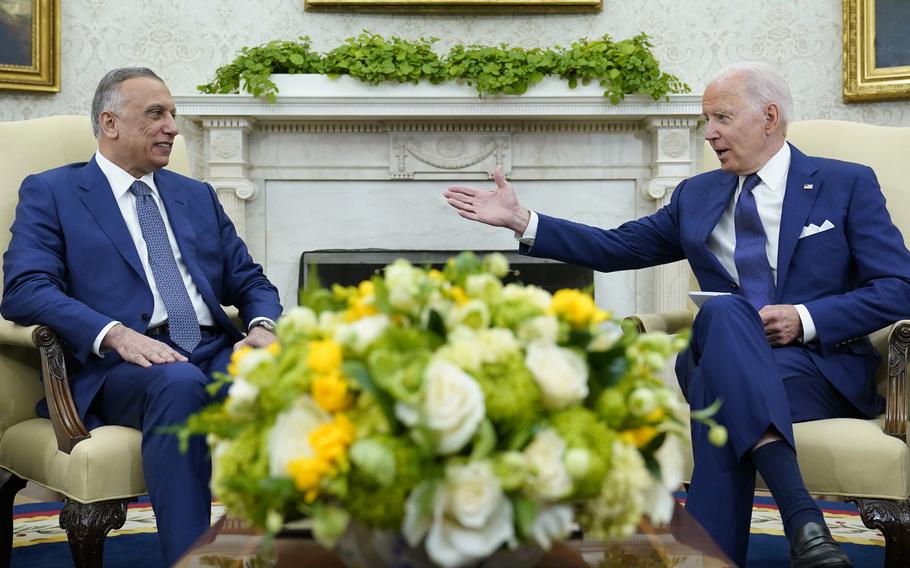 President Joe Biden has ordered the end of the combat role for American troops in Iraq in the coming months, a move that will for now retain U.S. service members in the country as advisers, he announced Monday at the White House.
"Our role in Iraq will be … just to be available, to continue to train, to assist, to help and to deal with ISIS as it arises, but we're not going to be, by the end of the year, in a combat zone," Biden said alongside Iraqi Prime Minister Mustafa al-Kadhimi, according to a White House pool report.
The two leaders spoke briefly to reporters before entering an Oval Office meeting.
The Iraqi prime minister, who has faced internal political pressure over the presence of foreign troops in his country, welcomed the development on Monday. It is a change that al-Kadhimi has sought in recent months as his forces continue to fight remnants of the Islamic State group, which has remained capable of attacks in Iraq. ISIS, for example, claimed responsibility for the bombing one week ago of a market in a Baghdad suburb that killed 30 people.
Al-Kadhimi thanked the United States for its enduring security support in endorsing the changes to come.
"Today, our nation is stronger than ever," al-Kadhimi said about ending the American combat role in his nation.
The announcement comes just months after Biden's announcement in April of the formal withdrawal of nearly all American troops from Afghanistan, as the president looks to disentangle the U.S. military from its two-decade focus on counterterrorism operations ushered in by the 9/11 terrorist attacks. American troops have nearly completed their pull-out from Afghanistan, where some 600 service members will remain past August to secure the U.S. Embassy in Kabul, U.S. officials have said. However, it was unclear Monday what impact the mission change in Iraq will have on the U.S. military presence there.
Some 2,500 U.S. troops remain in Iraq, where they have been primarily focused for years on training and advising Iraq's security forces, in a mission that will continue into the future, according to Biden and al-Kadhimi.
American forces will no longer officially be labeled "combat troops" under the agreement outlined Monday, though they will remain armed and continue to have the right to defend themselves, a defense official said. While the Pentagon has reported few attacks by ISIS on U.S. forces in Iraq in recent years, American troops have faced regular attacks via Shia militias with ties to Iran who have sought their withdrawal, including several since Biden's inauguration.
Biden did not disclose Monday whether he intended to remove any troops from Iraq in the coming months. A senior administration official, speaking to reporters on the condition of anonymity on Friday, also declined to provide information about any troop withdrawals related to the announcement.
Biden and others Monday did not say when a full withdrawal of American forces from Iraq could occur. The senior administration official said, for now, U.S. troops would continue supporting Iraqi forces with "logistics, intelligence [and] advisory capacity building."
The official said the shift marked a "significant evolution" in the American military's role in Iraq, though the U.S. mission there has focused almost exclusively on advising and training Iraqi troops since December 2017, when Iraq's government declared ISIS militarily defeated in its country. It could mean a lesser role for special operations troops in Iraq, who have quietly continued occasional operations against ISIS, typically alongside the Iraqi commandos whom they have continued to train.
The Biden administration and Iraq agreed in April to work toward a drawdown of combat troops from Iraq, but they did not put a timeline on such an announcement at the time.
The Pentagon signaled last week it would seek to downgrade the rank of the top commander overseeing American and coalition forces in Iraq from a three-star general to a two-star general. In a routine announcement of general officer assignments released Thursday, the Pentagon announced Maj. Gen. John W. Brennan Jr. had been assigned to take command of the U.S.-led Operation Inherent Resolve coalition as a two-star. Operation Inherent Resolve is the official name for the international effort to fight ISIS in Iraq and Syria, including American-led training missions of Iraqi troops and Kurdish militia fighters.
The coalition has been commanded by three-star Army generals since its establishment in 2014, when President Barack Obama approved a return of U.S. troops to Iraq as ISIS rapidly gained ground across the country where Obama had ordered forces removed just three years earlier. Operation Inherent Resolve's commander now is Army Lt. Gen. Paul T. Calvert.
Brennan, a Green Beret, leads the Army's 1st Special Forces Command, overseeing the service's seven Special Forces groups, its two psychological operations groups and other special operations units at Fort Bragg, N.C. Before that, he served as the No. 2 general for the secretive Joint Special Operations Command.
Officials on Monday did not say what, if any, impact the forthcoming changes in Iraq could have on its related but separate mission in Syria, where almost 1,000 American troops remain in the country's east to prevent a return of ISIS there. The Pentagon has long ferried troops and supplies between Iraq and Syria.
The senior Biden administration official who spoke Friday said no adjustments were imminent in Syria. The Biden administration is now undertaking a global posture review, a traditional assessment of the American military around the world conducted at the outset of a new presidential administration. The results of that review could lead to changes in troop levels in Syria and other locations, Pentagon officials said last month.
"In Syria, we're supporting Syrian Democratic Forces in their fight against ISIS," the officials said. "That's been quite successful, and that's something that we'll continue."