Iranian drones could boost Russian battlefield capabilities in Ukraine, analysts say
By
Stars and Stripes
July 13, 2022
---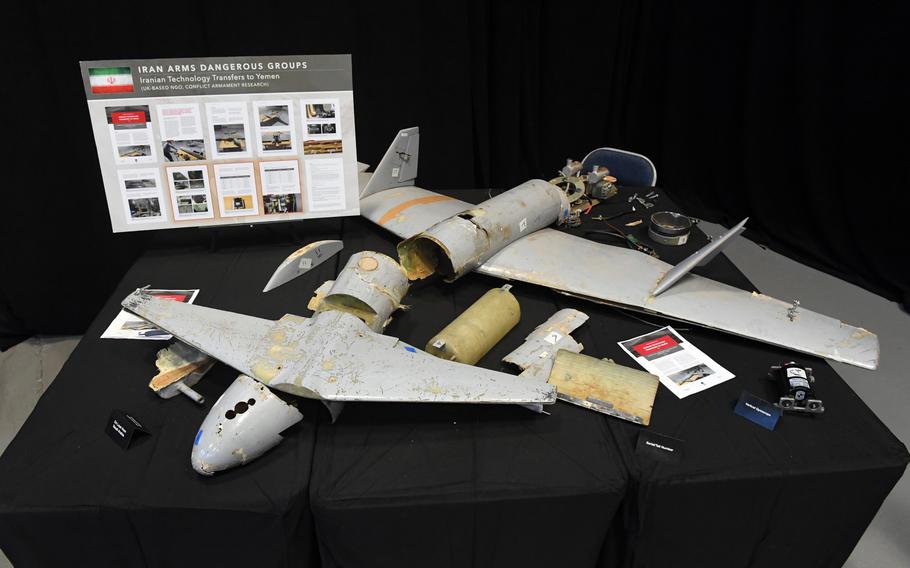 Iranian drones could provide Russia with a capability it underfunded for years and support its army's artillery strikes against Ukraine if used effectively, analysts said Tuesday.
Declassified intelligence says Iran is preparing to train Russian forces on drone warfare and provide them with "several hundred" unmanned aerial vehicles for use in Ukraine, national security adviser Jake Sullivan told reporters Monday.
The announcement comes before a visit by Russian President Vladimir Putin to Tehran next week, which Kremlin spokesman Dmitry Peskov announced Tuesday.
Iran's drones are among the most advanced in the world after decades of development and experience in proxy wars in the Middle East, experts and U.S. military officials have said.
"It is one of a handful of nations that has a massive, robust drone development and fielding capability that has been proven in combat on a large scale," said Jeremy Binnie, an analyst at the defense intelligence firm Janes.
The Iranian Foreign Ministry dismissed Sullivan's statements, saying Iran and Russia have collaborated on technologies since before the war, according to a report Tuesday by the Iranian news agency Tasnim.
A spokesman for the National Security Council did not provide further details after a request for comment.
If there is Iranian involvement over the skies of Ukraine, evidence will appear as drones are shot down, experts said.
Iran would most likely not send its larger drones, as it lacks the capacity to deliver several hundred overseas on the "expedited timeline" that Sullivan described, Binnie said.
But Iran could send smaller drones that would serve either to scout locations for artillery barrages or act as relatively inexpensive guided missiles, he and other analysts said.
Smaller suicide drones like those provided by Iran to its proxy groups in Yemen, Iraq and Syria made an outsized impact in those conflicts, said Samuel Bendett at the Washington, D.C.-based think tank CNA.
Iran has invested in drone capabilities for decades, while Russia has been slow to develop them, Bendett said.
"Russia was simply late to the game," Bendett said. "Because it had different priorities after the Cold War, it didn't think that drones would play an important part in modern warfare."
Iran's drone capabilities in the Middle East have developed to the point where the U.S. is "operating without complete air superiority" for the first time since the Korean War, former U.S. Central Command chief Kenneth McKenzie told Congress this spring.
Iran's drone improvements happened despite sanctions from the U.S. government. The Russians, who are facing heavy sanctions of their own, could learn from how Iran manufactured and sourced its drones, Bendett said.
Russia would not be the first customer for Iran's drone expertise, said Aaron Stein, the research director at the Foreign Policy Research Institute, based in Philadelphia.
Iran is developing a niche export market and has sent drones to Ethiopia and Tajikistan, Stein said.
The skies of Ukraine could become active with Iranian drones fielded by Russian troops against Ukrainians trained by the U.S. and armed with Turkish and American drones of their own.
Both sides will be monitoring how their opponents counter their drones, via jamming or specific anti-drone weaponry, and the lessons could have ramifications on future wars around the world, said Farzin Nadimi, an associate fellow at the Washington Institute.
"This will give an opportunity for both sides to learn from an actual drone war over a third country," Nadimi said. "Ukraine will be the next laboratory."
---
---
---
---