Navy destroyer helps UK ship seize Iranian missiles at sea
By
Alison Bath and J.P. Lawrence
Stars and Stripes
July 7, 2022
---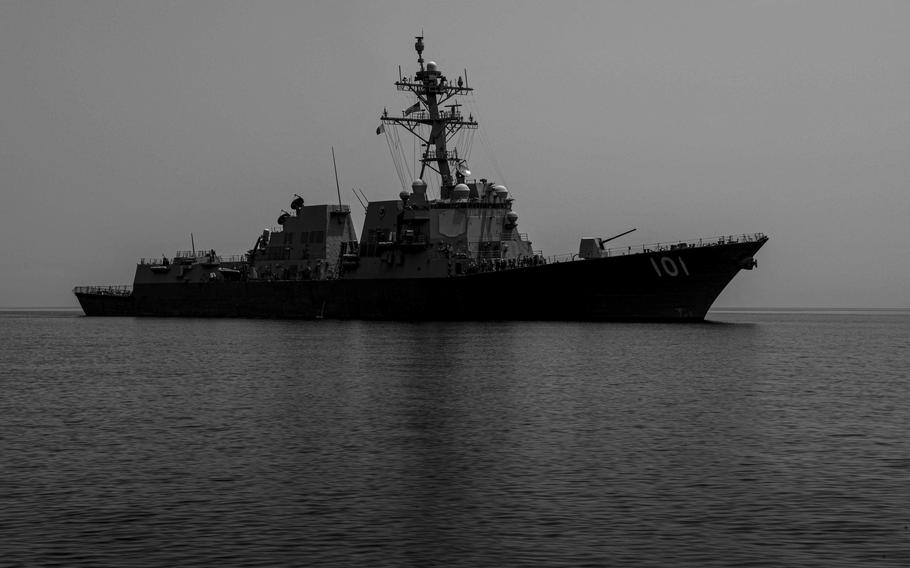 NAPLES, Italy — A U.S. Navy destroyer helped in the seizure of smuggled Iranian surface-to-air missiles and other advanced weapon components potentially intended for Houthi rebels in Yemen, British officials announced Thursday.
An MH-60 Seahawk helicopter from USS Gridley provided overwatch on Feb. 25 as the British navy frigate Montrose intercepted a speedboat operated by smugglers in international waters south of Iran, the British Defense Ministry and U.S. 5th Fleet said in separate statements.
A similar incident in the same region on Jan. 28 also resulted in the confiscation of advanced weaponry.
The U.K. did not reveal the seizures until more than four months afterward because of their sensitivity, a defense ministry spokesman said Thursday, adding that it "took some time for the facts to become clear."
Concerns about Iran's missiles and aerial drones led to a secret meeting of U.S., Israeli and Arab military officials about possible air defense coordination, The Wall Street Journal reported in June.
Middle Eastern countries are worried about Iran's ability to launch attacks from afar, said Tom Karako, director of the Missile Defense Project at the Washington, D.C.-based Center for Strategic and International Studies.
"The capacity and the capability of Iranian missiles and drones is very robust," Karako said Wednesday.
British marines who boarded the vessels during routine security operations discovered dozens of packages later determined to be engine components for the Iranian 351 land attack cruise missile and an unspecified number of Iranian 358 surface-to-air missiles, officials said.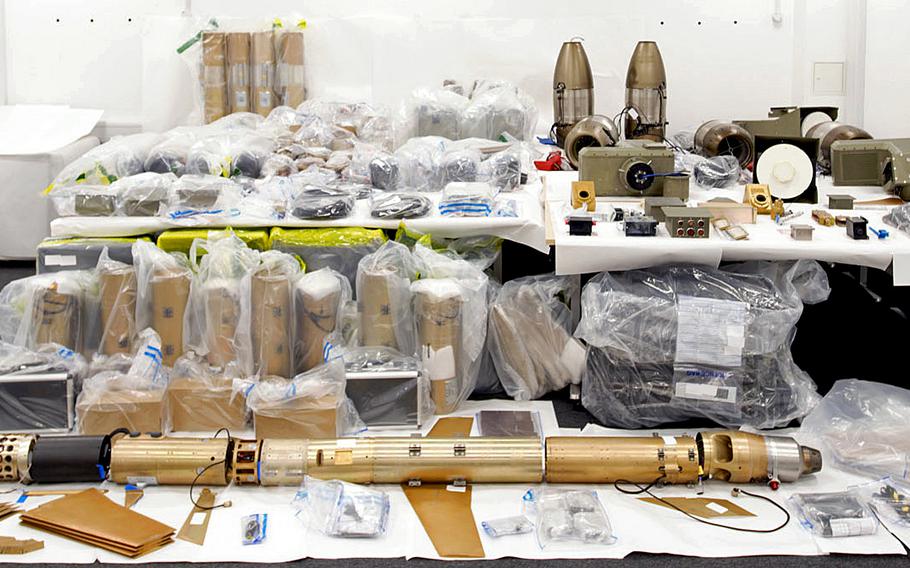 The transported items violate a 2015 U.N. Security Council resolution that, among other actions, imposed an arms embargo in Yemen, according to the British Defense Ministry.
On June 24, U.N. experts inspected the seized weapons and received a technical briefing from British intelligence analysts.
The key factor in the delay in announcing the seizures hinged on that briefing, the U.K. Defense Ministry spokesman told Stars and Stripes.
A British navy spokesman added that independent verification of the seized weapons by panels of experts was vital to ensure accuracy before an announcement could be made.
Iran has been accused of providing weapons, training and financial support to the Houthis, a Shiite rebel movement that has been fighting Yemen's Sunni-majority government for decades.
In 2014, Houthis seized control of Sana'a, Yemen's capital. Saudi Arabia and other Middle Eastern countries launched a counteroperation in 2015.
A cease-fire agreement reached in April that was set to expire in June was extended until August, the U.N. announced June 2.
In 2016, a failed missile attack against the destroyer USS Mason was launched from Houthi-controlled territory in Yemen, Reuters reported at the time.
In March, the Houthi movement claimed responsibility for drone attacks in Saudi Arabia, including the port city of Jeddah, according to a March 26 statement from the European Union condemning the attacks.
U.S. and British naval forces regularly collaborate on interdictions of weapons and other illicit cargo used to support terrorism, said Vice Adm. Brad Cooper, commander of U.S. 5th Fleet.
In 2021, the U.S. Navy seized nearly 9,000 illicit weapons in the busy shipping lanes of the Middle East, the service said.
Last week, the Bahrain-based U.S. 5th Fleet announced it was offering rewards of up to $100,000 for tips leading to the seizure of weapons, drugs and other smuggled goods in the region.
---
---
---
---