Moviegoers at select US military bases can watch free screenings of new Elvis flick
By
Stars and Stripes
June 9, 2022
---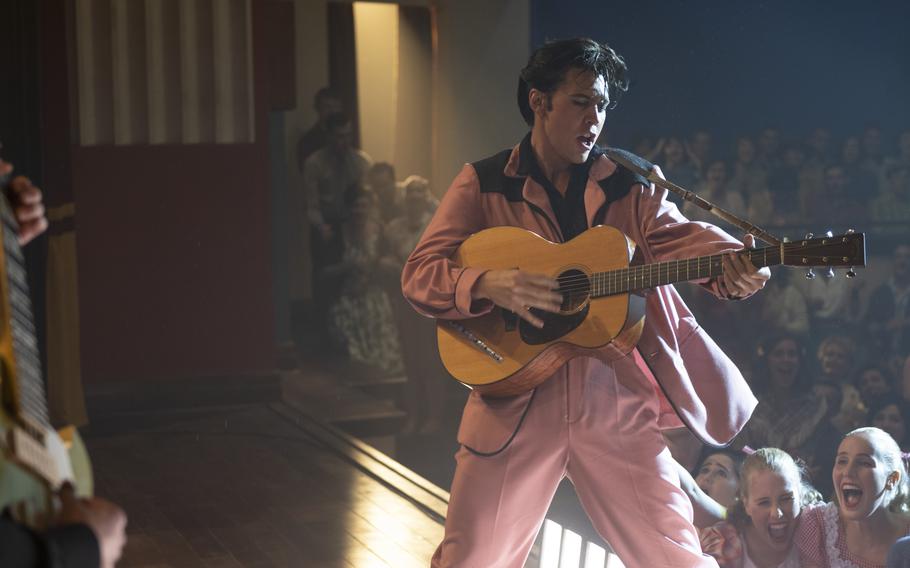 The Army and Air Force Exchange Service is offering free exclusive military screenings of "Elvis" at Air Force and Army bases worldwide Saturday, nearly two weeks before the new release hits theaters stateside.
The film captures the life and career of Elvis Presley, the king of rock 'n' roll, including his brief stint in the Army. Presley was stationed at Ray Barracks in Friedberg, Germany, from October 1958 to March 1960.
AAFES is partnering with Warner Bros. to screen the film at more than 20 Army and Air Force bases, including Ramstein Air Base, Germany, where the free showing starts at 11:30 a.m. at the Exchange Reel Time Theater. Doors open at 10:30 a.m., and seats will be available on a first-come basis.
Elsewhere in Europe, it will be shown at Wiesbaden and Vilseck in Germany, Aviano in Italy, and SHAPE in Belgium.
"'The King' is likely the most famous singer to have served our nation, so this free screening should be especially meaningful," Tom Shull, director and CEO of AAFES, said in a statement.
Directed by Baz Luhrmann, the film stars Austin Butler as Elvis, Tom Hanks as Elvis' longtime manager Col. Tom Parker and Olivia DeJonge as Elvis' ex-wife, Priscilla Presley.
Elvis met Priscilla while stationed in Germany, where her stepfather was serving in the Air Force.
Early reviews by film critics have been mostly favorable. "Elvis" currently scores at 81% on Rotten Tomatoes based on 42 reviews. The U.S. release date for it is June 24.
The free showings will take place at the following exchange theater locations:
Al Udeid Air Base, Qatar

Ali Al Salem Air Base, Kuwait

Aviano Air Base, Italy

F.E. Warren Air Force Base, Wyo.

Fort Huachuca, Ariz.

Fort Irwin, Calif.

Fort Jackson, S.C.

Fort Knox, Ky.

Fort Leonard Wood, Mo.

Fort Polk, La.

Fort Rucker, Ala.

Goodfellow Air Force Base, Texas

Grand Forks Air Force Base, N.D.

Kadena Air Base, Okinawa, Japan

Kaiserslautern Military Community, Germany

West Point U.S. Military Academy, N.Y.

Lackland Air Force Base, Texas

Malmstrom Air Force Base, Mont.

Supreme Headquarters Allied Powers Europe, Belgium

U.S. Army Garrison Humphreys Family and Troop locations, South Korea

U.S. Army Garrison Wiesbaden, Germany

Vilseck (Rose Barracks), Germany

Yokota, Japan
---
---
---
---