Overseas service members appear at higher risk of attempting suicide, report finds
By
Stars and Stripes
April 29, 2022
---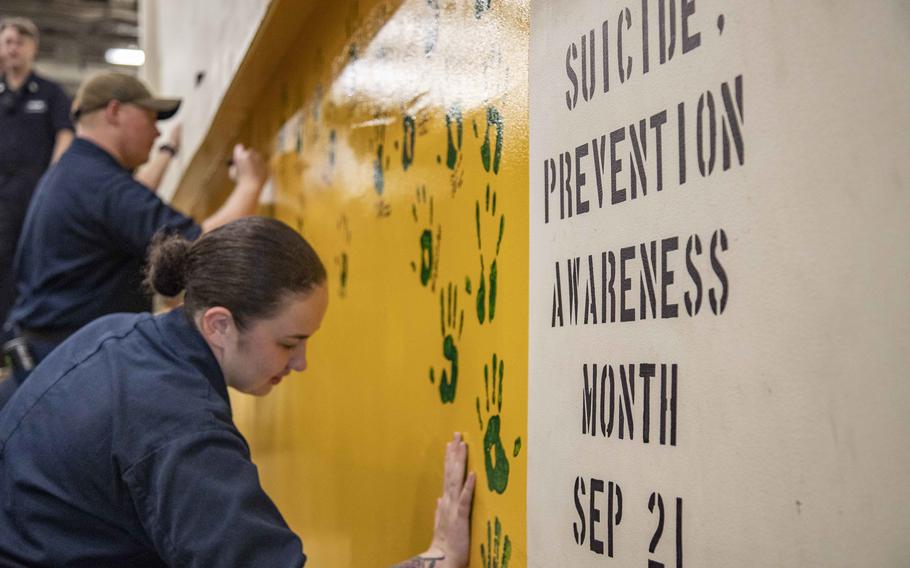 STUTTGART, Germany — Cultural isolation, family separations and lack of mental health support are among the factors that could explain why service members overseas appear more at risk to attempt suicide than their counterparts in the continental U.S., a new government report says.
Meanwhile, easier access to guns explains why troops based in the U.S. account for a higher percentage of suicide deaths, a Government Accountability Office report released Thursday said.
The GAO's review was prompted by 2021 directive from Congress to examine factors involved in the rising number of suicides within the military, which has struggled to counter an upward trend in such deaths.
In 2020, the military recorded 384 active-duty service member suicides, a 33.5% rate increase since 2016, the GAO's analysis found. The number dropped to 328 in 2021, according to DOD data.
But to date, the Pentagon has not fully assessed suicide risk at remote overseas installations, the report said.
Service members assigned to remote overseas installations between 2016 and 2020 accounted for 8% of the active-duty population, but 8.5% of reported suicide attempts and 5.5% of reported suicide deaths during the same period, the report said.
Non-military firearms were involved in more than half of reported suicide deaths inside the continental U.S., while such firearms accounted for 21% and 26% of such deaths among active-duty service members at remote or non-remote installations outside of the continental U.S., respectively, the GAO found.
The GAO defined remote locations as those outside the contiguous United States, including those in Alaska, Hawaii and overseas that have less Morale, Welfare and Recreation funding; that qualify as a hardship-duty pay location; or that have less than standard tour lengths.
Military officials at remote overseas installations told the GAO that they believed service members should undergo more rigorous screening prior to being assigned.
"By establishing such a process to assess risk factors for suicide and related challenges associated with assignment to remote OCONUS installations, DOD can improve its understanding of risks and challenges and better address them as needed," the GAO said.
Officials from U.S. Army Garrison Alaska, Fort Wainwright and Eielson Air Force Base in Alaska told the GAO that a long winter with seasonal periods of extended darkness and light could affect service members and contribute to mental health issues.
Meanwhile, officials from Yokosuka Naval Base in mainland Japan and Marine bases in Okinawa said restrictions that put limits on off-base travel for some service members — especially those who are young or have limited transportation — could lead to isolation. An inability "to relax, socialize or engage with Japanese culture" has been further exacerbated by the coronavirus pandemic, officials said.
"Navy and Marine Corps suicide prevention officials stated that risk factors including lack of access to behavioral health care, barriers to health care, cultural and religious beliefs, and social isolation caused by separation from friends and family may be more prevalent at remote OCONUS installations," the GAO reported.
The GAO made a series of recommendations, including that DOD establish a process to assess suicide risk at remote overseas installations. The report also said the Defense Department should develop a strategy to address shortages in primary care behavioral health providers, including at remote overseas bases.
---
---
---
---