US to deploy another 500 troops and aircraft to Europe
By
Stars and Stripes
March 7, 2022
---
WASHINGTON — Defense Secretary Lloyd Austin approved the deployment of an additional 500 U.S. troops and equipment to Europe as nearly all the combat power that Russia massed to invade Ukraine are now in the country, chief Pentagon spokesman John Kirby said Monday.
The U.S. forces deploying include 150 troops and KC-135 refueling aircraft from Fairchild Air Force Base in Spokane, Wash., to Greece, about 40 personnel from Fort Stewart, Ga., to staff air support operations centers in Poland and Romania, and 300 troops from Fort Stewart and Fort Bragg, N.C., to form ordnance and maintenance companies in Germany supporting the 1st Armored Brigade Combat Team of the 3rd Infantry Division deployed there, Kirby said.
"These are purely defensive forces," he said. "These additional personnel are being positioned to respond obviously to the current security environment caused by Russia's unprovoked invasion of Ukraine, and certainly to help reinforce and bolster deterrence and defense capabilities of the NATO alliance."
Kirby did not say how many KC-135 aircraft will be sent. He also said the Pentagon will "adjust our posture continuously as conditions require."
"These ... are not permanent moves," he said. "And as President [Joe] Biden has noted before, we are not and will not send forces into Ukraine."
The announcement comes as Russian President Vladimir Putin has nearly 100% of the combat power that he prepared for the invasion, which included more than 170,000 troops and combined arms capabilities, inside Ukraine, Kirby said. That's up from Friday's estimate that 92% of the massed forces were now inside Ukraine.
Despite the increased deployment of Russian forces, the U.S. has not seen any indications that Putin is planning to pull additional Russian troops into the fight, a senior U.S. defense official said Monday. The forces that he massed at the border do not represent Russia's full military capacity.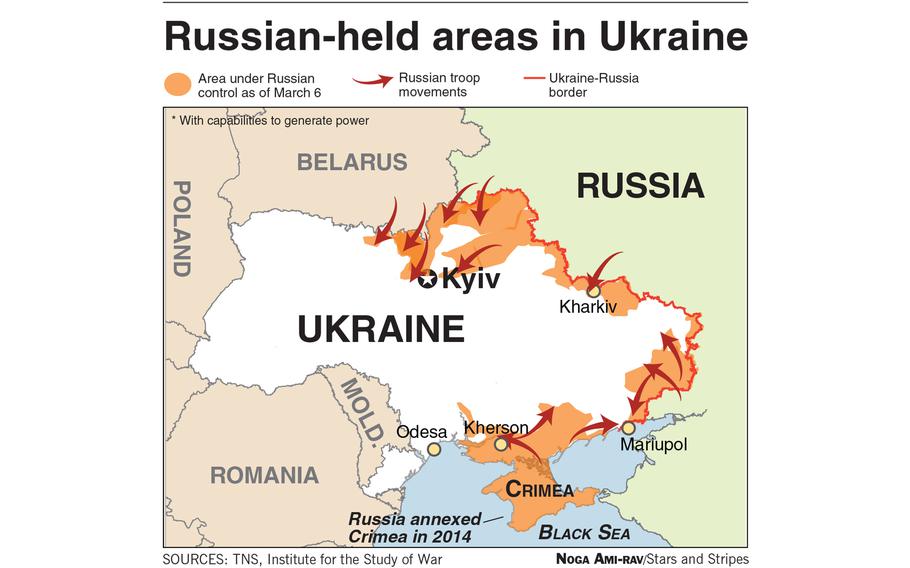 "We have not seen indications that they are preparing to move additional battalion tactical groups from elsewhere in the country to shore up what they put in Ukraine," the official said on condition of anonymity. "We have not seen any indication that he is going to go beyond the amassed combat power that he'd already developed."
Since the start of the war, Russia has launched more than 625 missiles on Ukraine, including short- and medium-range ballistic missiles, as well as surface-to-air missiles and cruise missiles, Kirby said.
However, Russia has been depending more on surface-to-air and cruise missiles in recent days as forces continue to be stuck outside of key cities such as Kyiv and Kharkiv, the defense official said.
"The short-range ballistic missiles, which had been the majority for quite some time, are no longer the majority [of missiles that Russia is shooting,]" the official said.
The Russian advance remains stalled in much of northern Ukraine, with a 40-mile convoy of Russian troops still about 15 miles outside the capital city of Kyiv, the official said.
"It was principally designed as a resupply convoy," the official said. "There were some combat elements in there, but again, the convoy is not going anywhere, and it hasn't gone anywhere significantly over the weekend."
Fuel and food issues have contributed to the traffic jam as has Ukrainian resistance, defense officials have said. For example, Ukrainians in recent weeks blew up a bridge near Kyiv to thwart Russia's advance toward the city.
The U.S. believes those same issues have slowed Russia's pace in its attack on Ukraine elsewhere, as well, officials have said. However, the Kremlin news service on Sunday denied Russia is not advancing as fast as it intended, according to the state-run TASS news agency.
Putin "emphasized that the special operation is proceeding according to a plan and is on schedule" in a phone call Sunday with Turkish President Recep Tayyip Erdogan, TASS reported.
Russian forces are advancing farther in southern Ukraine, having taken control of the coastal cities of Kherson in southwestern Ukraine and Berdyansk in southeastern Ukraine, Kirby said. They also continue to control a nuclear power plant in Zaporizhzhia in south-central Ukraine after firing on and capturing the facility Thursday night.
The Russians are also focusing efforts on the southwestern Ukraine city of Mariupol, which Kirby called "a violent place to be right now.
"We believe that they very much are aimed on taking Mariupol," he said. "This is another location for long-range fires and bombardment … We believe that they are trying to encircle Mariupol, but they have not done it yet."
Russia has still not taken control of Ukraine's airspace despite NATO denying Ukraine's requests that the alliance enforce a no-fly zone over the country, the official said.
"The airspace is still contested, but we do continue to assess that [Ukrainian] President [Volodymyr] Zelenskyy has the vast majority of his fixed wing aircraft available to him to fly and they are flying there," the official said. "They are continuing to use surface-to-air assets to defend the airspace, but it is still contested."
While the U.S. will not enforce a no-fly zone over Ukraine because it would draw American troops into combat with Russia, Biden's administration is discussing the possibility of contributing to international efforts to supply Ukraine with fighter jets, the official said.
The U.S. would not send its own aircraft to Ukraine, but the Biden administration is "very, very actively" considering a proposal that would have Poland supply Kyiv with Soviet-made jets from its stockpile, which America in return would restock with F-16s to make up for the loss, Secretary of State Antony Blinken said Sunday.
"The administration is discussing what options might be available in terms of potential backfill should a country like Poland want to provide fighter aircraft to Mr. Zelenskyy," the defense official said. "We've made no decisions [yet.]"
If Poland decides to donate jets, it will have to deal with several hurdles, "including how the planes would actually be transferred from Poland to Ukraine," White House Press Secretary Jen Psaki said Monday.
Additionally, the U.S. would have to work out how it "would backfill [the Polish jet supply] because returning new planes and transferring serious weapon systems often takes years to do from the United States," she said.
"We're looking at all of those factors, but we are not certainly preventing or blocking or discouraging Poland," Psaki said. "They are a sovereign country — they make their own decisions, but it is not as easy as just moving planes around."
---
---
---
---