First Ukrainian city reportedly falls to Russia as Pentagon says 90% of Russian troops amassed for war are now in Ukraine
By
Stars and Stripes
March 3, 2022
---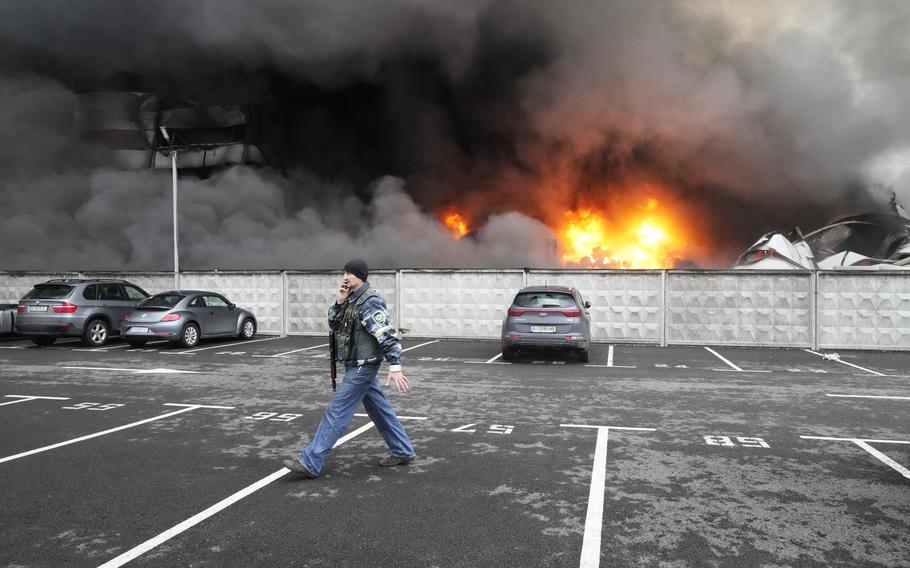 WASHINGTON — The southern Ukraine city of Kherson became the first to fall to Russian troops since Russian President Vladimir Putin launched a war against the neighboring country one week ago, the city's mayor said Wednesday.
Russian armed forces entered the Kherson city council building, Mayor Igor Kolykhayev said in a post on Facebook. Kherson sits about 75 miles northwest of the Crimean Peninsula, which Russia annexed during its last invasion into Ukraine in 2014.
"My team and I are peaceful people. We had no weapons or aggression on our side," Kolykhayev said in a translated statement. "We have shown that we are working to secure the city and are trying to eliminate the consequences of the invasion."
The Pentagon has not independently verified the reports, a senior U.S. defense official said Thursday, adding "we don't always know as fast as [reporters] seem to see it."
"This gets right to the heart of the limit of our ability to see everything in real time," the official said. "All we can tell you is what we assess now, and we are not ready to assess that the city has fallen."
The Kherson mayor said he "made no promises" to the Russian invaders and he is "only interested in the normal life of our city," which has a population of nearly 300,000, according to the United Nations.
"I just asked [the Russians] not to shoot people," Kolykhayev said in the statement. "We don't have Ukrainian armed forces in the city, only civilians and people who want to live here!"
"We are experiencing enormous difficulties with collecting and burying the dead, delivering food and medicine, garbage removal, accidents removal, etc.," he added.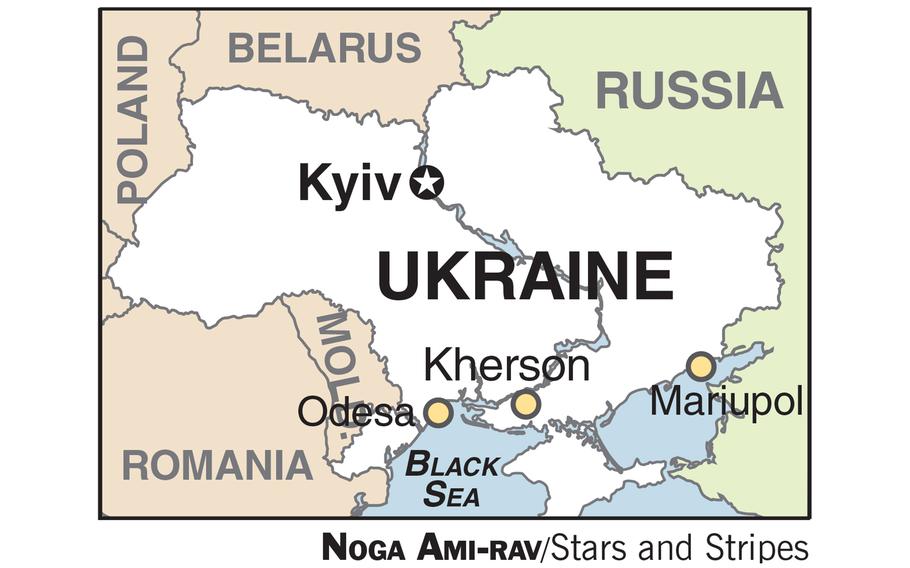 The news comes as Russia enters its second week of waging war on Ukraine. The fighting has intensified in recent days as the Russian troops battle major food and fuel sustainment issues and a fierce Ukrainian resistance, which has slowed the invading force from advancing throughout the country.
"One of the things we have certainly seen [Russia] do in places like Kyiv and Kharkiv is hitting government infrastructure with increasing bombardments … as they've gotten somewhat geographically [closer] to some of these large population centers," the U.S. defense official said.
As of Thursday morning, the Pentagon had counted "more than 480 Russian missile launches of all sizes and stripes" since the invasion began Feb. 24, the official said. Most were launched from within Ukraine, but about 160 came from Russia and another 70 were shot from Belarus.
Still, Ukrainian air and missile defense systems "remain intact and they remain effective" as the airspace above Ukraine continues to be contested, the official said. Ukraine has asked the U.S. to enforce a no-fly zone over the country, but President Joe Biden has declined to do so to avoid putting American troops in combat with Russian troops.
"[Ukrainian forces] continue to be able to fly their airplanes and to employ air defense assets," the official said.
About 90% of the more than 170,000 troops that Putin had amassed along Ukraine's borders with Russia and Belarus for months are now inside the country, the officials said. That's up from about 82% on Wednesday.
"Just because they're drawing more on [their forces] every day, you should not take away from that that their combat power is being diminished to such a point inside Ukraine that [Russian forces] feel like they're running out of juice here," the official said.
The U.S. believes Russian forces still have "an awful lot of capability left to them" inside and outside Ukraine, the official said.
However, the Russian advance on Kyiv remains delayed as a 40-mile convoy of combat vehicles is still stuck about 15 miles outside of Ukraine's capital city, the official said. The U.S. believes Putin wants to take Kyiv to overthrow Ukraine's government and replace it with his own.
"It's probably been three days [since] the last time we thought that they made any major geographic [advance] towards Kyiv," the official said. "We still assess that the convoy that everybody has been focused on is stalled and we have no reason to doubt Ukrainian claims that they have contributed to it being stalled by attacking it."
Ukrainian President Volodymyr Zelenskyy has so far refused to leave Kyiv, reportedly denying U.S. offers to help him evacuate, the Ukraine embassy in Britain said Saturday on Twitter.
"The fight is here. I need ammunition, not a ride," Zelenskyy told the U.S., according to the embassy.
The U.S. has not confirmed reports it offered the Ukrainian president a way out of his country, but the senior defense official commended him for his courage.
"Obviously, we remain concerned about his safety," the official said. "It's incredibly noteworthy that he has stayed there in Kyiv and continues to have command and control over his forces, and we commend his bravery."
So far, the Russians have made the most progress in southern Ukraine, not only in Kherson but also about 260 miles to the west in Mariupol, where Russian forces are advancing on the city from the north and south, the official said.
"Our assessment is that Mariupol is still under Ukrainian control although we have seen and observed Russian forces advancing on Mariupol with, as I said yesterday, the apparent attention to isolate the city," the official said.
The U.S. is also keeping an eye on Odessa in southwestern Ukraine, but the official said there was no "naval activity to speak to or any moves by the Russians with respect" to that city.
"We're watching it as closely as you can, but we just haven't seen any appreciable activity," the official said.
Ukraine continues to request additional military equipment from Western countries to help defend against Russia. The U.S. has provided about $1 billion in security assistance to Ukraine during the past year, including Javelin anti-tank missiles and other ammunition.
Some of those deliveries have continued within the past several days, but the defense official declined to confirm reports the U.S. has sent FIM-92 Stinger missiles in those packages.
"I can only say that we continue to provide Ukraine systems that they need to defend themselves, and that includes systems and weapons that they can use to deal with the threats on the ground as well as airborne threats," the official said.
---
---
---
---