Pentagon: Fighting in Ukraine intensifies as advancing Russian forces stall due to supply issues and resistance
By
Stars and Stripes
March 3, 2022
---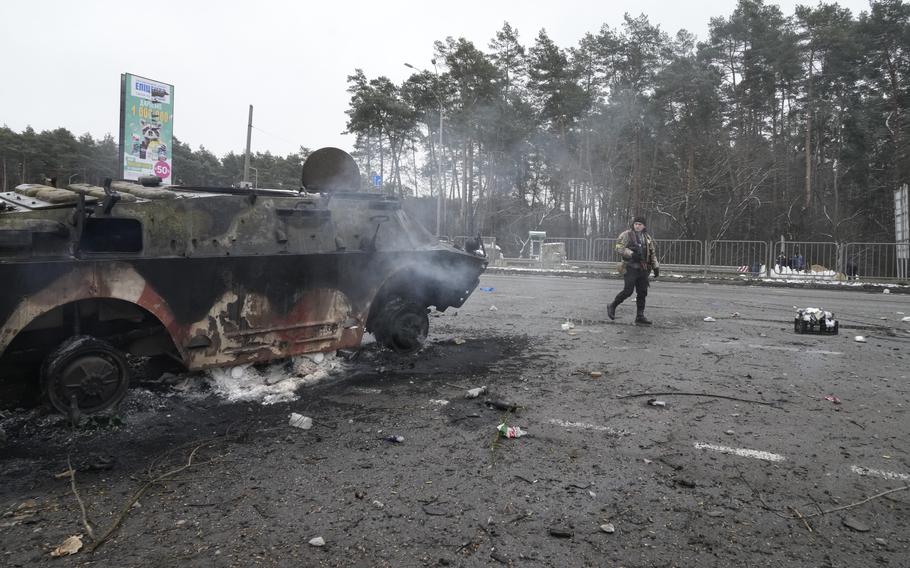 WASHINGTON – Russian forces invading Ukraine are becoming increasingly brutal as fighting intensifies despite a 40-mile convoy stalled outside the capital city of Kyiv, a senior U.S. defense official said Wednesday.
Though the logjam of Russian military vehicles on the outskirts of Kyiv remain stopped, Russian troops are firing "an increase in missiles and artillery targeting the city," said the official who spoke on condition of anonymity.
The Ukrainian resistance and Russian supply issues with fuel and food have slowed troop movement for days and U.S. officials say they don't believe Russia is moving as fast through Ukraine as they had anticipated.
"The northern push by the Russians down south toward Kyiv remains stalled," chief Pentagon spokesman John Kirby said Wednesday. "They haven't — from our best estimates — made any appreciable progress geographically speaking in the last 24 to 36 hours."
The U.S. believes Russian President Vladimir Putin intends to topple Ukrainian President Volodymyr Zelenskyy's government and supplant it with one of his own, Kirby said.
"In order to do that, [Putin] believes he has to take Kyiv," he said. "He continues to want to advance on Kyiv — that advance has been stalled, [but] they are working through that."
Much of the international community has protested the assault on Ukraine's sovereignty, with NATO allies imposing economic sanctions and other penalties on Russia for Putin's decision to invade.
"I believe that, quite frankly, the future of Ukraine should be up to the Ukrainian people," Kirby said. "And they are making their choice: it's pretty clearly known through the resistance that they're offering to this unlawful and unprovoked invasion of their country."
Increased aggression
The increased aggression from Russian troops comes after its defense ministry on Tuesday warned civilians to leave Kyiv as they planned strikes on Ukrainian technological and security facilities there "to thwart informational attacks against Russia," according to the Russian state-owned TASS media outlet.
"This increasing aggressiveness in terms of the iron they're lobbing into the city is certainly aligned with source reporting that the [Russian] Ministry of Defense has decided to become much more aggressive with its targeting in Kyiv," the U.S. official said.
Similar increased Russian missile and artillery fires are also happening "in and around Chernihiv to the north and Kharkiv to the northeast," according to the official. "Both cities are continually under assault, but with again no appreciable movement by the Russians to take either one. They appear to be stalled outside of those two cities as well and they are clearly meeting resistance [from Ukraine]."
Russian troops "have been achieving more progress" in their advance in southern Ukraine, the official said, noting the progress has been "measured."
"The Russians claim that they've taken Kherson, the Ukrainians counter claiming that they have not," the official said. "Our view is Kherson is very much a contested city at this point."
The Russian forces moving on Kherson in southern Ukraine came from the Crimean Peninsula, which Russia annexed from Ukraine during its last invasion of country in 2014, Kirby said.
"Kherson is still a very contested fight," he said. "I know the Russians have claimed that they've got the town – [but] we're not in a position to call it either way. The Ukrainians are certainly fighting for the town."
About 310 miles to the east, Russian troops continue to advance on Mariupol, but the U.S. does not "believe that they're in the city center, and we have every indication that Mariupol will be defended," Kirby said.
The Russians have not taken any of the major population centers in Ukraine that they appear to want, he said.
"We think that there's a variety of reasons for that, and not least of which is the bravery and the skill and the activity of Ukrainian fighters," Kirby said.
The Russian Defense Ministry on Tuesday claimed it had killed more than 2,870 Ukrainian troops and lost nearly 500 of its own since the war began, according to TASS. It also said 3,700 Ukrainian and 1,597 Russian troops had been wounded.
However, the U.S. official warned the public should "be extremely skeptical over any information that the Russian Ministry of Defense puts out there."
The official declined to provide more accurate figures on the number of casualties, noting "the estimates are all over the map — some are very low, and some are pretty high."
The Ukrainian State Emergency Service reported Wednesday that more than 2,000 civilians in Ukraine had been killed in the war.
"Pragmatic"
Roughly 82% of the more than 170,000 troops and military equipment that Putin spent months amassing along Ukraine's borders with Belarus and Russia are now inside Ukraine, the official said, up slightly from Tuesday's estimate of 80%.
"There hasn't really been a lot of significant change on the ground since yesterday," the official said. "So again, not a significant influx of additional combat capability into Ukraine [in the last day.]"
While Russian troops have "lost a sense of momentum here" due to its slower-than-anticipated advance "it doesn't mean that they still don't have the power at their disposal," the official said.
"They have a significant amount of combat power applied in Ukraine and they still have some significant combat power that they have not engaged in the fight," Kirby said.
However, the U.S. does not believe Putin has contributed additional military resources to the war outside of those he amassed along the Ukrainian borders in the months leading up to Russia's invasion, he said.
"We haven't seen any indications that Mr. Putin feels the need to bring in additional reinforcements from elsewhere in the country," Kirby said.
In addition to the fuel and food sustainment problems, Russia has made other missteps in its fight, such as failing to properly integrate its combined arms capabilities with air and ground troops, the official said.
"A good example of [how] we've not seen good integration is the [lack of] integration of air and missile defense suppression and support from the air of ground forces in advance of their movement," the official said.
Additionally, Russia likely failed to consider how fiercely the Ukrainians would defend their sovereignty, Kirby said.
"They have been surprised by the resistance that they're facing by the Ukrainians, and I don't believe that they fully factored that in," he said. "Ukrainians are fighting for their country. And they're making a difference."
However, he warned the public to be "pragmatic" because Russia "will try to learn from these missteps" to overcome them as the war rages on.
International response
Ukraine continues to request additional military equipment from Western countries to help defend against Russia. The U.S. has provided about $1 billion in security assistance to Ukraine during the past year, including Javelin anti-tank missiles and other ammunition.
The U.S. has also sent about 14,000 troops to Eastern Europe to support NATO allies near Ukraine. In total, there are approximately 90,000 U.S. troops arrayed across Europe, including those who were already stationed on the Continent or there on a rotational basis.
President Joe Biden has promised he will not send U.S. troops into Ukraine to fight the Russians. He also has declined to impose a no-fly zone over Ukraine at the request of its government.
Instead, Biden announced a ban on all Russian aircraft from U.S. airspace during his State of the Union speech Tuesday night after multiple countries including Canada, Austria, Germany, Hungary and France enacted similar restrictions.
The North American Aerospace Defense Command, also known as NORAD, is "perfectly postured" to enforce the ban should Russia attempt to fly planes through U.S. skies, Kirby said.
"This is the mandate for NORAD to protect our homeland, the North American homeland and airspace," he said. "And they're ready to do their contribution to the president's order."
---
---
---
---