US cancels nuclear missile tests scheduled for this weekend amid tensions with Russia
By
Stars and Stripes
March 2, 2022
---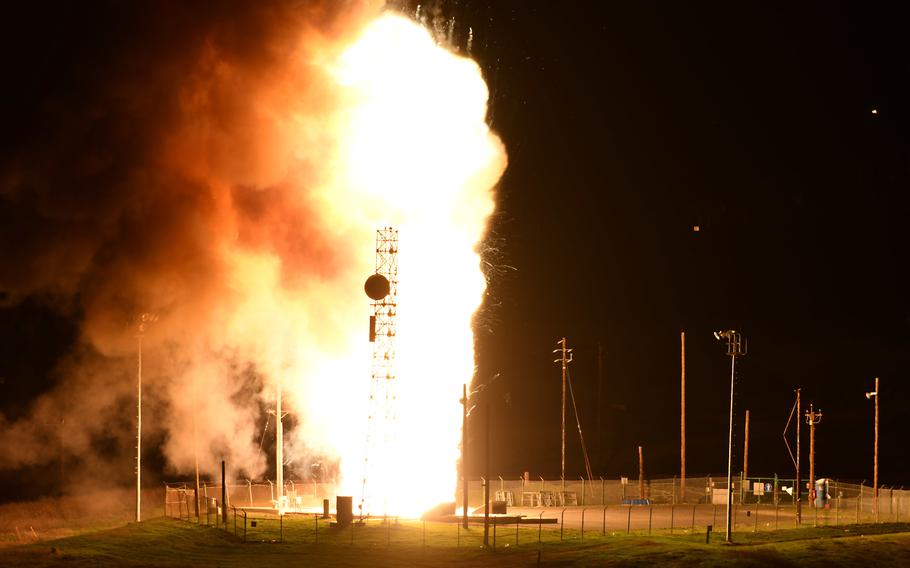 WASHINGTON – The United States has postponed its planned nuclear missile tests that were to take place this weekend in a move meant to avoid escalating tensions with Russia, chief Pentagon spokesman John Kirby said Wednesday.
The Minuteman III intercontinental ballistic missile test launch would have been one of several that the U.S. conducts each year, Kirby said. The launches are typically planned three to five years in advance.
Defense Secretary Lloyd Austin made the decision "in an effort to demonstrate that we have no intention in engaging in any actions that can be misunderstood or misconstrued" as Russia continues to wage war on Ukraine, Kirby said.
"We did not take this decision lightly, but instead to demonstrate that we are a responsible nuclear power," he said. "It is not a step backwards in our readiness, nor does it imply that we will necessarily cancel other routine activities to ensure credible nuclear capability."
The decision comes after Russian President Vladimir Putin during the weekend said he placed his nuclear forces on high alert, claiming he deployed extra military personnel to staff the country's nuclear arsenal.
However, senior defense officials this week have said they have not observed any evidence of Russia upping its nuclear posture.
"In this time of heightened tensions, the United States and other members of the international community rightly saw this as a dangerous and irresponsible and, as I've said before, an unnecessary step," Kirby said. "Such provocative rhetoric and possible changes to nuclear posture involving the most consequential weapons and our respective arsenals is unacceptable."
The U.S. has not taken similar steps to raise its nuclear posture in response, Kirby said Wednesday.
"We recognize at this moment of tension how critical it is that both the United States and Russia bear in mind the risk of miscalculation and take steps to reduce those risks," he said.
Russia as recently as Jan. 3 agreed "a nuclear war cannot be won and must never be fought" in a joint statement with the U.S., China, France, and the United Kingdom.
However, some Republican lawmakers, such as Sen. Jim Inhofe of Oklahoma, the ranking Republican on the Senate Armed Services Committee, condemned Austin's decision to cancel the missile test.
"Disappointing @SecDef decision to cancel routine unarmed reliability test of Minuteman III in the face of Russian bluster," Inhofe wrote on Twitter. "Test is critical to ensure our nuke deterrent stays effective. Deterrence means projecting strength and resolve – not sacrificing readiness for hollow gestures."
Despite postponing the missile launch, Kirby said the U.S. remains "confident in our strategic posture … and our ability to defend the homeland and our allies and our partners remains fully intact and ready."
"It is a wise and prudent decision by the secretary to send a strong clear, unambiguous message to Mr. Putin how seriously we take our nuclear responsibilities at a particularly tense time," he said.
---
---
---
---