COVID-19 rules continue to ease in Rheinland-Pfalz, home to several US military bases
By
Stars and Stripes
March 3, 2022
---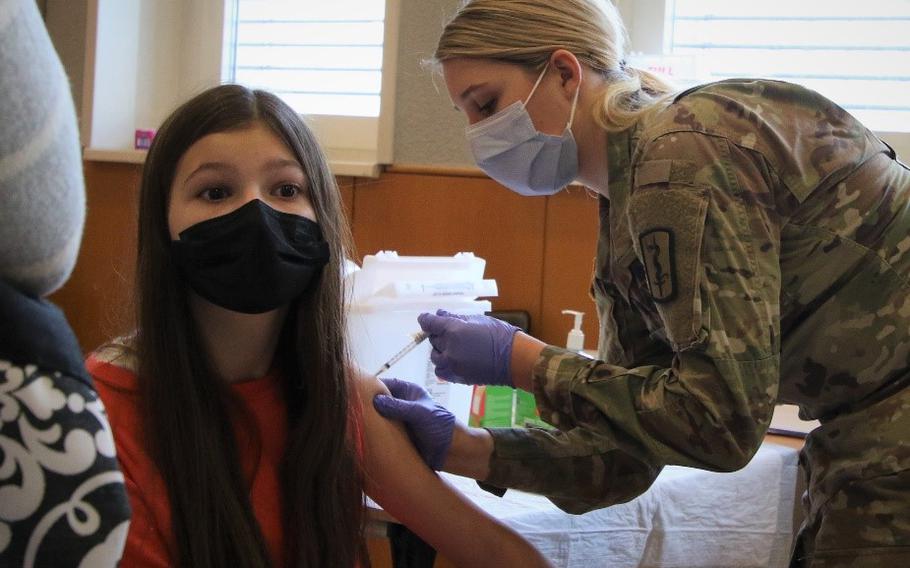 Stars and Stripes is making stories on the coronavirus pandemic available free of charge. See more stories here. Sign up for our daily coronavirus newsletter here. Please support our journalism with a subscription.
KAISERSLAUTERN, Germany — A new phase of relaxed COVID-19 rules will take effect Friday in the German state of Rheinland-Pfalz, which is home to the largest U.S. military community in Europe.
The adjusted rules are part of a planned rollout of the three-step national coronavirus plan announced in February and signal the latest moves toward pre-pandemic standards, state officials said Wednesday.
Unvaccinated people who have a negative test result no older than 24 hours can return to restaurants, movie theaters, museums, barber shops, public pools, gyms, zoos, theme parks and other cultural or athletic facilities under the new policies.
Customers will no longer need to wear masks at venues that check for proof of vaccination or verify test results, state Health Minister Clemens Hoch said in a statement from Mainz.
Masks will remain mandatory at retail shops and businesses that do not check for 3G status and at indoor events with more than 250 people if there is no assigned seating for most of the event.
Revelers may again gather on dance floors, as nightclubs can reopen for the first time since Christmas.
Because of the mostly unmasked contact, the rules for nightclubs are more strict and require vaccination or proof of recovery in addition to a booster shot or same-day negative test.
Indoor events with more than 2,000 attendees will still have limits of 60% of capacity and 6,000 people.
The new rules also make life easier for students in German schools.
Minors who are close contacts of infected people no longer have to quarantine, meaning a case in a school will not necessarily trigger quarantines for multiple students. Children infected with COVID-19 are the only ones who will have to quarantine, Hoch said.
Beginning March 14, mask rules will be rolled back at elementary schools, where students will be able to take masks off at their seat, and during physical education and music classes in middle and high schools.
Defense Department schools also are reviewing their mask policies but haven't yet made any decisions, school officials said earlier this week.
For unvaccinated students in German schools, testing will be reduced to twice a week. Minors also will no longer be required to take tests for extracurricular activities and in town, for instance at museums, amusement parks and events with under 2,000 attendees.
After March 21, middle school and high school students also no longer have to wear masks while in class.
The nationwide seven-day average rate of cases has slightly declined over the past week, from 1,265 per 100,000 to 1,174, according to the Robert Koch Institute, Germany's lead public health agency.
Hoch said that despite the easing of restrictions, vaccination and testing will remain vital.
"Our goal is an everyday life, a society without constant mask-wearing," he said in a statement. "Precisely because the virus is insidious and we had to learn last year that it is changing rapidly, we are sticking to the existing vaccination infrastructure."
---
---
---
---