Marshall resolution to block Biden vaccine mandate for health workers passes Senate
By
McClatchy Washington Bureau
March 2, 2022
---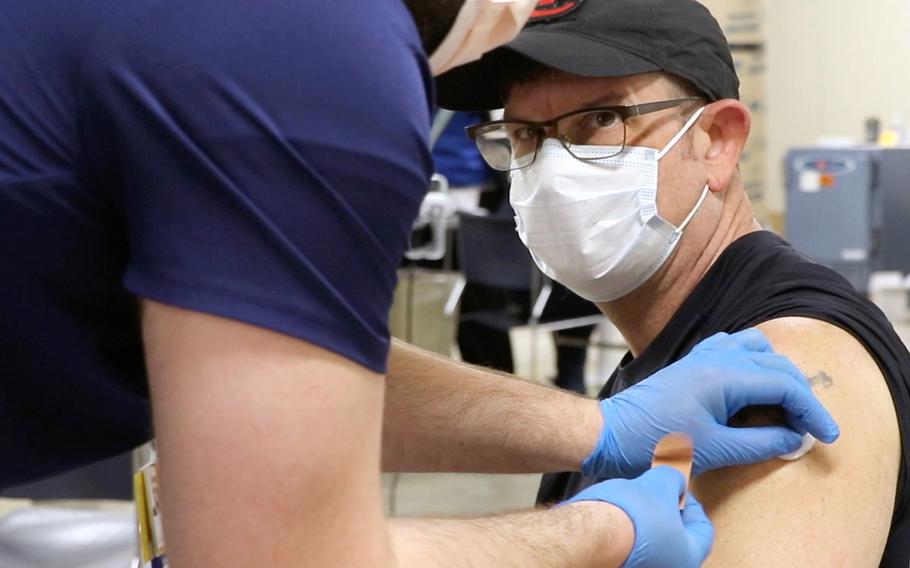 Stars and Stripes is making stories on the coronavirus pandemic available free of charge. See more stories here. Sign up for our daily coronavirus newsletter here. Please support our journalism with a subscription.
(Tribune News Service) — Kansas Sen. Roger Marshall's resolution blocking a Biden administration order requiring healthcare workers to get vaccinated against COVID-19 passed the U.S. Senate on Wednesday after Democrats didn't have enough senators present to vote it down.
Called a "resolution of disapproval," the legislation would block a rule implemented by the U.S. Department of Health and Human Services that requires every employee, volunteer and contractor working at a healthcare facility that accepts Medicaid and Medicare to get the COVID-19 vaccine unless they have a medical or religious exemption.
"The Biden Administration's mandate is about fulfilling their desire to control every aspect of our lives, and it's a slap in the face to the hard-working men and women who never took a day off in the front-line fight of the COVID-19 battle," Marshall said in a speech on the Senate floor, a stethoscope wrapped around his neck.
The resolution passed 49-44. In order to take effect and block the administration's rule, which was upheld by the U.S. Supreme Court in January, the resolution would also have to be approved by the House of Representatives and signed by President Joe Biden. Both actions are unlikely.
The effort is the latest in Marshall's crusade against vaccine mandates in Congress — many of which have come up short. While he was able to secure an amendment to a military funding bill that barred dishonorable discharge for refusal to get vaccinated for COVID-19, several of his attempts to defund Biden's vaccine mandates have failed.
Marshall was critical of the Biden administration rule because of staffing shortages in hospitals and nursing homes, particularly in rural areas. Kansas Attorney General Derek Schmidt sent a letter to Gov. Laura Kelly in February asking her to seek a waiver to prevent the rule from being enforced in rural hospitals.
Schmidt is challenging Kelly in the Kansas gubernatorial race this year.
Missouri Attorney General Eric Schmitt led a legal effort against the rule all the way to the U.S. Supreme Court. The justices decided to allow the rule to go into effect, saying the U.S. Department of Health and Human Services was allowed to set rules to protect patients' health and safety.
Oregon Sen. Ron Wyden cited the Supreme Court opinion and said that Marshall's resolution was "outside of the mainstream." He argued that an "anti-mandate agenda" can easily become an "anti-vaccine agenda" and that Marshall, Indiana Sen. Mike Braun and Utah Sen. Mike Lee had already crossed the line.
"Everybody is concerned about sitting in a room with a doctor or a nurse who may be contagious, who is unvaccinated," Wyden said.
Marshall dismissed arguments about the Supreme Court ruling, saying that it focused on whether the Department of Health and Human Services had the ability to impose the rule, not on the rule's merits.
"That does not mean it is a good rule or a beneficial condition to place on these facilities given everything I have laid out here today," Marshall said. "As such, the fight against this harmful rule continues here on the Senate Floor but also throughout our nation's federal judicial system."
Marshall, who is an OB/GYN, said several times that he believed the rule should be struck down because the vaccine does not prevent transmission of COVID-19, as seen by the wave of breakthrough cases involving Delta and Omicron variants. Studies have shown that while the vaccine provides some protections against transmission, it fades over time. Researchers also found that the vaccine still significantly works to prevent severe illness and death from the virus.
The vote comes as politicians have moved to loosen COVID-19 precautions across the country. Already, governors in Democratic-leaning states have lifted mask mandates and other restrictions, shifting their approach toward the limiting the spread of the virus. This week the Centers for Disease Control loosened mask guidelines.
In his State of the Union address, Biden requested that Congress allocate another $30 million in COVID-19 funding to prepare against any future variants.
©2022 McClatchy Washington Bureau.
Visit mcclatchydc.com.
Distributed by Tribune Content Agency, LLC.
---
---
---
---