Rheinland-Pfalz proposes plans for relaxed COVID-19 restrictions
By
Stars and Stripes
February 9, 2022
---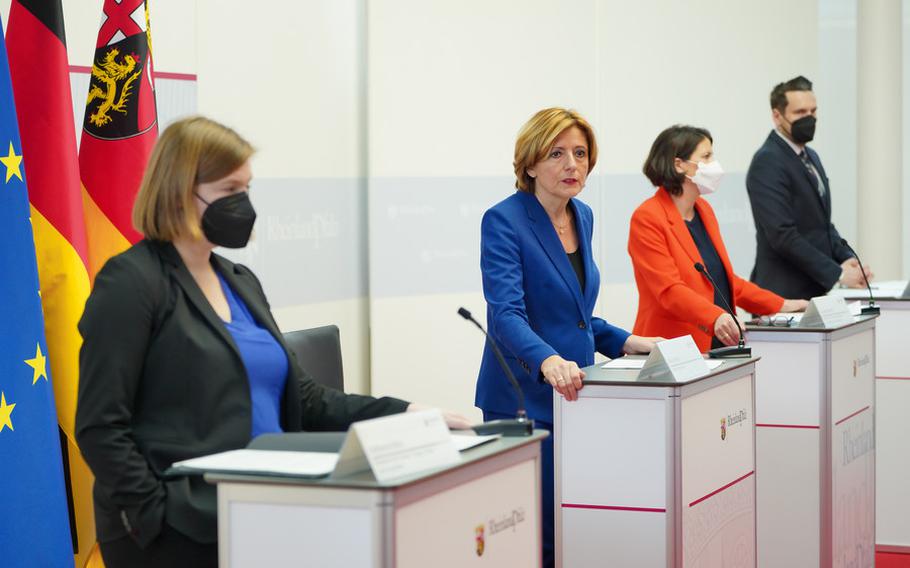 Stars and Stripes is making stories on the coronavirus pandemic available free of charge. See more stories here. Sign up for our daily coronavirus newsletter here. Please support our journalism with a subscription.
KAISERSLAUTERN, Germany — The state of Rheinland-Pfalz, home to the largest U.S. military community in Europe, plans to scale back its COVID-19 restrictions later this month.
If the new rules pass the national conference of state officials as expected Feb. 16, proof of vaccination would no longer be required for retail shopping, aligning restrictions with those in effect at grocery stores and pharmacies. The revisions would take effect Feb. 18.
"Shopping will then be possible again normally, only with a mask," state Economy Minister Daniela Schmitt told reporters Wednesday.
Sporting events with under 2,000 spectators would no longer be limited under the proposed regulation.
For indoor events, a 30% capacity limit with a maximum of 4,000 spectators per venue will apply, state officials said. At outdoor venues, such as stadiums, occupancy will be limited to no more than half of total capacity, with a maximum audience of 10,000.
Close-quarter services, such as those provided at barber shops or tattoo studios, will still require customers to wear a mask and provide either proof of vaccination, a negative test result within the past 24 hours or proof of recovery, officials said Wednesday.
Rheinland-Pfalz governor Malu Dreyer said she also plans to back a nationwide return to the "2G rule" starting March 4 at athletic and cultural events and at restaurants.
That would mean vaccinated people will no longer have to show proof of a booster or a negative test result. The plan will also require the state officials at the Feb. 16 meeting to reach a consensus.
Within the state, rules restricting public gatherings of more than 10 people would expire March 4, officials said Wednesday.
Also beginning March 4, extracurricular clubs and sports teams would no longer be required to test minors, since they already undergo coronavirus testing in schools.
"The schools are very important to us because children and young people have suffered particularly from the restrictions in the pandemic," Dreyer said.
She also said that if the infection rate continues to fall after March 14, the frequency of testing in schools should be reduced and obligatory mask wearing in class could end.
From March 7, after federal agreements expire, nightclubs will also be able to open under "2G-plus" conditions, meaning revelers would have to present a booster certificate or a negative result on a test taken within the previous 24 hours.
The number of coronavirus infections in the state is still increasing, with more than 6,900 active cases and a seven-day average incidence rate of 1,138 per 100,000 people, according to the Robert Koch Institute, Germany's public health agency.
The peak of the omicron wave is expected in mid-February, Dreyer said.
"We are all tired after two years of the pandemic and long for relief if the infection process allows it," Dreyer said. "We want to give people reliable prospects for spring."
---
---
---
---