In shadow of Chernobyl disaster, Ukraine forces train for a potential new crisis
By
Whitney Shefte and Isabelle Khurshudyan
The Washington Post
February 13, 2022
---
PRIPYAT, Ukraine — In a ghost town with soil still radioactive from the world's worst nuclear disaster, members of Ukraine's armed forces and national guard conducted combat training drills to simulate an enemy occupation in an urban area.
Snipers fired at wooden targets in blown-out windows of buildings deserted since the nearby Chernobyl nuclear power plant disaster in 1986 made this area uninhabitable. Armored vehicles rolled down the snow-covered streets earlier this month as men with Geiger counters looked on to check the radiation levels.
The service members practiced air reconnaissance with drones and applying first aid on wounded comrades.
Though the exercise was hypothetical, the ammunition was real, reverberating through the abandoned structures that are still marked with Soviet insignia. The Chernobyl region borders Belarus, where thousands of Russian soldiers have massed ahead of massive joint military exercises that U.S. officials have warned could be used as a springboard to launch an attack on Ukraine from its northern border.
Ukrainian Defense Minister Oleksii Reznikov, who attended the training in Pripyat, said he's "not concerned" about a Russian invasion originating from Belarus, though attacking through this area would offer the shortest route to the capital, Kyiv. He noted that Ukraine has not observed any Russian strike force formations — which would be necessary for an invasion, Reznikov said — gathering in Belarus.
"This part of the border is the most difficult to cross. Wetlands, woods, rivers — this area is hard to cross not only on tanks but even on foot," Reznikov said, adding that the radiation in the area is another factor that would ward off enemy forces from crossing through here.
Similar drills are often held at military training grounds across Ukraine, but Pripyat's ghost town status allowed the military and national guard units to practice the "liquidation of criminals" in a more realistic setting. With more than two busloads of Ukrainian and foreign journalists present, it was also an opportunity for Ukraine to demonstrate how far its security forces have come in the eight years since Russian-backed separatists sparked a conflict with Ukraine's military in the country's east.
"I'm very, very sure that the Ukrainian armed forces are ready for deterring, for resilience," Reznikov said. "Ukrainian people are ready for deterring and for resilience."
Journalists who were invited to witness the drills had to pass through two different checkpoints to measure their radiation levels on their way back to Kyiv.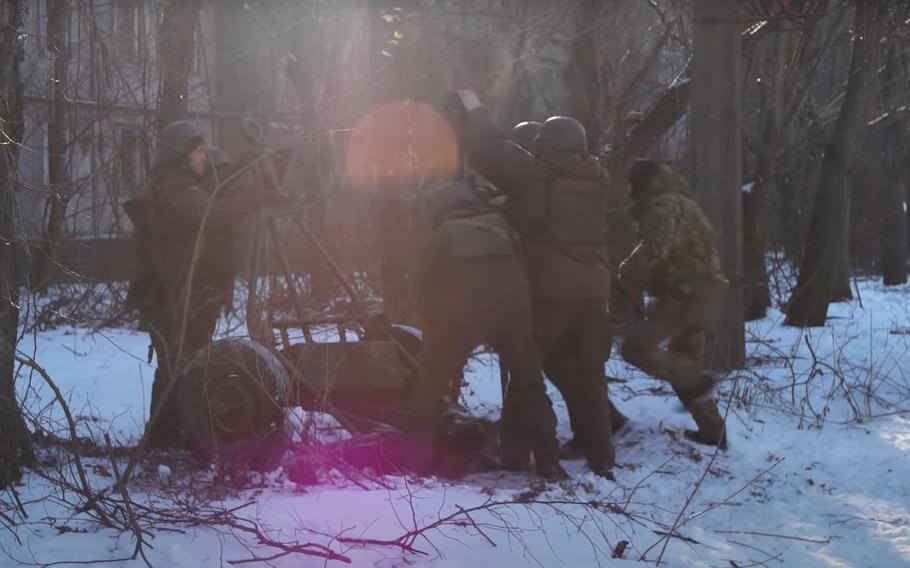 ---
---
---
---