Navy denies Moscow's claim that US submarine was chased out of Russian waters
By
Stars and Stripes
February 12, 2022
---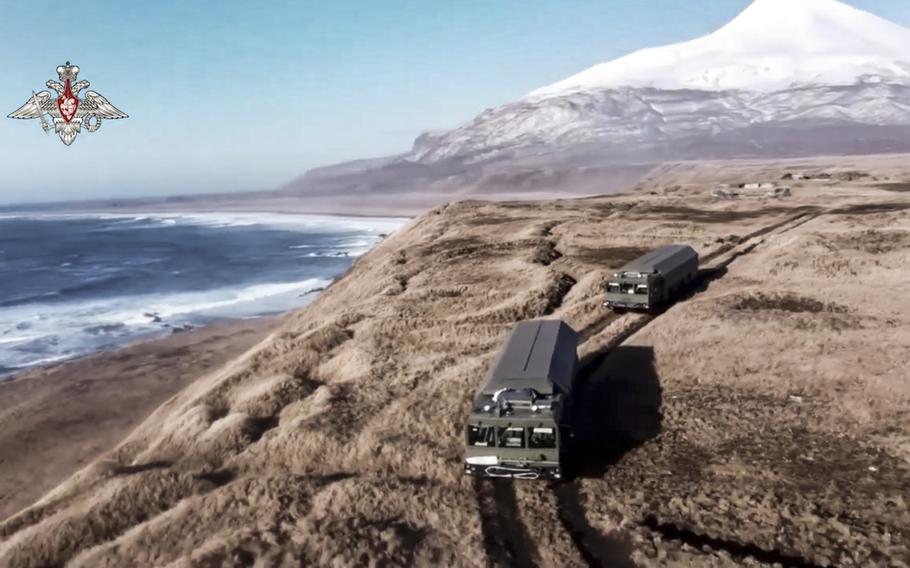 The U.S. Navy denied operating in Russian territorial waters on Saturday after Russia's military claimed it chased away a Virginia-class submarine in the Kuril Islands after the American vessel refused an order to surface.
A Russian navy destroyer used "appropriate means" against the U.S. submarine after the order was refused, said a statement by the Russian Ministry of Defense. The American vessel fled Russian waters at high speed, the statement added.
The ministry said it summoned the U.S. military attache to Moscow to complain of a "major violation of international law" following the incursion.
The incident occurred in an area of the Pacific where the Russian navy is conducting a military exercise, according to Moscow.
"The vessel was found submerged off the small, uninhabited island of Urup while Russia's Pacific Fleet was holding exercises in the area," the state-run Russian news site RT.com reported.
However, the U.S. denied the incident occurred in Russian waters in a statement that stopped short of denying any encounter with Russia occurred.
"There is no truth to the Russian claims of our operations in their territorial waters," Indo-Pacific Command spokesman Navy Capt. Kyle Raines said in a statement. "I will not comment on the precise location of our submarines, but we do fly, sail, and operate safely in international waters."
The defense ministry said Russian vessels contacted the submarine and ordered it to "surface immediately," according to the RT.com report.
"The submarine, however, did not respond to the messages, and the destroyer Marshal Shaposhnikov was deployed to chase it off," the report said.
The American vessel "used an active radar decoy, sailing away from Russian waters at full speed," according to the RT report.
Russia's Pacific Fleet military drills continued after the alleged incident.
Saturday's incident took place as tensions between Moscow and Washington have intensified following NATO warnings of a possible Russian invasion of Ukraine.
---
---
---
---