US service members at some locations in Europe can wear uniforms off base again
By
Stars and Stripes
February 1, 2022
---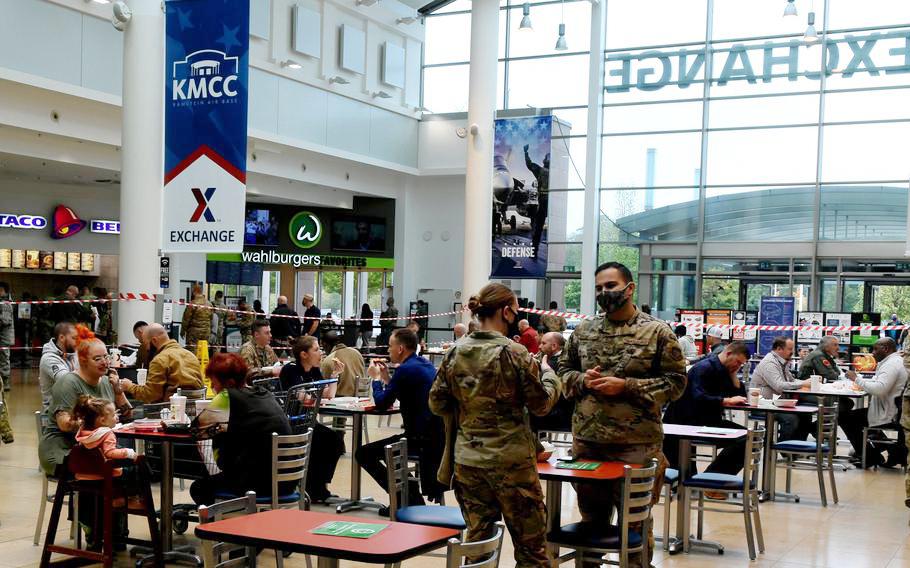 KAISERSLAUTERN, Germany — U.S. service members at some European installations may wear their uniforms off base in certain instances, as the military relaxes a policy put in place for personnel across the Continent in 2014 for safety reasons.
"Each component commander has the authority and latitude to determine what uniform posture is best to their particular mission and security situation," U.S. European Command said in a statement Tuesday.
The 86th Airlift Wing, headquartered at Ramstein Air Base, the Army's 21st Theater Sustainment Command and other commands in Europe announced relaxed rules for off-base uniform wear Tuesday, effective immediately.
The policies apply to airmen and soldiers in the Kaiserslautern area as well as to 21st TSC soldiers assigned to U.S. Army Garrison Rheinland-Pfalz, U.S. Army Garrison Benelux, Kosovo, Greece, Romania and Bulgaria.
"After many years and regular assessment of the threat environment, leaders agree it is time for a return to normal and allow airmen more flexibility in their daily routines," Lt. Col. Will Powell, a spokesman for the 86th Airlift Wing, said in a statement Tuesday.
Members of both services are permitted to stop at or visit off-base establishments in their commuting area while in uniform, when they are traveling between work and home, according to the policies.
Uniforms may be worn at restaurants, markets, shops, vehicle maintenance facilities, gas stations, drugstores, medical clinics, barber shops and similar locations, Powell said.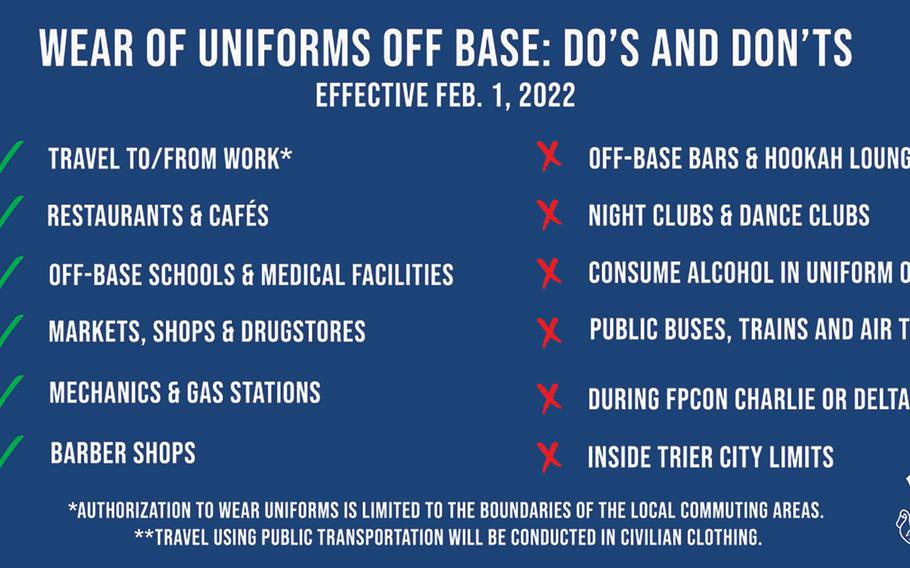 Service members may also wear their uniform when taking children to school and to off-base extracurricular activities.
Uniformed airmen at Ramstein may travel by private vehicles, taxis, motorcycles and bicycles. They may not use public transportation, airports or fly on commercial aircraft while in uniform, according to the new rules.
Airmen are also restricted from wearing uniforms off base in the city of Trier, according to a 3rd Air Force memorandum. The reason was not specified.
Uniforms remain off-limits at bars, nightclubs, dance clubs and hookah lounges. Service members are also prohibited from drinking alcohol off base while in uniform, Powell said.
The 21st TSC said activities in public while in uniform, "such as dining and convenience stops," should be "as expedient as possible."
The new rule also prohibits 21st TSC soldiers from using commercial airports while in uniform. In 2011, a gunman shot at a group of U.S airmen at the Frankfurt airport, killing two and seriously wounding two others.
The Army command said soldiers may wear their uniform while using local public transportation as long as they use the most direct route. Soldiers also may wear their uniforms to walk to their destination as long as they try to take the shortest route possible.
Both the Air Force and the Army said the off-base uniform policy could change based on threats and risks to personnel.
For 21st TSC soldiers, the Army fitness uniform can be worn only going between home and work, and the only stops permitted are for fuel or emergencies. Airmen may wear their official fitness gear while traveling between home and duty locations.
Last year, the Bavaria-based 7th Army Training Command was the first to announce changes when it allowed troops to wear uniforms off base in limited circumstances as a trial run.
"It was hugely successful and well-received by our host communities around U.S. installations in Bavaria," said 7th ATC spokesman Lt. Col. Michael Weisman.
In 2014, EUCOM ordered all U.S. personnel in Europe to refrain from wearing uniforms off base except while they were commuting to work in their personal cars or riding on base buses.
EUCOM said at the time that the intent was to ensure safety, although it did not cite any specific threats.
U.S. Air Force Maj. Gen. Randall Reed, the 3rd Air Force commander, authorized wing commanders in Germany, Italy and the United Kingdom to implement uniform policy changes at their discretion, officials said.
The 31st Fighter Wing in Aviano, Italy, said Tuesday that servicemembers may wear uniforms off base within a 25-kilometer radius of their homes for no more than 15 minutes. Reasons for doing so include official business, banking, picking up food, transporting children to school or day care, vehicle refueling and maintenance, and trips to the pharmacy, a wing statement said.
Spangdahlem Air Base authorized off-base uniform wear in the commuting area between service members' homes and duty stations. The policy was "drafted in close coordination" with the 86th Airlift Wing at Ramstein, base officials said in an email to Stars and Stripes.
The policy balances security and convenience for service members, while also serving "as a reminder to the local population that we live amongst them as neighbors and friends," the statement said.
Air Force officials at RAF Lakenheath, England, did not immediately say Tuesday whether their off-base uniform rules were changing.
The 173rd Airborne Brigade in Vicenza, Italy is allowing uniform wear off base "tied to necessity and convenience," an emailed statement said. Paratroopers can make brief stops but shouldn't eat out at restaurants or go for long walks in town while in uniform, the statement said.
Stars and Stripes reporters John Vandiver and Norman Llamas contributed to this report.
---
---
---
---