Putin accuses West of using Ukraine as a pawn in showdown with Russia
By
Isabelle Khurshudyan, Missy Ryan, Rachel Pannett, William Booth
The Washington Post
February 1, 2022
---
KYIV, Ukraine — President Vladimir Putin hit back against the West on Tuesday, accusing the United States and NATO of using Ukraine to hem in Russia and ignoring Moscow's security concerns.
The Russian leader, speaking to reporters as a major military buildup around Ukraine stokes fears of an assault, said the Kremlin was reviewing U.S. and NATO replies to recent proposals that seek to check NATO's military presence in the region, one element in a flurry of diplomatic activity aimed at averting further conflict.
"But it is already clear that Russia's fundamental concerns have been ignored," Putin said, questioning NATO's open-door policy that could allow for former Soviet states like Ukraine to join. "NATO refers to the right of countries to choose freely, but you cannot strengthen someone's security at the expense of others."
For weeks, East-West tensions have mounted over the deployment of more than 100,000 Russian troops close to Ukraine, which U.S. and NATO officials say may be a precursor to a Russian land grab like the one that allowed Moscow to annex Crimea in 2014.
Western leaders, threatening massive economic retaliation should Putin invade, say another assault would not only jeopardize Ukraine's future but erode the norms that have underpinned transatlantic security for 70 years.
Putin's appearance alongside Hungarian Prime Minister Viktor Orban marked the first time he has spoken publicly about the standoff since late December.
While he suggested diplomatic discussions would continue, Putin also accused the West of making Ukraine a pawn in a great-power showdown.
"It seems to me that the United States does not care that much about Ukrainian security — maybe they think about it somewhere in the background," he said. "But their main task is to restrict the development of Russia."
Putin spoke as Ukrainian President Volodymyr Zelensky, hosting British Prime Minister Boris Johnson for talks in Kyiv, warned of the potential for large-scale conflict.
"This is not going to be a war of Ukraine and Russia. This is going to be a European war, a full-fledged war," Zelensky said. "Because no one is going to give away territories and people any longer."
Johnson appealed to Russian citizens about the potential human cost of war.
"There are 200,000 men and women under arms in Ukraine," he said. "They will put up a very, very fierce and bloody resistance. And I think that parents, mothers in Russia, should reflect on that fact."
Johnson's discussions with the Ukrainian leader mark the most recent in a series of high-level visits to Kyiv, as Western officials confer with local leaders on how to assist. Western officials, including French President Emmanuel Macron, have also engaged with Putin. Johnson reportedly had to delay a Monday call with Putin as he deals with the fallout from a probe into Downing Street parties during the coronavirus pandemic. The call is now scheduled for Wednesday.
The Biden administration, meanwhile, continued its attempt to advance a diplomatic resolution. The Kremlin has repeatedly denied it is planning an assault, though Putin offered no such assurances Tuesday.
Hours before Putin's remarks, Secretary of State Antony Blinken and his Russian counterpart, Foreign Minister Sergei Lavrov, spoke to discuss a recent exchange of security proposals.
The half-hour call came a day after Moscow sent the United States and European nations what U.S. officials described as a "follow-up" to Western countries' response to two proposed treaties that Moscow put forward in December. The Russian proposals sought to block Ukraine's entry into NATO and limit Western military activity in Eastern Europe.
While NATO nations have dismissed such measures out of hand, the United States has suggested a series of compromise steps on arms control and military exercises.
Speaking after the call, Lavrov complained that the U.S. written response focused on "secondary" issues and that the U.S. reaction on the "key issue" between the two countries was "extremely negative."
State Department spokesperson Ned Price said that Blinken "reiterated the U.S. commitment to Ukraine's sovereignty and territorial integrity, as well as the right of all countries to determine their own foreign policy and alliances."
State Department officials, speaking to reporters on the condition of anonymity to describe Tuesday's call, said Russia's Foreign Ministry was still working on a more formal response to Western compromise proposals and would relay them once Putin gives his approval.
They said that Lavrov signaled interest in further meetings with the United States, as well as NATO and the Organization for Security and Cooperation in Europe.
Also on Tuesday, Zelensky signed a decree to expand the country's armed forces by 100,000 personnel over the next three years. Ukrainian forces currently number 250,000.
"This is the start of Ukraine's transition to a professional army," he said. "This decree is not because the war is coming soon — I say this to everyone — this decree is so that soon, and in the future, there will be peace in Ukraine."
Ukrainian Prime Minister Denys Shmyhal, who hosted his Polish counterpart, Mateusz Morawiecki, in Kyiv on Tuesday, said that Britain, Poland and Ukraine are preparing a trilateral pact to strengthen regional security. Poland and Britain have offered security aid to Ukraine, but it's unclear what a new arrangement would entail.
Defense Minister Oleksii Reznikov wrote Tuesday on Twitter that Ukraine has received a sixth planeload of U.S. military aid, including "84 tons of ammunition." U.S. shipments now add up to about 500 tons of defense equipment, "and this isn't the end," he wrote.
The U.S. military has issued "prepare to deploy" orders to 8,500 personnel who are likely to be headed to NATO partner nations in Eastern Europe — President Joe Biden has ruled out sending ground troops to Ukraine — although Pentagon spokesman John Kirby told reporters Tuesday that no final decisions have been made. Britain also has offered to send jets, warships and military specialists to support NATO's eastern flank.
Kirby said there have been no signs of de-escalation by Russia even though some troops and weaponry were returning from Belarus, where they have been positioned for what Moscow has described as a regular exercise but which Western nations characterize as another potential front.
Putin, during his remarks alongside Hungary's Orban, in turn highlighted the presence of American missile defenses in Eastern Europe. Russia has characterized hardware like the Aegis Ashore system the United States has located in Romania — and which the Pentagon has said could become operational in Poland later this year — as offensive weapons.
"Let's imagine that Ukraine is a member of NATO, is stuffed with weapons — there are modern offensive systems, like in Poland and Romania — and begins an operation in the Crimea," he said. "Do we have to fight with the NATO bloc? Has anyone thought anything about it? It seems not."
Orban, considered Putin's closest ally within NATO and the European Union, called his visit to Moscow a "peace mission." He also said he is seeking to increase Hungary's gas imports from Russia, even as some accuse Moscow of stoking an energy crisis to gain leverage over European countries.
"As Hungarians and other people of the central Europe, middle Europe, we are interested in de-escalating tensions between the West and the East and to do everything we can to prevent a Cold War," he said during the news conference Tuesday.
Hungary's opposition parties had called on Orban to cancel his trip because "in this tense situation, it is simply treasonous to go to Moscow."
- - -
Pannett reported from Sydney, and Booth reported from London. The Washington Post's Karen DeYoung, John Hudson and Dan Lamothe in Washington and David Stern in Kyiv contributed to this report.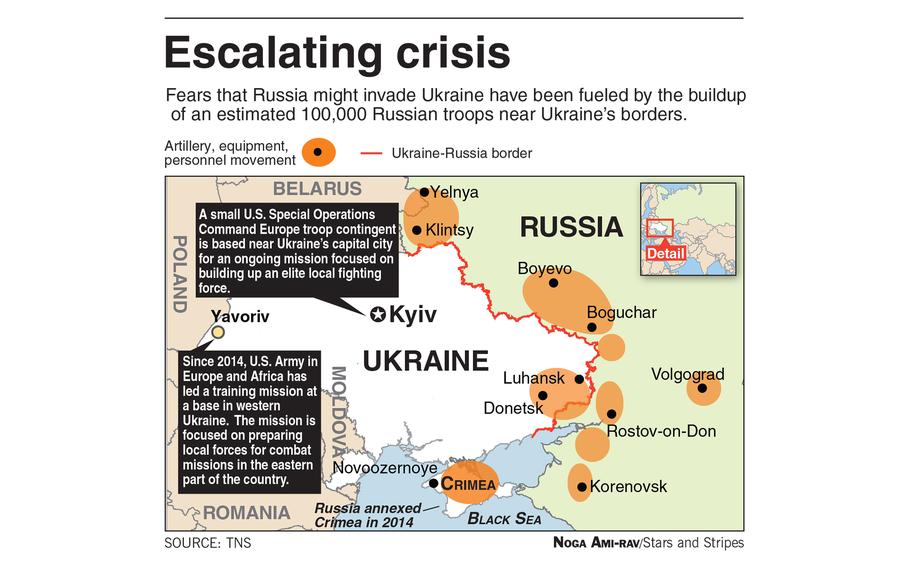 ---
---
---
---