On a potential invasion path, Ukrainians watch, worry, plan — and some dance
By
The Washington Post
February 1, 2022
---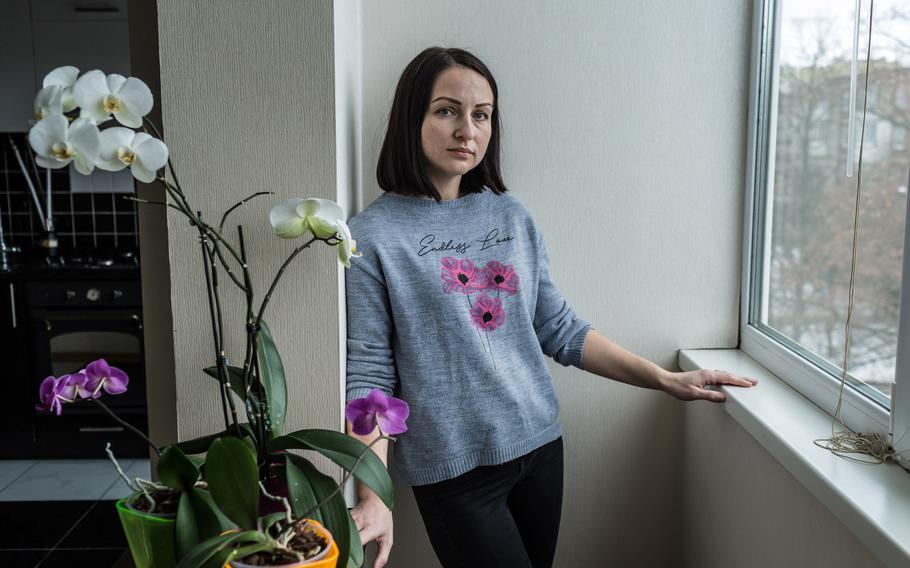 CHERNIHIV, Ukraine — As Russian troops coalesce around Ukraine like an iron crescent, Kateryna Ponomarenko keeps an emergency bag near her front door, worried the war will again follow her.
Ponomarenko, along with her two sons, fled intense fighting in 2015 after explosions and gunfire in her town outside Donetsk in eastern Ukraine, where pro-Russian separatists took up arms the year before. They started fresh in Chernihiv, more than 400 miles from the simmering conflict in the east.
Now she feels the threat closing in on her family once again.
Russian troops, tanks and artillery are massing along the border near eastern Ukraine and moving into neighboring Belarus for what Moscow says are joint military exercises scheduled to begin next week. The closest Russian troops have massed just beyond the border of Ukraine and Belarus, a fast, 25-mile drive from her home.
Russian officials say there are no plans to invade Ukraine even as the Kremlin steps up pressure intended to keep Ukraine from bolstering its Western ties. But Russia's show of military force in ally Belarus has prompted fears of a deepening conflict that could open a new front in the north.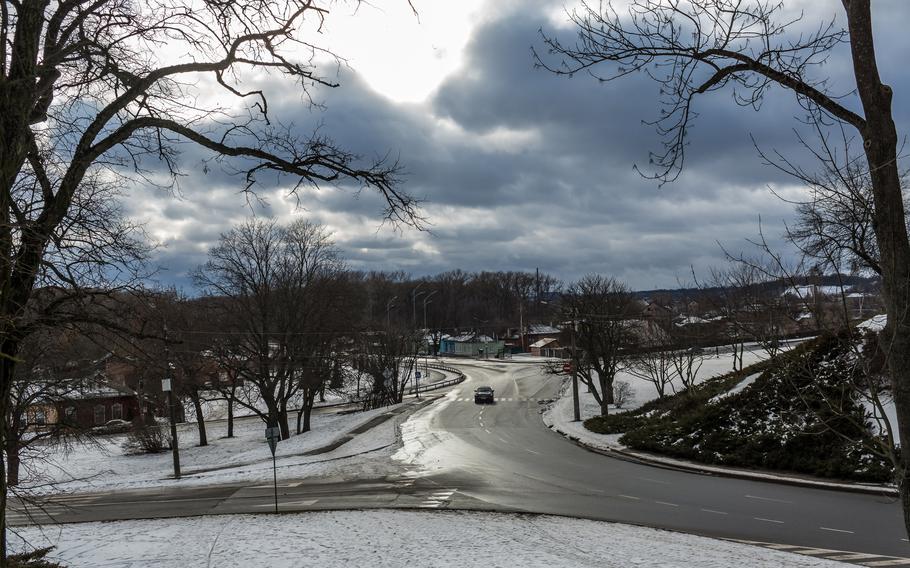 The road to Kyiv, about 150 miles down a paved highway, is not only the fastest run to the capital from the border, but the road is also the most practical, Ukrainian officials acknowledged. Thick forests and icy swamps act as natural barriers in the region.
The first major town on the way is Chernihiv.
"I want to prepare for the worst scenario and escape somehow, if the war starts," Ponomarenko told The Washington Post in her apartment in the city of about 300,000 people, dotted with historical cathedrals and still bearing scars from its Nazi occupation during World War II.
As Ukrainian, U.S. and NATO officials debate the likelihood of a Russian invasion, Ukrainians along the highway are split on whether their homes will be in the path of potential tank convoys. An escalation is unlikely, some argued, while others waxed nostalgic about the Soviet Union, which included Ukraine as one of its republics. And as talk about destruction reaches a fever pitch, some Ukrainians have hit the dance floor in clubs to escape a sense of dread for a fleeting moment.
What concerns Ponomarenko is a sense of complacency. She said many people in the region around Chernihiv have been untouched by the conflict in the east, where Russian-backed separatists carved out two enclaves. If they haven't been personally affected by the deaths of nearly 14,000 people since 2014, the conflict can be an afterthought.
"Most people are not taking it seriously," she said.
There are about 5,000 Russian troops in Belarus mobilized for training exercises for 10 days in February, Ukrainian and U.S. officials have said, though officials have asserted that the number could balloon to 30,000. There are an estimated 100,000 Russian forces along the Ukrainian border farther to the east.
Speaking during a Washington Post Live event on Monday, NATO Secretary General Jens Stoltenberg said that Russia's upcoming military exercises in Belarus are grounds for additional concern. "Russia has used military exercises before as a disguise, as a cover," he said.
U.S. Defense Secretary Lloyd Austin said last week that the number of mobilized Russian troops "far and away exceeds what we would typically see them do for exercises."
Oleksiy Danilov, the secretary for Ukraine's National Security and Defense Council, said there are no current signs of an invasion from Belarus, but the military has not ruled out the possibility it could be a springboard for attack. He said dense forests and swamps would make an assault difficult, forcing an invasion along existing roads. Chernobyl, site of the nuclear disaster in the 1986, occupies a swath of no man's land to the west that would also complicate an off-road assault.
Deployments to secure the Belarus border are accelerating, along with the delivery of ammunition, fuel and other supplies, he said.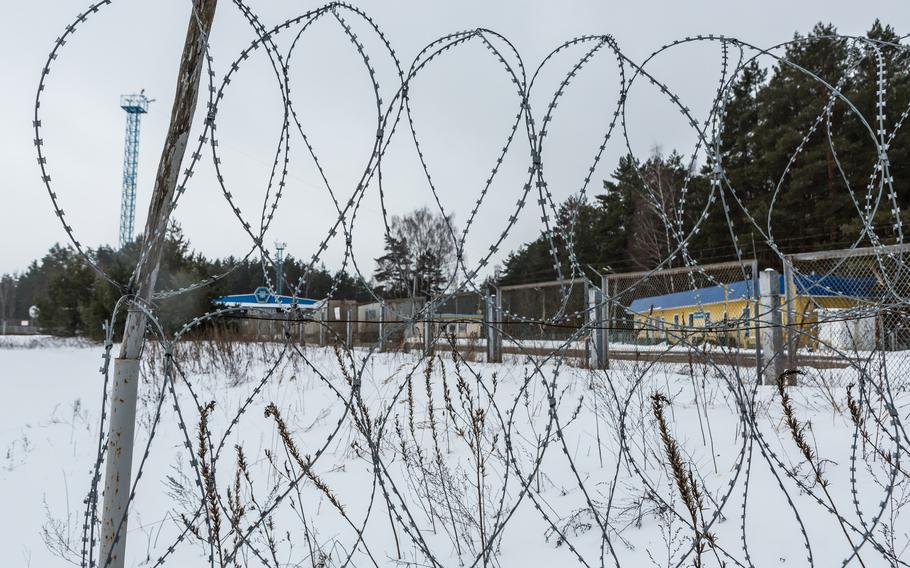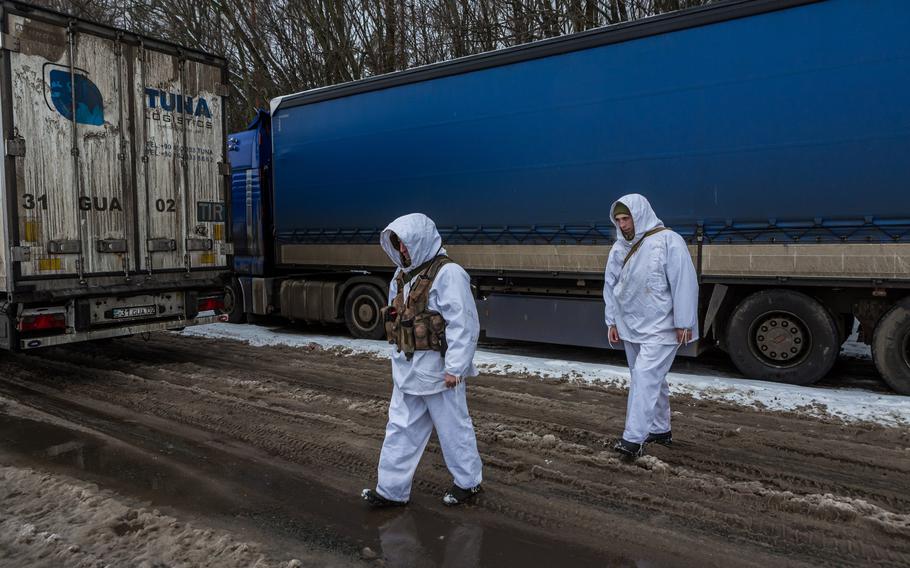 Yet pockets of the northern border appeared lightly defended. At the Senkivka crossing on Friday, where the borders with Russia and Belarus converge, a handful of Ukrainian soldiers could be seen patrolling the area as commercial trucks rolled past dilapidated bunkers.
Drones and other observation points help keep the border under watch, Oleksandra Stupak, a border security officer, told a group of reporters. She pointed out a wooden barricade that could be used to block the road.
An obelisk dubbed the Three Sisters, a Soviet-era commemoration to recognize friendly relations, was installed at the tri-border point, Stupak said. She stopped reporters from approaching the area, warning it could be seen as a provocation from the other nations.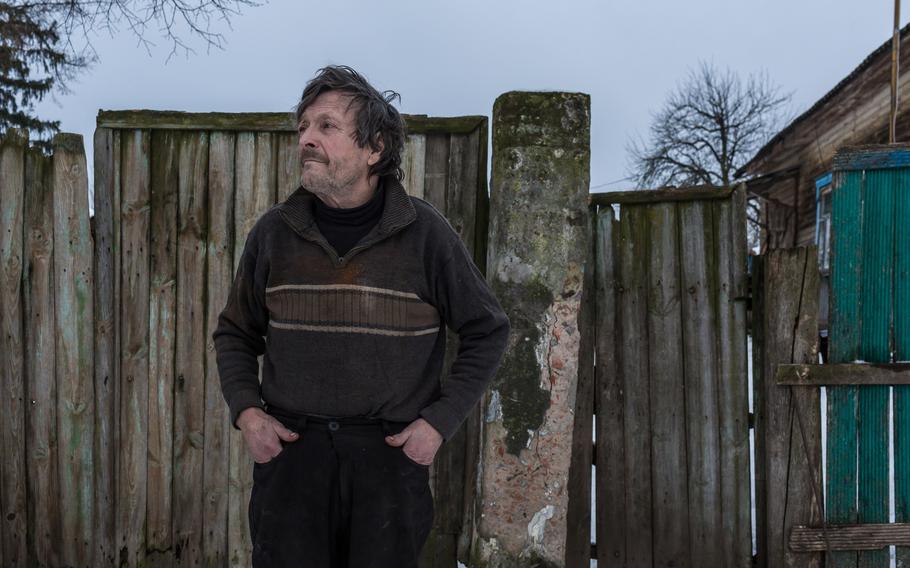 In a tiny village just outside the crossing, Nicholai Lebedev, a 68-year-old retiree, yearned for a return to the Soviet Union, where he said better jobs and utility prices made life easier. He rejected the notion he could be in danger in the event the Russian military uses the road a few feet from a sunken fence.
"Nobody will attack us. They are my brothers. We are the same nation," he said, referring to Kyivan Rus, an ancient federation of Slavic people. Putin's Russia has used similar notions of ancient bonds and "one people" in propaganda seeking to blur the concept of a separate Ukrainian identity and culture.
In Chernihiv, Roman Avramenko has taken a more somber approach.
Avramenko is the executive director of Truth Hounds, a Kyiv-based group that investigates war crimes and human right violations in Ukraine and elsewhere. The group has begun preparations to fall back in the event of a Russian invasion, stockpiling clean water and firewood to get through the unrelenting winter. Its work will continue, he said, with extra layers of vigilance to keep documents in cloud storage and free of confiscation.
"I know what will be going on," he said, "when Russia will come."
As some Ukrainians batten down for conflict, life goes on in Chernihiv.
Couples shuffled down icy sidewalks downtown on Saturday night, stopping to smoke and warm up with cappuccinos at coffee shop windows. Hip locals crammed into Zivot a Pivo, a German restaurant featuring a live band belting a mix of Russian language and Western hits, including one by rockers AC/DC.
"I'm on the highway to hell!" a scrum of dancers shouted to the ceiling, including friends Sveta Prikhodko and Liydmila Rochina.
Both women said they have packed emergency bags in case the war comes to their city, though they are optimistic diplomacy will win out. "We do worry, but I think there is a 75 percent chance that nothing is going to happen, and a 25 percent chance we have indecent neighbors," Prikhodko said.
A constant barrage of news and tension has left the community deeply uncertain, said the women, who work in real estate. Sales plummeted in January, sending them in search of a place to vent their frustration — and their anxiety.
"What if it's the last day?" Rochina said.
The Washington Post's Oksana Parafeniuk contributed to this report.
---
---
---
---