US forces in Germany contend with soaring COVID numbers as country reaches new pandemic record
By
Stars and Stripes
January 19, 2022
---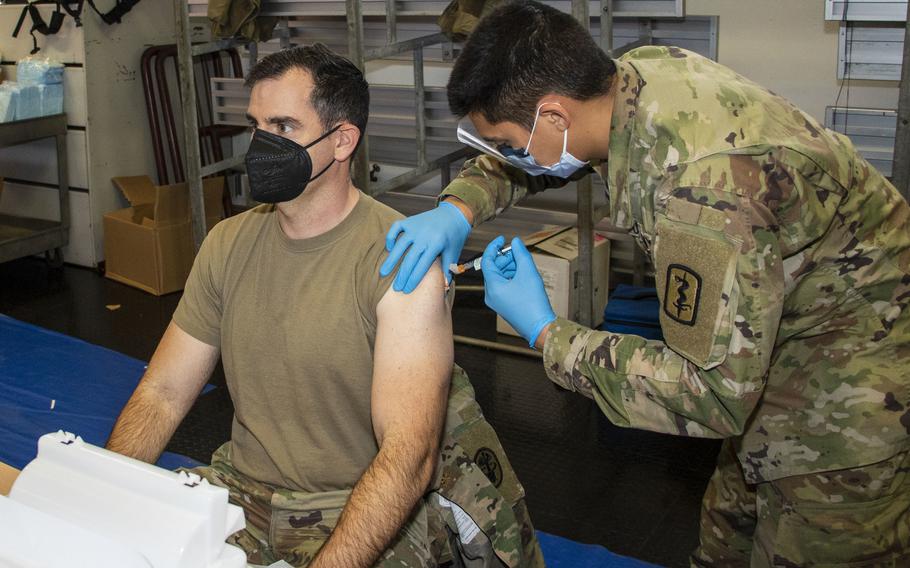 KAISERSLAUTERN, Germany — U.S. military communities are seeing a steep rise in coronavirus cases amid record-breaking infection numbers across Germany, which health officials attribute to the highly transmissible omicron variant.
In the Kaiserslautern area, home to tens of thousands of Americans affiliated with the military, 68 new infections among U.S. forces were confirmed last week, which is believed to be the highest on record, according to a report published Friday by the district health office.
That's an increase from 45 reported the previous week and way up from when U.S. forces recorded only four new cases the week ending Dec. 17, health statistics show.
Base officials at Ramstein on Wednesday would not confirm the latest figures, in keeping with a policy by the U.S. military in Europe not to disclose COVID-19 case numbers.
But Lt. Col. Will Powell, an 86th Airlift Wing spokesman, said the base "experienced an upward trend in active COVID cases," similar to the rest of Germany.
"Our workforce is part of the larger community and the virus does not stop at our gates, but our Airmen are taking the appropriate steps to protect themselves, their families and the community," Powell said in a statement Wednesday. Operations on base should not be affected, he added.
People who have contracted COVID-19 are quarantining in accordance with German state guidelines, Powell said.
So far, base schools in the Kaiserslautern area have continued in-person instruction, though some high school sports events were canceled last weekend. A spelling bee slated for Saturday at Ramstein Intermediate School will now be virtual, they announced Tuesday.
U.S. military members in Germany must adhere to host nation guidance but are free to go off base, unlike service members in Japan, where the U.S. military population remains under a two-week order to stay on base or leave their off-base homes only for essential services until Monday.
Japan is battling a sixth wave of COVID-19, with daily case counts exceeding 32,000 this week, higher than the previous peak reached six months ago. Yokota Air Base, the headquarters of U.S. Forces Japan in western Tokyo, reported 138 new cases between Jan. 12 and Tuesday, for 273 active cases, according to the base website.
Germany on Wednesday reported 112,323 coronavirus cases, a new daily record and the first time the country has topped the 100,000 mark, according to the federal Robert Koch Institute.
The seven-day infection rate stands at 584.4 per 100,000 people. By comparison, the seven-day infection rate in the U.S. is 228 per 100,000 people, according to figures updated Wednesday by The New York Times. Maine has the lowest rate of 66 new infections per 100,000 residents over the past week, while Rhode Island has the highest at 437.
Hospitalizations in Germany are not rising as quickly as case counts: On Wednesday, the hospitalization rate was 3.17 per 100,000 per week, versus 3.13 one week ago.
Other communities in Germany that host U.S. forces are also seeing steep rises in new infections. In Baden-Wuerttemberg, home to the Stuttgart Army garrison and U.S. European and Africa commands, a total of 15,316 new cases were confirmed Tuesday, according to RKI. Eight days ago, RKI reported 4,142 new daily cases.
On Friday, the Army in Stuttgart announced on their Facebook page that cloth masks were "no longer accepted for anyone, anywhere on the garrison." A medical mask, at minimum, or an FFP2 mask or equivalent is mandatory for anyone older than age 5. FFP2 masks or their equivalent are required at off-post retail stores as well.
Department of Defense Education Activity policy allows students to wear single-use medical masks or cloth masks that have a close fit and completely cover the nose and mouth.
The German state of Bavaria, also home to thousands of U.S. troops, saw 17,639 new cases — nearly triple the new daily case count eight days ago.
---
---
---
---